Burst Nation Scam Beware (Adam Guerbuez and Focus)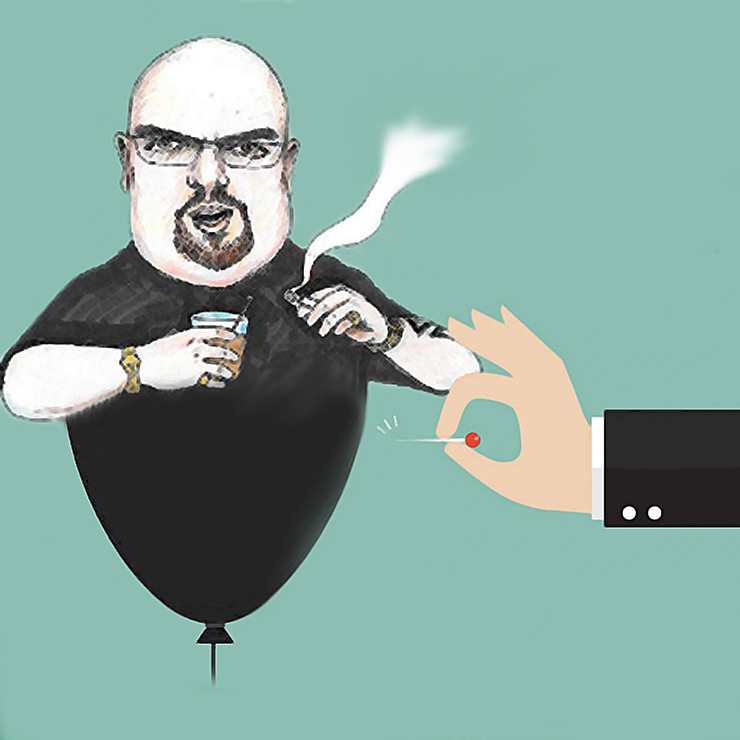 Hi Guys.
Today's post is another bad one with respect to Burst Coin.
It turns out I've been scammed by focus who is an admin on burst nation.
Below is a post by Adam Gurbeuz where he recommends buying my asset as it is undervalued.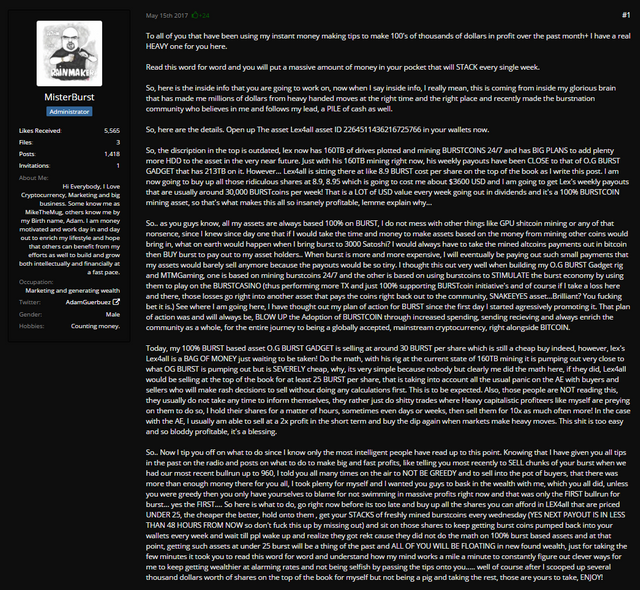 https://www.burstnation.com/wbb/index.php?thread/2215-like-getting-rich-off-my-tipoffs-here-is-a-huge-inside-tip-guarenteed-to-fill-yo/&pageNo=1
This is how the scam worked:
The original asset sold about 500,000 units at 30 burst per share which comes to about 15,000,000 burst. The asset was backed by a 100tb miner that these shares represented.
There was a fracture in the community and the current manager was looking to offload duties of the Burst4All asset to another community manager.
https://forums.burst-team.us/post/50157
I became the trustee of the asset Burst4All which was converted over time to Lex4All through a redemption program.
Upon taking over of the duties the physical owner of the 100tb miner that the prior burst4all shares represented repointed the miner and was now adding dividends to the current asset properly.
After the conversion was complete I sold about 125k shares of Lex4All to raise capital at 15 Burst each which allowed me to add 60tb of storage to this asset. The total asset was running with 160TB of mining capacity. At this point everything was true to the investors and on the "up-and-up".
On Tuesday May 23rd, 2017 Focus said on Adam Guerbuez's live stream that ogburst (an asset owned and controlled by Adam G) should just get the Lex4all 100tb miner. Reference to this statement is below.

Effectively they have just stolen from the shareholders of my asset lex4all. The original 15MILLION Burst and the hardware (100 TB Miner) that were released as part of the original Burst4All asset have been recalled by the physical owner with no repayment to investors.
Not only that but he was telling people prior to buy this asset as it's a burst mining asset and he bought up loads of shares at 8 burst. only to sell them when people buy into the hype and now he's just stolen 80% of the assets wealth generation. which means he is just ripped off everyone he's told to buy into my asset.
He's decided to post on my asset thread now calling this a scam pretty much even though those prior funds are still missing.

nice of them to treat a developer this way
below is the asset site where it clearly says 200tb from the funds of the asset sales
http://www.burst4all.com/asset/
so turns out the 100tb miner was supposed to be 200tb
"BURST4ALL Asset Plan:
-B4A asset is designed to fund mining support for Pool.Burst4All pool.
-Asset will pay dividends twice monthly and will be supported by +200tb of Burst mining power and 1% pool fee.
-All proceeds from sale of asset will be directed towards mining power on pool.burst4all.com"
Links:
Focus's Profile: https://www.burstnation.com/index.php?user/1-focus/
Adams Profile: https://www.burstnation.com/index.php?user/2-misterburst/
More Info
Adam Neo Nazi: http://www.extremism.ca/details.aspx?EID=14502
Adam Viral Coin (Missing 200 Bitcoin): http://forums.burst-team.us/post/55681
Adam (burstnation heavy censorship): http://imgur.com/a/7oAxn