LAToken visits CoinAgenda! Get 0.05 SBD for constructive feedback on our project! Check out our web-site www.latoken.com
A few days ago, we visited CoinAgenda Europe, where our CEO announced that we would start a Pre-Sale for large investors on July 17th. The following Public Token Sale will take place in August.
Valentin Preobrazhenskiy, CEO and Founder of LAToken, participated in a Panel discussion: "Asset-Backed Tokens: The New Wave?" at CoinAgenda Europe on July 17th. He revealed how the tokenization of the real-world assets into a digital token on a blockchain could unlock the value of any assets, including the most illiquid ones.
"LAToken aims to revolutionize real estate and other markets of prevoiusly illiquid assets, for example loans or artwork, by using the blockchain technology. With LAToken you will be able to sell fractions of your assets and keep them for your use with no interest and rental payments", — Preobrazhenskiy explained.
He emphasized that the project started in 2013 as a home equity marketplace and now is seize new markets. "Last year we processed more than a thousand deals with 25 banks and investors and our business is already profitable. Adding tokens and blockchain is just a next logical step in its development", — CEO of LAToken said.
The opportunities described by Mr. Preobrazhenskiy attracted the attention of the leading institutional investors as well as family offices gathered by the world's leading high-end conference for investors and entrepreneurs in the bitcoin, blockchain and cryptocurrency sectors. Several participants expressed interest in tokenizing several houses, a hotel, a mine, some jewelry and even contract for the supply of electricity.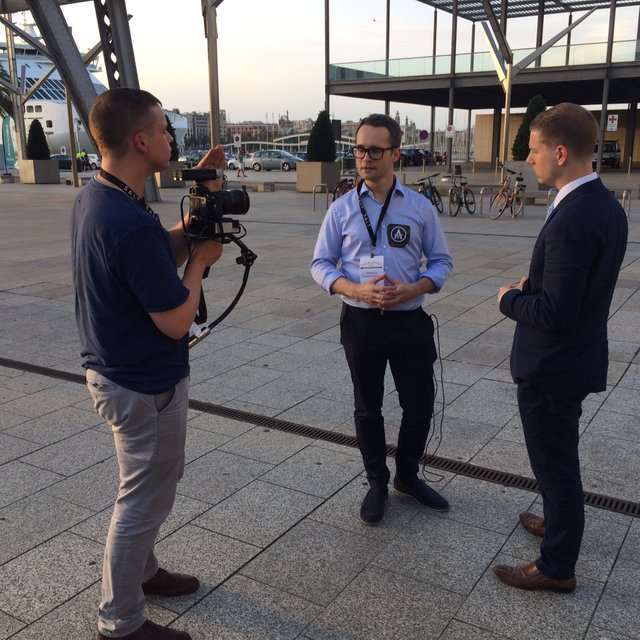 About us.
LAToken is a platform connecting investors with borrowers and assets owners via blockchain allowing each party to get the best offers. LAToken combines the concept of fractional ownership with tokenization of the real-world assets, creating a new era marketplace. Thanks to the platform the anyone can sell assets and still have them in posession, and the investors can use the fast, safe, agile and incredibly transparent blockchain system to make sure they got what they paid for.
About our CEO — Valentin Preobrazhenskiy.
Valentin is the founder of LAToken, a platform for assets tokenization and unlocking the value of illiquid assets ranging from real estate and banks loans to works of art. Valentin founded Home Equity Marketplace Zalogo that facilitated more than 12000 home equity offers and 1000 transactions last year. Valentin was a Director of the world largest acceleration program Founder Institute where he was responsible for mentoring P2P marketplaces for Real Estate and Artworks. He is the leader of FoundersDevelopers blockchain community with 1500 participants and 50+ meetups since 2015. Valentin created a back-office for hedge funds for trading equities and derivatives when he managed long-short portfolio at Avega Capital. He was the Director of Research at Marcuard Spectrum for a portfolio worth $180m for Absolute Return and Value funds (long/short equities, Eastern Europe). Valentin worked at IHS CERA, Sberbank and VTB. He was elected as a vice-president of Harvard Club of Russia after he launched the Global Education scholarship program for 700+ students. Valenin graduated New Economic School, studied capital markets at Harvard and Stanford.
If you are interested in the pre-sale please contact our IR Director Denis Simagin — [email protected]
Join us on Twitter, Telegram, Facebook, Github, Medium and Reddit!