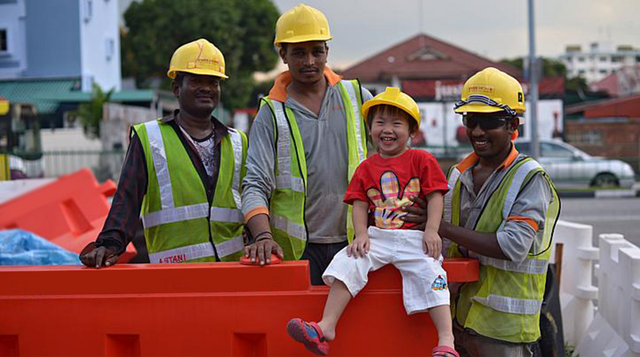 The story of a migrant is a true story of human struggle. The genetic and paleontological record of human migration is at least 60,000 years old. According to new figures released by UN DESA the International Migration Report 2017 (Highlights), states that 3.4% of the world's inhabitants are international migrants. This reflects a modest increase from a value of 2.8% in 2000.
"We can't help everyone but everyone can help someone"- Ronald Reagen
LALA World wants to extend a helping hand to laborious migrants, especially responsible fathers, who work blood, sweat, and tears to send home some money to their families. Money is the priority for a father dreading with the thought of criminals manipulating his innocent children to get involved in unlawful activities. A father can do anything to keep his family safe. Even if it means to stay miles away from home, just imagining how his children faces would have changed with time, and how they would have grown.Imagine the plight of the father who has not seen his family in years and now even their faces are getting blurry in his mind. He never thought that crossing the sea to be in a country with opportunities would be so difficult for him. Not knowing the country or sometimes language can produce lots of challenges for a migrant. Discriminating attitude of the systems thrashes migrant's hopes of making the country new home.
"Peace can only last where human rights are respected, where the people are fed, & where individuals & nations are free"—Dalai Lama
A Migrant is already struggling in adjusting with the new environment where air also feels different on the skin. But there are lots of other hindrances which add to the burden on his shoulders. Availing basic needs of financing and payments is a challenge as certain norms need to be cleared as per the State.
Blockchain can do wonders in this direction. That is the reason LALA World has chosen Blockchain to make a difference in the lives of those hard working fathers staying miles away from families.  Migrants are deprived of financial services from banks and other financial bodies.
See how LALA World with its Global Decentralized Financial Ecosystem has imparted a change.
Our products can generate optimal solutions for migrants by eradicating unnecessary regulations and facilitating instant settlements on the go at less costs. A migrant with LALA Wallet would have the control over his own money that he desired all along, and in addition to that he would get services that otherwise take place through Banks. It would make it easy to avail financial services in a new country. This wallet based on LALA ID would act as a global ID for him. A single global identity system that includes KYC/AML, Biometrics, verification, digital records, cards etc. Migrants are never certain on what bases the money is deducted while transferring money to their families and why the amount received is always different. The criteria of deduction is never clear to them and no one bothers to give them a clarity. Banks and financial institutions are there to fleece them off their hard earned money. But with LALA transfer a money transfer would be done across borders with the minimum exchange rate and instant remittance would bring smiles on migrant's family's face. This would be a secure and transparent method of sending money.
LALA Lends on the other hand would generate an opportunity for a hardworking father to get financial support whenever he intends to expand or establish a business or is in need of economic support for his existing endeavors. We wish to make lives of all these fathers who bear huge responsibility of large families simple and try to find peace in the struggles beyond borders. Ethical ways of earning money should be encouraged by all means. We intend to help a father who is working hard by easing off his financial woes. 
Read the full Blog at - https://blog.lalaworld.io/lala-helping-migrant-father/