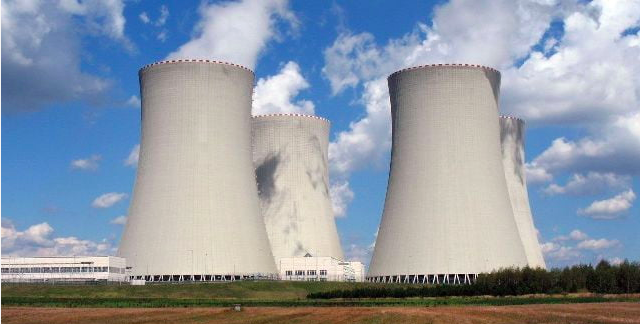 I'm very bullish on the future of nuclear power. Your first thought might be the Simpsons and Homer working at the evil nuclear plant. At that is partially why I like nuclear power -- it's HATED!
However, many people do not know that 20% of all electricity in the U.S. comes from nuclear power. In other words 1 in 5 homes are powered by nuclear.
If you like cryptos you might like nuclear, particularly the uranium sector. Why? Because as the world's appetite for energy continues to grow it needs reliable 24/7 baseload power that is emission free. Many of us have heard of the major pollution issues in places like China and that is precisely where a lot of bitcoin mining occurs, which requires massive amounts of electricity. And again, a major benefit of nuclear is that is emission free and is a great compliment to solar and wind.
Another reason to like nuclear/uranium. The companies that produce uranium, which is what fuels nuclear power plants, are off about 90% from their peak of a few years ago. Why? After the Fukushima earthquake Japan stopped all 40 of its nuclear plants which caused a major glut in the supply of uranium. The price went from around $140 down to $18 earlier in the year. It has since risen a bit to $25. However, it costs the average uranium producer $40 to mine uranium. In other words, producers are losing approximately $15 a pound to produce uranium. Because of this, the stocks for uranium producers have been hammered down. Here's an example of the stock price of Cameco, one of the world's largest producers of uranium: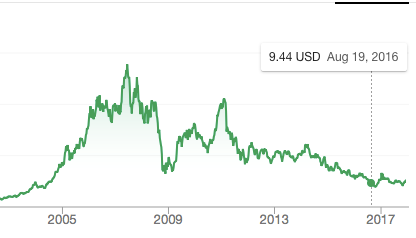 The laws of supply and demand say this has to end at some point. As Rick Rule says, either the price rises or the lights go out.
So if you are a believer in cryptos and the need for clean energy, you might look into the uranium sector.
I plan on writing more on uranium and other investments I like. If you like my content please consider following and upvoting.
Now this isn't investment advice. Mining shares are risky and volatile but these are my opinions on the long term possibilities of the uranium sector.