Any and everyone who has watched the cryptocurrencies during the first half of 2017 would have noticed the sharp gains and wildly volatile trading which has driven the prices to record highs and would have considered and wondered where trading in the cryptos could go during the second half and the rest of this year.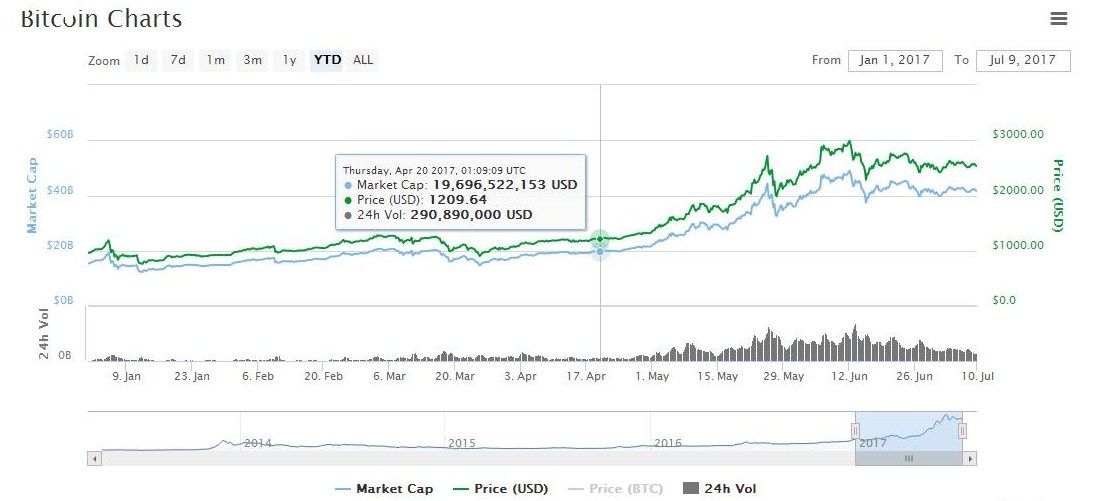 The most popular oldest and largest (by market capitalisation) crypto, bitcoin touched an all-time high of $3,000 on the 11th of June, only to fall in the following days and ended the same month at $2,436.7, after more than cumulatively doubling the price in the previous three months.
This wild shooting star rise of Bitcoin was due in no small measure to an increased demand in the Asian countries mainly Japan, China and India. Official recognition as a legal currency and its acceptance for transactions in Japan had some influence.
But with transaction fees going up, it has come under pressure amid a growing rift between miners (that provide the back end services that keep the blockchain going) and users, over how best to increase the digital currency's trading capacity, since transaction speed has slowed as trading volume has grown. As a result, a fork is being speculated where it could be broken into separate entities and competing coins as happened with Ethereum and Ethereum Classic.
This has resulted in some concerns for the crypto as this potential split has curbed investor demand for it and bolstered demand for the newer alternatives and with ICOs springing up like mushroom all around the online space, things may get rather interesting sooner rather than later.
Ethereum :

On the 11th of June, Ethereum also hit a record high of $419 although it suffered a sudden crash and some exchanges are still grappling with their clients over the fallout as a result of this, it ended the first half of the year at $260.52.
Ethereum, is the second largest crypto based on market capitalization.
While the Bitcoin has a market cap of about $41 billion, the Ethereum has a valuation of about $26 billion.
The major differences between the two dominant cryptos are some technical differences (although all cryptos are based on a decentralised system known as the blockchain technology) like the time lapse between transactions and the verification of same as well as the purpose and use of the cryptos.
The Bitcoin at inception, was created as an alternative to regular legal tender ie fiat money; hence, it's purely a digital currency. While the promoters of Ethereum had their sights set on creating a platform that facilitates peer-to-peer contract initiation and closure, or as some refer to it, "smart contracts."
To put is simply: Ethereum transactions would even the playing field for both buyers and sellers (ie contract participants) by enabling payment to be released simultaneously with the fulfillment of transaction conditions as set/made.
While they both compete as cryptos, they are not directly competitive for the above reasons.
Blockchain Technology the heart of Cryptos:
Cryptocurrencies has sparked off an interest has in their underlying technology, the blockchain. Several of the big financial and other service providers including but not limited to banks have made investments to see how this technology could be utilized and the value it could inject into their offerings, Potentially, this could cause a greater revolution in the technological world other than digital currencies themselves.
To define it mildly;a blockchain is a decentralised ledger of financial transactions (or other transactions as several developers are looking at other uses), stored in blocks, which is maintained by a network of computers on the internet.
Once recorded, the data in a block cannot be altered without the alteration of all subsequent blocks on the network. This makes breaking, hacking or messing with virtually impossible as for it to be accepted the alteration most reflect in all the stored blocks.
About two months ago, Global Fintech Consortium R3 raised more than $100 million in financing to help develop hopefully, viable commercial applications for the distributed ledger technology at the heart of the blockchain.
Banks are looking to the technology, which verifies and tracks transactions on its own once set up and initiated, that could eventually help them reduce the complexity and cut the costs of activities like trading settlement and international payments.
Initial Coin Offers (ICOs) To Drive Expansion
During this second half of 2017 just as they have in the first half of the year, the price of both Bitcoin and Ethereum is likely to be driven by ICOs, which have emerged as the favored fundraising tool with which to launch new cryptos. An ICO is a mix between crowdfunding and an initial public offering that offers digital tokens, or "coins," created through blockchain technology in exchange for cryptos that have gained some acceptance at the immediate value.
Ethereum's development was initially funded by an ICO. With ICOs on the rise and increase as well as speculator appetite for blockchain rapidly expanding, the price of Bitcoin and Ethereum the current denominators of cryptocurrencies, is likely to continue to rise as they have before where funds are being raised in those currencies.
Beyond Bitcoin and Ethereum
Ripple is currently number 3 while Litecoin is number 4 in market cap, coming in after Bitcoin and Ethereum.
Both Ripple and Litecoin were developed with different purposes just like their predecessors. Ripple is used as a payment protocol, a secured way to represent transfer and transact any unit of value. It is currently being used by banks, such as UBS (NASDAQ:UBSI) and Santander (NYSE:SAN), and it cannot be mined (meaning creation of additional Ripple coins by ledger support does not exist because the creation is centralized and can only be done by the owner or one of his representatives with knowledge and access to the appropriate technology).
Although quite similar to Bitcoin, Litecoin is technically more more advanced since transactions can be processed much faster.
According to recent data, currently there are at least 952 different cryptocurrencies in existence (source: coinmarketcap.com) as at today, including coins with wildly esoteric names such as SexCoin, ZeroCoin,RabbitCoin, PigCoin, GoodKarmaCoin, SelfieCoin, and PizzaCoin, with additional currencies coming to market all the time.
Could this be why the talk of a bubble seems somewhat imminent?
Quite a number of these currencies appreciated exponentially, over the past few months. In 3 months a coin with a name that hints at bubble status in itself went from $0.0014 to $0.087 at its highest for the year so far. That's a 6250% gain, or 62.5 times its earlier value.
With the possibility of such wild and humongous, out of this world gains, this greatly explains the current wave and mounting tide of interest in cryptocurrencies, which is pushing anything and everything in this realm higher from existing to the yet to take shape ICOs to grabbers (investors). There are even ICOs without a cap ie there is no target amount to be raised, they'll take all the money they can get (bothers on being ridiculous).
I would like your thoughts and opinion. I have shared mine, what are yours?
My next write up would be on why i think we have a bubble brewing with the similarities in history using both the dotcom and the housing/mortgage collapse models as primers. But i would also write on why there are real opportunities with the blockchain technology and some of the cryptos