Facebook lost $90B in market cap this month, yet it's still 40% larger than the entire Cryptocurrency market cap
Yes, you read that title correctly.
Facebook lost roughly $90 billion in the last month and even after that drop, it's valuation is still 40% larger than that of the entire cryptocurrency market cap: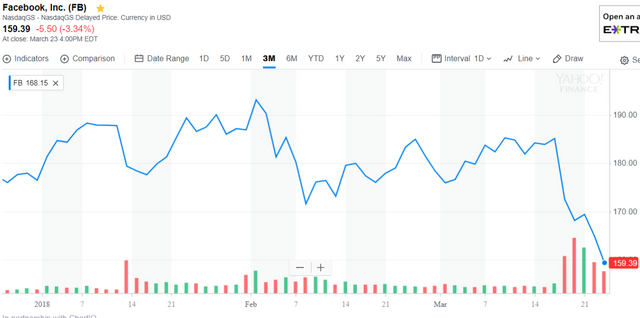 (Source: https://finance.yahoo.com/chart/FB)
It's been a rough couple weeks for Facebook's stock, to say the least.
Now, lets take a look at Facebook's current market cap: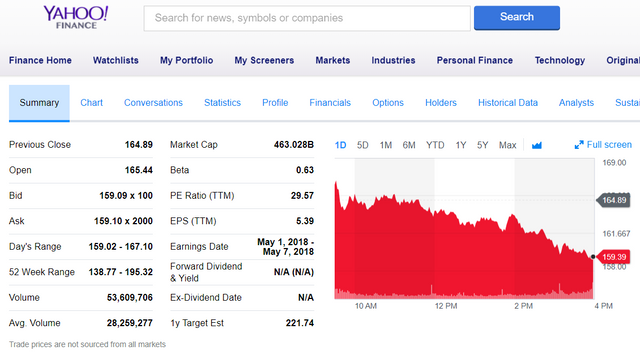 (Source: https://finance.yahoo.com/quote/fb?p=fb)
Facebook has a market cap of $463 billion. It was very near $550 billion just a few weeks prior.
Now lets compare that with the market cap of the entire cryptocurrency asset class:

(Source: https://coinmarketcap.com/)
The entire Crypto market cap comes in around $342 billion, still $100 billion less than Facebook currently trades for.
Does that seem right to you?
We are talking about an entire asset class that could potentially disrupt just about everything, trading for less than a single centralized social media company.
Yes Facebook makes a lot of money and yes it is unclear exactly what role cryptocurrencies will play in the future, but that does seem slightly out of whack to me.
Especially when the trend seems to be away from centralized systems towards decentralized systems, which is part of what the recent mass selling in Facebook's stock was all about.
I would not be surprised to see these numbers completely flip in the coming months.
Stay informed my friends.
Follow me: @jrcornel