This era has witnessed an exponential growth in cryptocurrency, and as such, digital assets have been emerging every now and then. One of the major purposes of these digital assets is to store and transfer value. No wonder the rate of ICOs are increasing, but you would be surprised to know that some of these coins in circulation (thousands of them) do not have a real use case, or are already dead.

CoinJanator
An exposition made by trustnodes indicates that there is an excess of 3000 crypto currencies without a use case, or are either dying or dead. Now, when compared to the ones left, you would agree with me that many people have lost a fortune while investing in these dead or dying projects - this does not take into account the fact that some of these coins never even made it to any exchange platform.
If you have ever invested in a project that later failed, then you would understand what I'm talking about. In the late 2017, I invested in an ICO project, but the project is nowhere to be found today, and the money is tied down there. Imagine if someone experiences these loses in multiple projects, they could get discouraged against investing in the crypto space, and of course, the amount of digital assets in circulation will dwindle, and the market cap would drop - this would also affect the projects with a very good use case, because people would have reservations in investing in them. Now, this is the idea behind the establishment of CoinJanitor.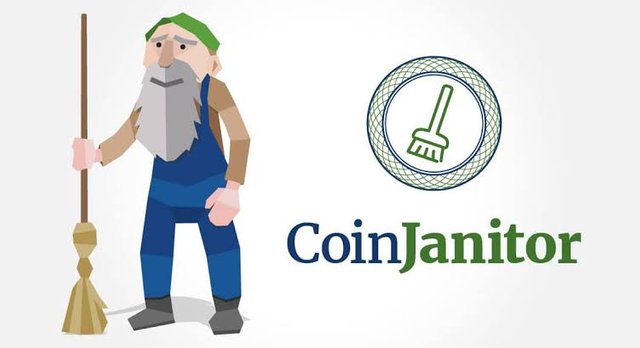 CoinJanator
What Is in CoinJanitor for Me?
Just like the name suggests; and from the literary point of view; a janitor is responsible for cleaning of a building, right? In the same way, CoinJanitor is established with the purpose of cleaning the crypto space and recycling/resuscitating the dead or dying coins, in order to boost the entire crypto market.
For someone that invested in a failed coin, this would give them a unique opportunity to gain back the value they have invested in the coin, because of the integration that CoinJanitor's product is building for the dead coins.
Then, for the users of CoinJanitor, an economy would be created that would potentially merge these failed coins into a single whole, thereby reviving the lost values in them. Isn't that amazing that there is hope for people who have their money/assets trapped in a failed coin project.
For the entire crypto market, this would bring a boost to it, as it would see an increase in the number of investors, and this will increase the market cap. Because, investors would have the option of transferring the value of their investments to somewhere else in the crypto market, and their assets would not be trapped in any way.
Brain Behind CoinJanitor
This company has a team of experts from the crypto space, and Marc Kenigsberg; the CEO; has over 8 years experience with an outstanding track record in the crypto space. Also, the CTO; Asaf Yosifiv; has been a crypto advocate for almost the same number of years.
They had a successful token sales/ICO in the second quarter of this years, and they were able to raise over $2.5m. And with the total number of supply of the JAN token (that's about 50 million) it would be worthwhile to invest in the JAN token. Maybe you can take a quick peek into this video to understand how the token works.
Now you have understood that, even holding the JAN ERC-29 tokens has already qualified you as a CoinJanitor stakeholder, and as such, you would have access to the database of CoinJanitor, and you would also get rewarded for your contributions to the community. And of course, you would be eligible for the bounty programme. To get an overview of their whitepaper, you can download it here.
You can also visit the official website of CoinJanitor and follow them on their social media handles for more information and press updates.
CoinJanitor Web Links