There are many cryptocurrency exchanges out there, but recently I fell in love with Binance.

Here are 5 reasons why I like Binance so much.
1. Large offering of currencies
If you are looking to invest in a smaller or newer cryptocurrency, it's sometimes a bit of a hassle to find a place to buy it. Recently I discovered that you can find all exchanges that support a specific currency on CoinMarketCap, but still, I prefer to use the same exchange as much as possible (to avoid additional transaction fees, moving currencies (for buying) from one exchange to another).
2. Low trading fees
Binance only charges 0.1% trading fee. But if you invest in Binance Coin (BNB), you'll only pay 50% of the fee, so actually 0.05% trading fee. And if you buy BNB at the right moment, it may go up in value, which means you are paying even less in fees.
3. Chinese company
It may sound weird to some that I mention this as a positive, but I think it is a good thing that there are big exchanges on the market that are not based in the US. If The Donald gets an idea to tax all crypto trades, I want to have alternatives.
It also means you don't have to jump to several verification hoops before you are able to trade. It's only needed when you want to handle large volumes of money.
4. Customer Oriented
I have a feeling that Binance is more oriented toward their customers than other exchanges. Take NEO and GAS for example. Bittrex refused to give GAS to NEO holders, basically stealing 10% from each customer. Binance will deposit GAS to your account once a month without having to do anything for it.
The user interface is also very intuitive. I like how you can buy 25% of your existing budget with the click of one button.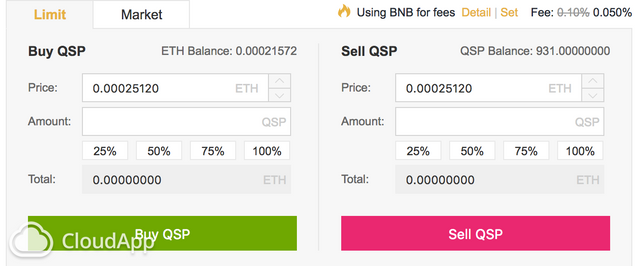 5. Future Oriented
The goal of Binance is to become a decentralised exchange. Although they are currently still a centralized exchange, they have a strong international team led by CEO Changpeng Zhao that should be able to make this conversion.
Also, have a look at my CryptoTrading Series
Anything else you want me to cover? Let me know in the comments or join my free group on Facebook