Twelve coins free everyday with QoinPro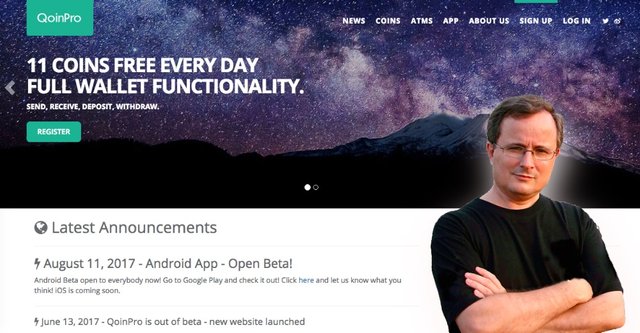 Would you like to earn free coins everyday and learn more about Bitcoin and other cryptocurrencies?
A friend recommended to me a website where you can learn about cryptos and earn a few coins at the same time.
You may join here: http://pantika.us/qoinpro
When you sign-up using this link you will get free coins for joining and I will get some more coins myself.
Twelve coins free everyday with QoinPro
 
QoinPro is a multi-coin faucet with a multi-currency online wallet that gives you free coins every day. It is free to join and currently supports 12 altcoins, which are Bitcoin, Dash, DogeCoin, FeatherCoin, FedoraCoin, LiteCoin, PeerCoin, VirtaCoin, DigitalCoin, EarthCoin, InfiniteCoin and WorldCoin.

With QoinPro you will get free coins just for signing-up, and then free coins every day for 11 of the altcoins, without having to pay anything. When you refer people to QoinPro you will get more coins daily and there are also credits that you can purchase to receive more free coins. In this post I'm going to only talk about what you can do for free.
Why are they giving away free coins?
 
In the FAQ, they answer this question:
The primary objective of step one is to educate people about crypto-currencies and make it easy for people to get started. Simply sign-up, start receiving coins and learn more about Bitcoin. In other words, "Educate and Facilitate."
Step one was the multi-coin faucet where we give coins away for free every day. Step two was the launch of a complete multi-currency online wallet where you (will continue to) receive free coins every 24 hours.
In the coming weeks (and months) additional functionality will be added to the website that will provide us with the necessary revenue streams. Until that time (and after that) we're backed by private investors. 
A look at my Dashboard
 
I signed-up for QoinPro on August 15 and I have seen an increase in the amount of coins I have.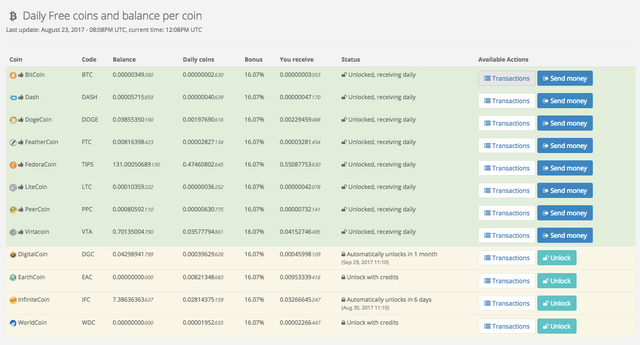 Note that the amount of free coins you receive daily is extremely small and I will explain more about that later. You can also see that there are 8 unlocked coins that are earned daily from day one, 2 others that will unlock in one week and a month, and 2 that you can unlock with credits.
I have a bonus of 16.07%, which gives me more coins that I earned with 4 confirmed referrals and installing the app. A single post in Facebook got me this 4 referrals.
Let's have a look at the Bitcoin transactions: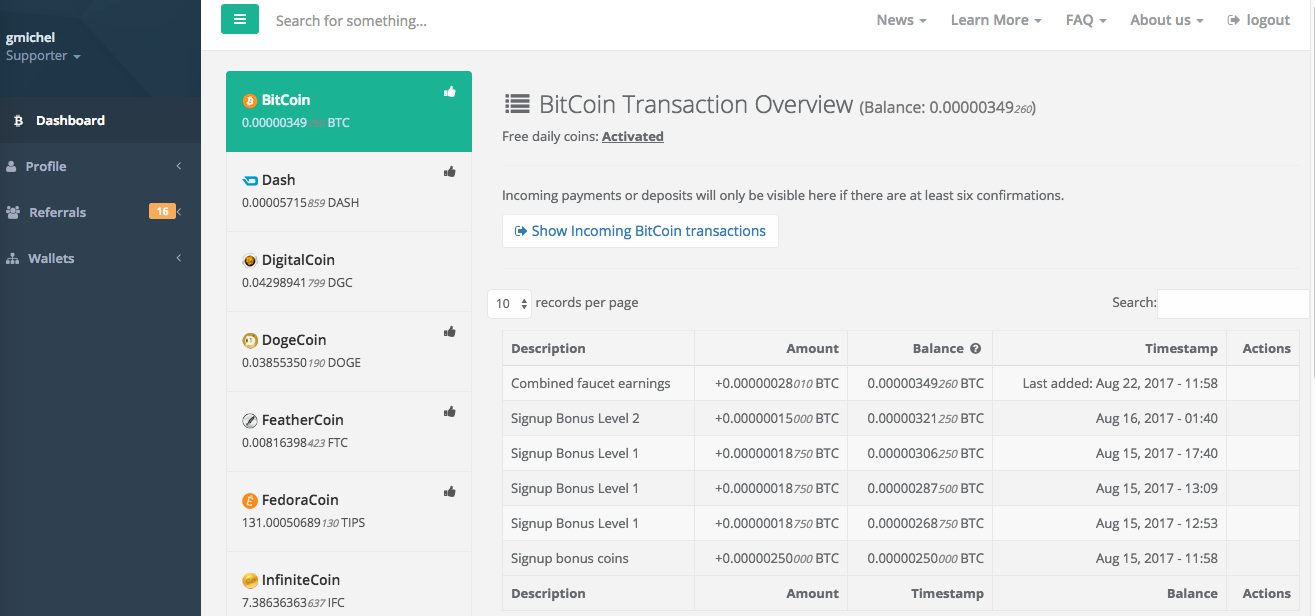 You can see what the earnings are for signing up and the combined faucet earnings for Bitcoin, and when you click on each wallet, you can see similar transactions for the other coins. 
Can you really make money with this?
 
In order to see for myself what the possibilities are, I put numbers in a spreadsheet.
Assuming that you are earning for the 12 coins and have a bonus value of 16%, this is what you will get.

In a year, and at the current value of each coin, you will earn a total of $0.11!
Not very exciting!
Now, there are two ways that QoinPro can make you earn more.
The first way is to hope that all these coins will increase in value over time, and this is another simulation.

After a year and an increase in value for all coins, and the smaller one at 10 cents, the total revenue will be around $5.
Still not very exciting!
Now, if there is a miracle and most of the smaller coins reach $1 in value, this is what you will get.

You will get about $51.
The second way to earn more coins and more money with this is, in my opinion, to go crazy and refer loads of people. It is actually quite easy because it is free to join and people are keen to get free coins.
According to their website and their referral payout structure, you can receive more as your bonus increases.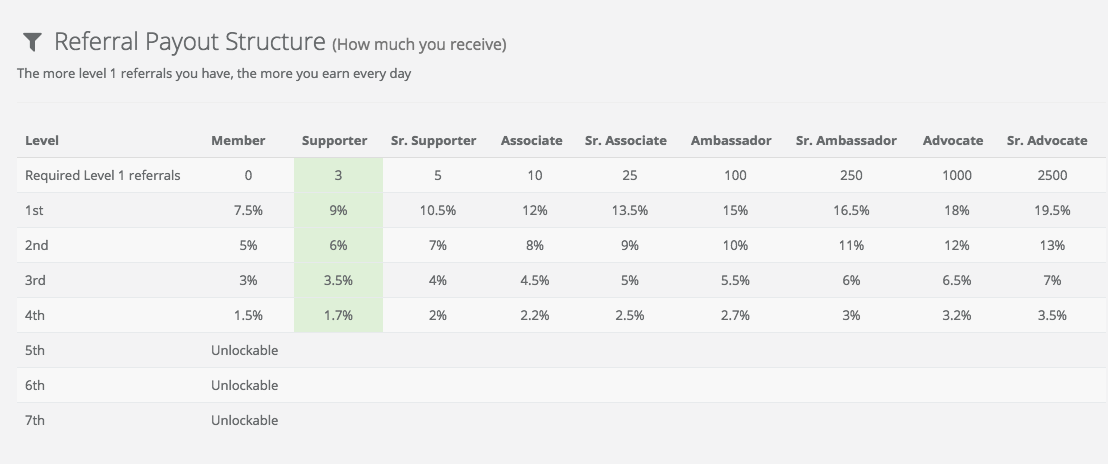 As a conclusion to this section I see more a learning opportunity than an earning opportunity with QoinPro, but I might be wrong. After 5 years some coins might have increased significantly in value, and there might be even more free coins given away.
The QoinPro app
 
The app can be quite useful because you can read some cryptocurrency news with their feed, see the current value of each coin and what you have, and installing it will give you a 10% bonus right away.

Here you can see your bonuses and rates.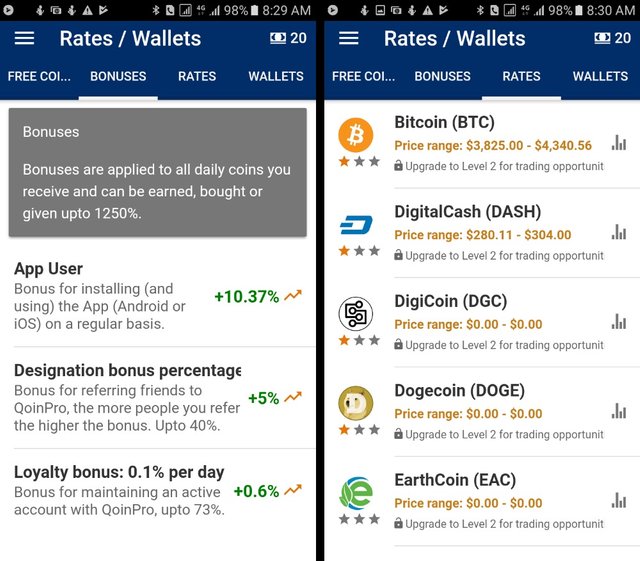 Then, you can see what you have in your wallets and what your receive daily.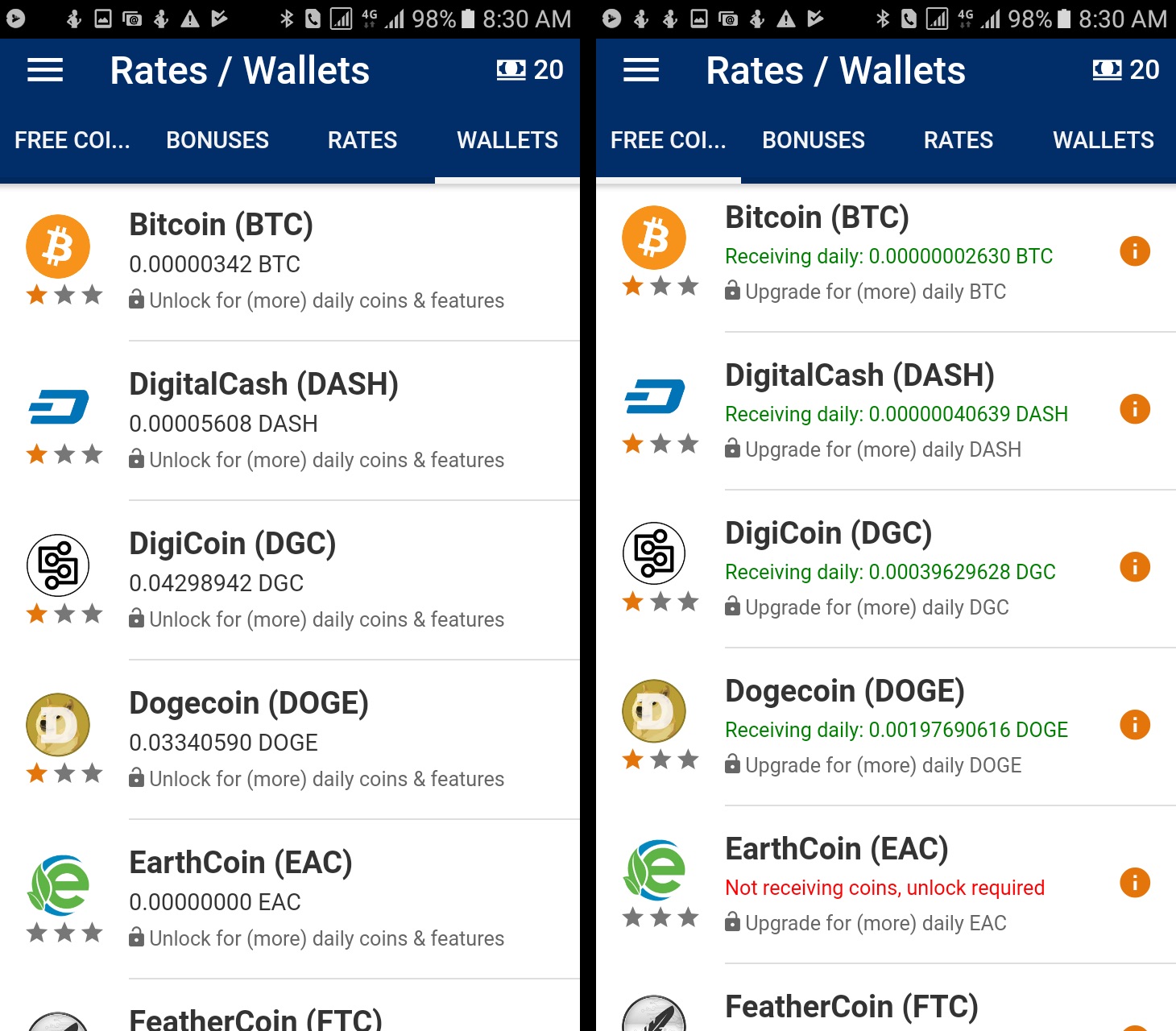 Finally, you have the latest news and you can check out your referrals.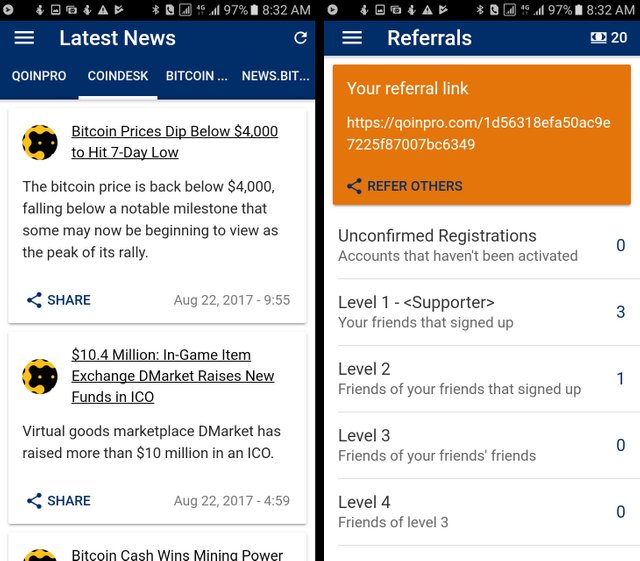 Final words
 
The QoinPro platform was conceptualized in December 2013, according to their website, and the public beta of step one launched on January 28, 2014. They have completed step two, which was the addition of online wallet functionality and just released their Android app.
I believe that they are going to be around for several more years with more coins and development, and that it is safe to give them a try, especially if you want to learn about cryptos and earn some coins along the way.
No one knows how much these coins will be worth in several years, so it's still good to have them for free, and it can gives you an opportunity to learn more about each of them and possibly invest more in them.
We all on Steemit would be interested to have your opinion if you are using QoinPro and if you are not, you can join today: http://pantika.us/qoinpro
If you enjoyed reading this post, please upvote and follow me for more like this.
Michel Gerard