Litecoin Went to the Roof and I Sold Mine!
Litecoin went to the roof yesterday and I sold the 10 LTC I had. I have been investing in different cryptocurrencies using my Exodus wallet for long-term holding and Litecoin is one of them. I didn't plan to sell my LTC because I wanted to hold them until they reach a level like Bitcoin, it was difficult to do so, but I dit take profit.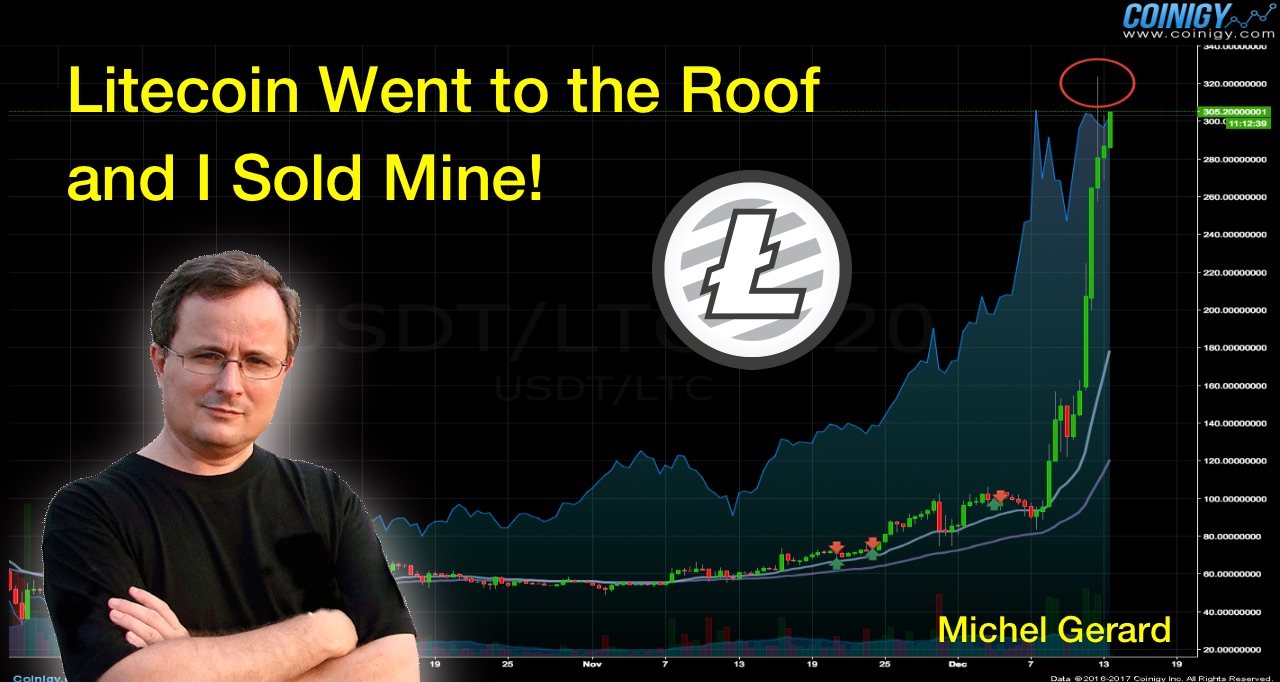 I use Coinigy to look at charts and place trades, if you would like to try Coinigy please use my referral link https://www.coinigy.com/?r=842aeb1c because I will get $15 if you purchase later on.
Litecoin Went to the Roof and I Sold Mine!
 
I have been investing long-term in cryptocurrencies and bought 10 Litecoin a few months ago. I bought 4 LTC at $23.50 each on 27 May 17 and 6 more LTC at $29.25 on 15 June 17. The total investment was about $269 and at the time I thought that I had missed when it was only at $10.
Litecoin going up last month was a nice surprise, but we did not expect it to go so high so fast. My strategy for these long-term investments was to keep them untouched in order to see more value in a couple of years or more. 10 Litecoin at $16,000 each in a couple of years would be nice, and with buying several difference cryptocurrencies, there is a chance for it to happen.
So, I decided last month to play a bit around and if I saw a pick like that to sell, take my profit and then re-buy when it is much lower, and this way you can end up with more coins with the same amount of money.
Selling these 10 Litecoin was difficult to do, not so technically, but I had to make my mind that a change in strategy can be profitable when an opportunity occurs.
So this is what I did.
I first sold two Litecoin to buy other cryptocurrencies that I wanted to buy using the Exodus exchange for speed and simplicity, even though the fees can be a bit more than Poloniex, but I didn't want to send my coins back and forth to an exchange.
I sold 1 LTC to buy 5,784 district0x (DNT)

1 DNT is only $0.047 so it's a good opportunity to have plenty of them and wait that they reach $10. 
I then sold 1 LTC to buy 1,146 Basic Attention Token (BAT)

This is also a promising crypto which is more expensive than DNT, but still at $0.24 per coin.
I trust the people at Exodus to add support for quality coins in their wallet and buying lots of coins that are still inexpensive is how fortunes are made.
The BAT transaction took quite a long time to go through, the Litecoin Network was a bit under pressure with many people like me trying to sell at the best price.
After that I sent 3 LTC, to buy IPO share in a company I'm investing in. The 3 LTC gave me about $878 worth of IPO shares there.
Finally, I wanted to change 5 LTC in euros and I thought the fastest way would be Coinbase. It was in fact very fast to see the 5 LTC showing up after 2 confirmations, but 6 confirmations were needed to exchange them in euro.
During this process Coinbase went in maintenance, or off service, as it often does when there are too many people trying to buy or sell their coins.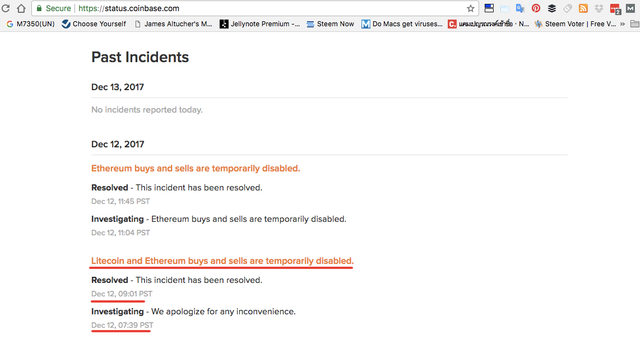 The 5 Litecoin showed up at a value of 1,496 euros and when I was able to log back in this early morning, I was able to sell for 1,401 euros. Lost 95 euros with that and it is the reason why using Coinbase is not that great.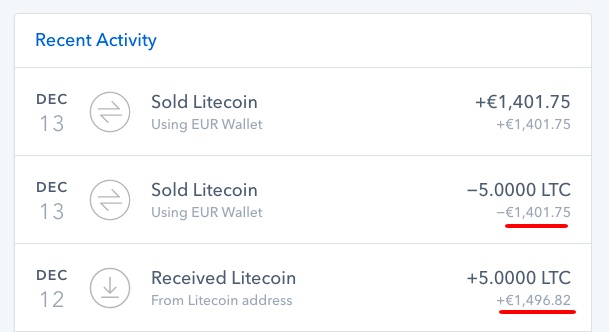 I will try to be prepared so I can send to an exchange that can handle a huge volume of users next time.
This apart, it's not bad to have sold them for 280 euros each, which is $330 USD. Now the plan is to use this money to buy my 10 LTC back. At some point it has to go down and I will be ready for it. If it goes down to $150, that would be great.
This blog post is my trading journal on my way learning how to trade cryptocurrencies. I am a student of the Cryptocurrency Trading Course by Digital Currency Trader that you can join to learn with me. Use my special discount coupon code "michelsentme" at check out, I will get a small commission and you will get a 20% discount.
As you can see I didn't pop any bottle, spending all the money gained, but reinvested all for more profit down the road. This is own you build a cryptocurrency portfolio for success.
Would you upvote this post and follow me for more because this will encourage me to make more posts about cryptocurrency trading like this one?
Michel Gerard