Posting to the Wrong Account on Steemit!
Would you like to know how to prevent posting on the wrong Steemit account because this might be useful for you if you manage several accounts?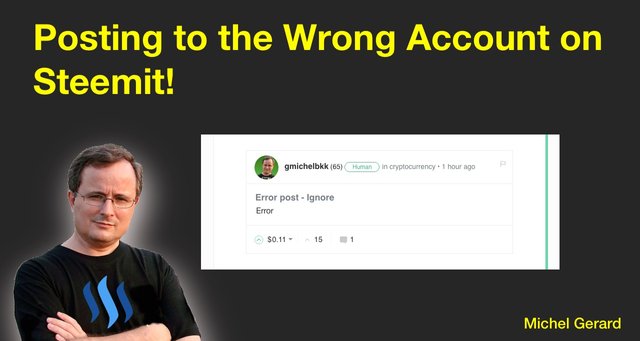 I have never had an issue with this in the past juggling with several Steemit accounts and I don't know what happened today.
Posting to the Wrong Account on Steemit!
I had an article ready to be posted on a Steemit business account of a client and I was logged in their account, seeing the correct profile image and everything, even seeing the wallet as the owner user. I am very careful when doing that because I manage several accounts for different people and I don't want to post or comment on the wrong account.
I clicked on the editor icon and then copied and pasted the article in it. I looked at the profile image again to make sure I was in the correct account.
I then went to the "Blog" of this account and did not see the post.
It's when I realized it might have been posted on my personal account instead.
In fact it did!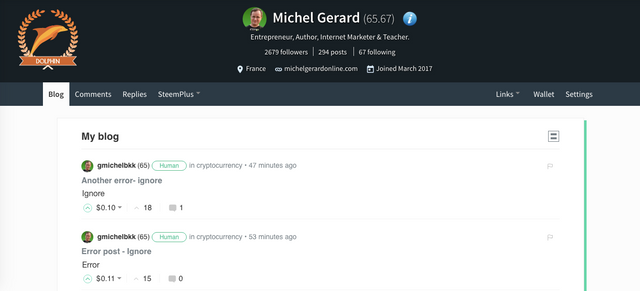 I then deleted the post and replaced it with the mention "Error - Ignore."
I logged out from my personal account, closed all my Chrome windows and also logged out of SteemPlus.
I then logged back again as the client's account.
Believe it or not, it happened again!
The post was once more posted on my personal account.
Something might be very wrong here.
I then deleted the post again and replaced it by "Error - Ignore."
I just hate seeing these error posts on my blog, and this post will replace one of them.
I will write another post to replace the other one.
So, what is the issue?
I certainly didn't want to do it another time so what I did is just installed the Opera browser and set it up to work only for this particular Steemit account.
Why use Opera you may ask?
Simple, I use Chrome for my personal Steemit account.
I use Safari for a client's Steemit account and I use Firefox for another client's Steemit account.
It looks like that I have used all the web browsers in town and that I won't be able to take any new clients!
Maybe there is a way to safely separate all accounts on one single browser, I don't know. If you do, please let me know in the comments below.
I use SteemPlus @steem-plus, which is a fantastic app, but it might have been the problem.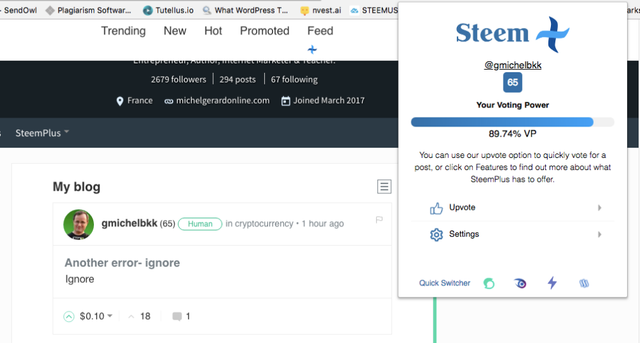 Maybe I was logged in my personal account with SteemPlus enabled while I was logged in the client's account on Steemit?
The SteemPlus editor has been showing an error page just after publishing posts for a while and even if it's a bit annoying, the post is still published correctly.
But the second time I was logged out of SteemPlus!
Can it be that I had my personal account's Steemit editor in the cache of the browser and it used that instead of the client's?
I don't think we can be logged in into two different Steemit account on the same web browser.
That's it, I wanted to share with you what had happened.
Even being a Dolphin you can always make mistakes.
Would you upvote this post and follow me for more because this will encourage me to write more Steemit posts like this one?
I have categorized my posts on Steemit for easy access:
Steemit tools | Steemit strategies | Steem economics | Steem on WordPress | Blogging on Steemit | Steemit posts I curated | Cryptocurrency | Cryptocurrency trading | Mac computer tutorials | WordPress & online marketing | Self-development & motivation | Travel in Thailand | Travel in Japan | Travel in France | Life in Thailand | Fitness challenge | Fruit-veggie juices & smoothies | Education | My answers on Quora | Fundition tutorials & projects | Miscellaneous writing
You may prefer to go to my Steemit Posts Directory.
The most important votes you can make on Steem are for Witnesses. The top 20 witnesses can influence the addition or removal of features in future Steem hard forks. Read my post: What is a Steem Witness, How to Vote and Why?
Michel Gerard