I have just received my FREE Tezos engraved Ledger Nano S! 😎 Looks super awesome!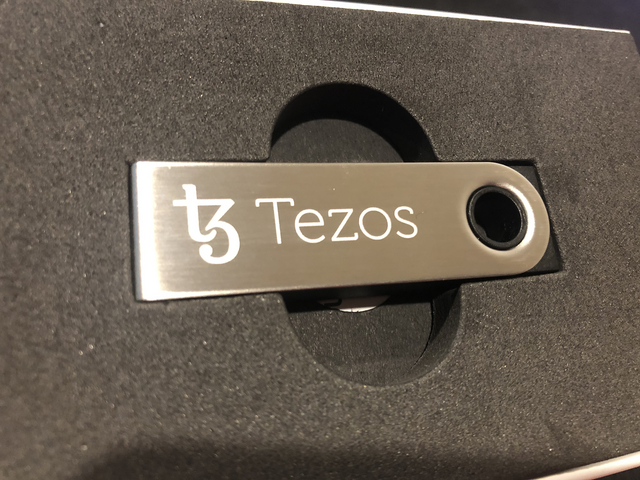 But let's be realistic...
Would I buy one? Not really. I had spend a bit of time working with these devices and to be honest, they just add a bit more of complexity to the game. They don't even compare with the simplicity of blockchains like STEEM or EOS... which by the way, are WAY far ahead in security when compared with these hardware devices.
A real life comparison
Yes it's supper cool to have the private keys under an encrypted device, but ultimately it's another level of complexity far more boring to use that you think. Imagine that you have your normal car keys... (aka private active keys), then consider also to have the manufacture machine that created your keys (aka private owner keys). Ok... now imagine that you have a safe at home, and you decided to store your car keys inside the safe. Then this safe has also a PIN code, but to open the safe with your PIN code, you need to pair (every time you wish to enter the PIN) your car with the safe. Then you can type the PIN and take your keys to open the car... after turning your car ON, you will have 24 hours (or whatever you decide) to start your car with your fingers. The keys need to come back to the safe for you to use the car. And after 24 hours (or whatever you choose to be the limit) you need to use the safe again...
This is Ledger Nano S!
I mean, definitively added some level of security for things people are not comfortable with, but give me a break... this is super complex. Maybe the Nano X is the heaven to this complexity, and I am now tempted to try one, but just for review.
Loosing my point?
Maybe these devices where actually made to use in insecure environments where you definitively will not have guarantees hence being more suitable for those environments... and to test those I would need a different level of trust with a device like this. I agree that this is quite the next step in terms of hardware "keys" storage, but I am sure there still a lot to catch up in comparison to software.
Do you have one?
Please let me know your view and if you have any tips for me to try/review out. There are a couple of things that I would love to see improved already... probably they are already on Nano X, such as:
There is very little space to install coins on Ledger Live... (you can install 4 or 5, depending on which ones)
(Ledger Live) No option to import external addresses (every key has to be created with the device)
Wireless (bluetooth/NFC or 802.11) connectivity read-ONLY (you can't create/delete keys in your device)
Support for Multi-factor accounts/keys (use more than 1 device to allow transactions to be executed)
Support for USB-C with miner capability (being those PoS or PoW)
Water proof up to 50 Meters! - the last thing you want is for your device to die while you where in the middle of the woods.
Add GPS encryption lockout (your device can only be unlocked if receiving GPS signal at a specified locations or/and when a secondary device allows it) - this is an ultimate feature for your safety when traveling to places where you don't know if someone can steal your device.