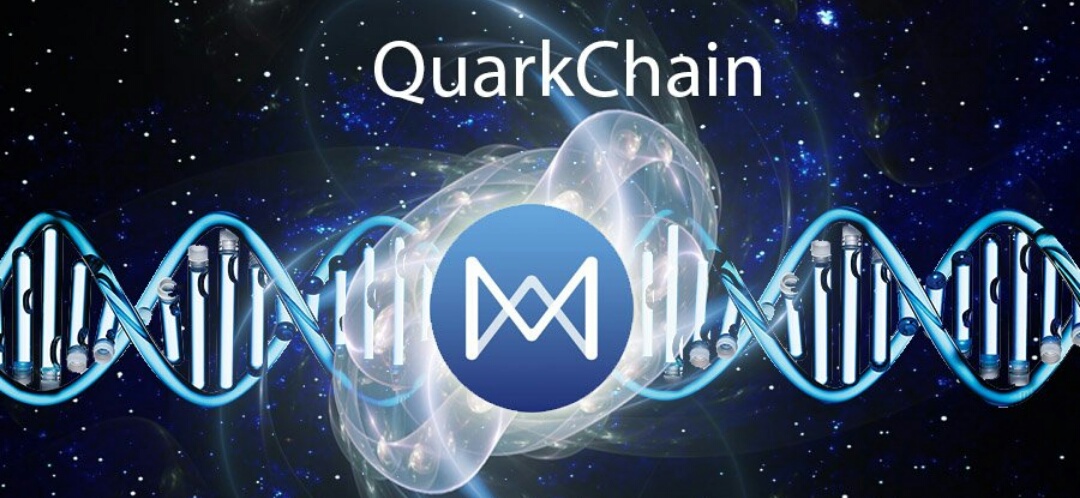 Ever since blockchain technology and cryptocurrencies were invented, the world has witnessed a new revolution. Blockchain technology is the main deal, the next big thing while cryptocurrencies are taking over as time goes on. We find blockchain uses in Healthcare services, Finance, Engineering, Gaming etc, while cryptocurrencies have given money a new face. This is due to the outstanding features of blockchain technology such as;
a. Decentralized database: Ensuring data protection and security,
b. Open source and easily accessible: Which makes sure any developer can launch, work and develop new things,
c. Smart contracts: Ensuring real-time transactions are carried out efficiently.
The Importance and significance of blockchain technology can't be overemphasized, as it has solved many problems associated with a centralized database, thus leading many organizations into developing blockchain to suit their platforms or companies.
Bitcoin is the first cryptocurrency which ushers in the world of blockchain technology, followed by Ethereum which introduced smart contracts etc.
Just like we humans are unique in our own way, same can be likened to cryptocurrencies because they were developed by humans. Therefore, most developers have identified some limitations associated with Bitcoin and Ethereum, and as such aims to solve it in other to build a better world of blockchain technology and a better cryptocurrency space. This has lead to the development of other blockchains such as NEO etc.
But yet, none has been able to solve the issues associated with the transaction on these blockchains or develop a blockchain with faster transaction speed while consuming less power, at the same time ensuring data protection and security. The transaction per second (TPS) done on these blockchains (BTC and ETH) is in the range of 10-30 which have been proven to be poor and as such can't cover its users.
This has to lead a team of brilliant minds into developing a blockchain which solves these limitations and more. This is no other blockchain or system than QUARKCHAIN.
Quarkchain is a blockchain built by brilliant minds with the aim of expanding the usability of blockchain technology thereby meeting a commercial standard which is global, easily accessible, serving the purpose it's built for without risking the decentralized features and data security.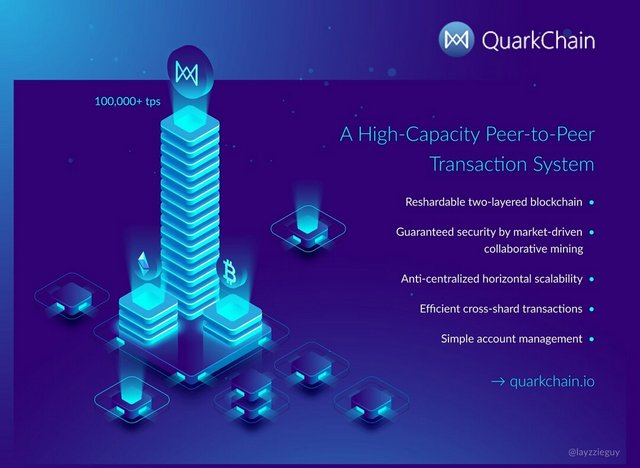 THE PROBLEMS QUARKCHAIN AIMS TO SOLVE AS WELL AS THE SOLUTIONS OFFERED
Just like every great project in the world, there has to be a unique and pressing need it has to solve, and as such Quarkchain isn't an exemption.
These problems are;
CASE 1. THE DECENTRALIZED NATURE OF BLOCKCHAIN TECHNOLOGY:
Problem:
The decentralized nature of blockchain technology has many benefits such as; data security, equal and ease of use by any developer, but yet it has limitations which tend to reduce its efficiency and effectiveness. Such challenges can be seen in mining pools related blockchain, such as the POW (proof of work) blockchain. The increase in hash power of single-blockchain network encourages centralization, making it possible for weak miners to collect rewards thereby going against the objectives of blockchain technology.
Solution:
Quarkchain aims to be more decentralized than a single-blockchain network, thereby making it difficult for weak miners to join a mining pool, thus no reward is collected.
CASE 2. SECURITY
Problem:
Blockchain technology has features which ensure security against cyber attacks.
a. A blockchain is a chain of digitally connected blocks. This ensures there is optimum security, as these blocks are linked.
b. Transaction records are protected with cryptography.
c. Blockchains are decentralized.
Even with all these features, a study has shown that there are still vulnerabilities, loopholes that need to be corrected.
Solution:
Quarkchain ensures security by allocating 50% hash power to all transactions done on the platform, thereby making it hard for cyber attacks to penetrate the system, a study has shown that cyber intrusions require 25% harsh power.
CASE 3. SCALABILITY
This can be seen as the ability of a system to adjust so as to accommodate more growth.
Problem:
Cross-transactions limits the scalability of the blockchain.
To understand this better, let's consider what happens in cryptocurrency exchanges, it allows cross-chain transaction but yet, it is the least secure place for storing cryptocurrencies, in addition to higher transaction charges, low transaction speed etc.
The complex nature of Sharding makes it hard to implement, as it takes time to complete. A study has shown that Ethereum is still in phase one of Sharding in order to improve scalability. In addition, cross-shard transaction limits the scalability of the blockchain.
Furthermore, the absence of Lighting Network also limits the scalability of the blockchain.
Solution:
To solve scalability, Quarkchain allocated 50% harsh power to root chains which in addition also contributed enormously to the security of the Quarkchain platform.
The Quarkchain platform has an improved and advanced sharding technology which has the capability of enhancing the system at the same processing millions of TPS efficiently.
Quarkchain also aims to solve issues associated with the cross-chain transaction via the use of multiple blockchains.
Multiple blockchains are used to increase scalability together with Lightning Network.
CASE 4. TRADEOFFS
Problem:
Owing to the high demand of blockchain technology, lower transaction speed etc there is a need for scalability of the blockchain.
Solution:
With the outstanding features of the Quarkchain platform, these issues are solved.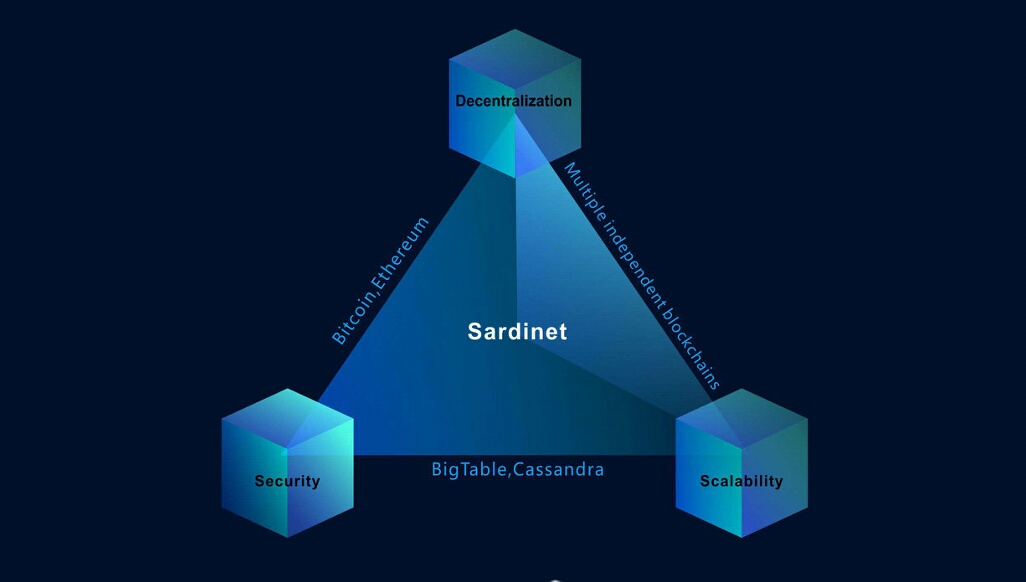 QUARKCHAIN TOKEN (QKC)
Quarkchain token QKC is an ERC20 token built on Ethereum blockchain with the total supply of 10,000,000,000. After the creation of Quarkchain mainnet, all tokens will be converted.
QKC is used in the following ways:
i. As a Reward: QKC will be used to reward contributors thereby encouraging them to do more.
ii. Value Carrier: QKC will be used to bring value to the platform.
iii. Transaction Fee: All transactions done on the platform will be charged in QKC.
TOKEN SALE DETAILS
There will be no Pre-sale.
KYC started today (7/05/2018) and will run for two (2) weeks.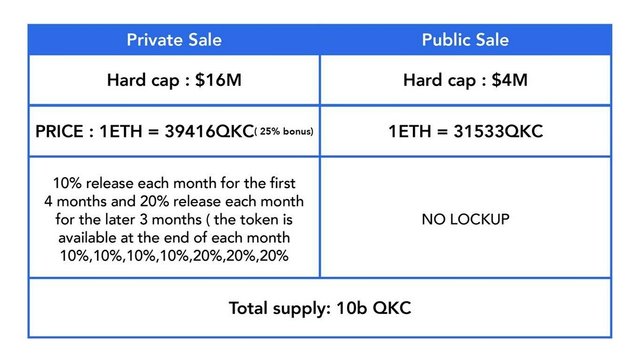 TOKEN DISTRIBUTION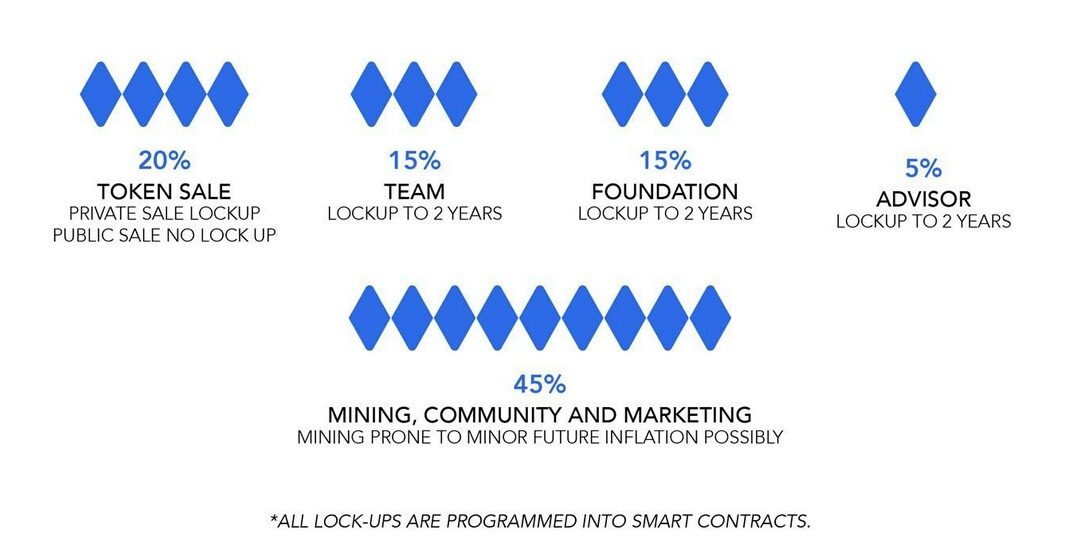 CONCLUSION
Quarkchain is a high-capacity platform with the aim of solving the issues associated with current blockchain through achieving millions of transaction per sec (TPS).
The Quarkchain platform will accommodate various DApp requiring high transaction rates such as AI and big data, IOT (internet of things), gaming etc.
Quarkchain provides a scalable, decentralized and secure blockchain solution offering 1,000,000+ on-chain transaction per second.
Quarkchain also aims to solve issues surrounding scalability, security and decentralization without disrupting the true nature of blockchain technology.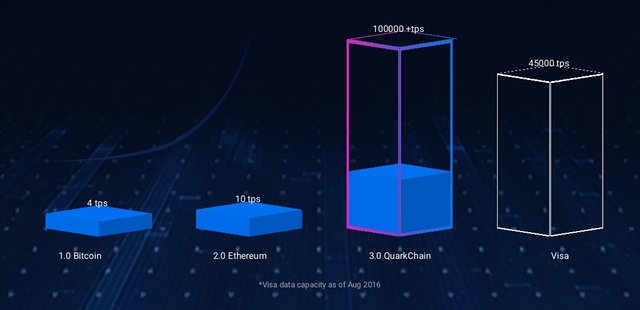 ROADMAP
The roadmap is well concise and straightforward, the image below describes in details.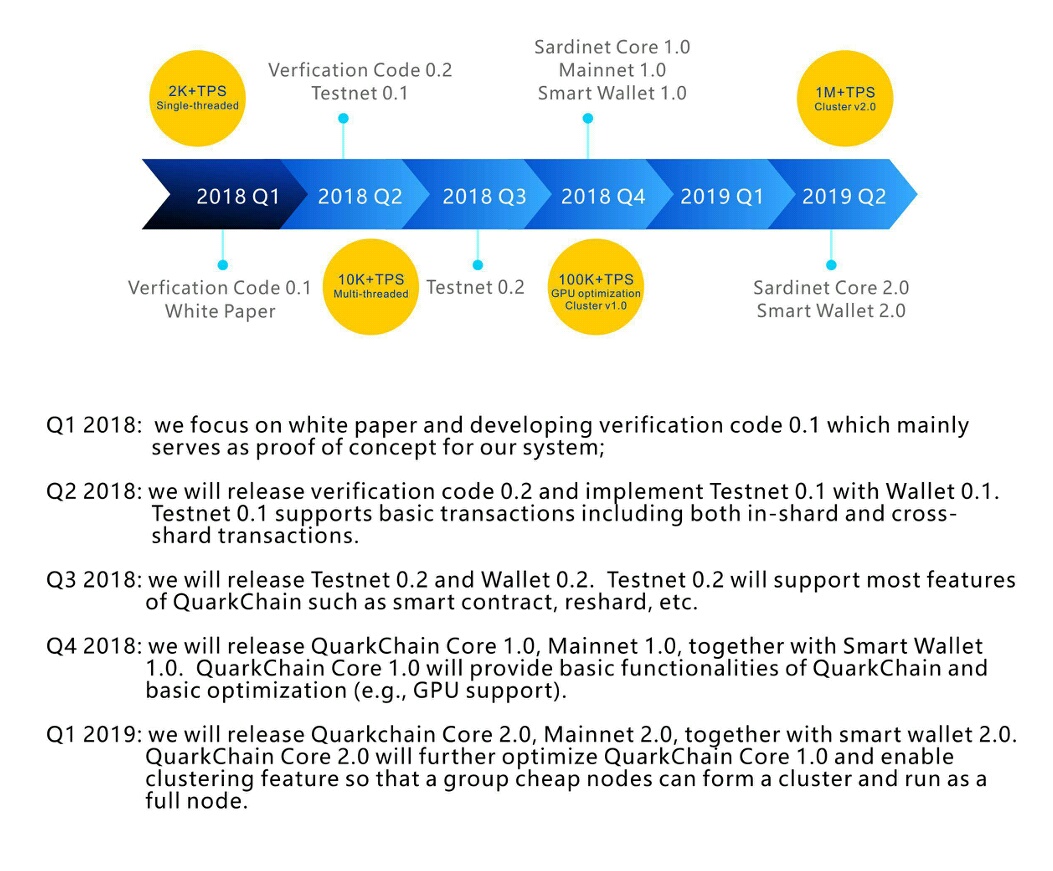 TEAM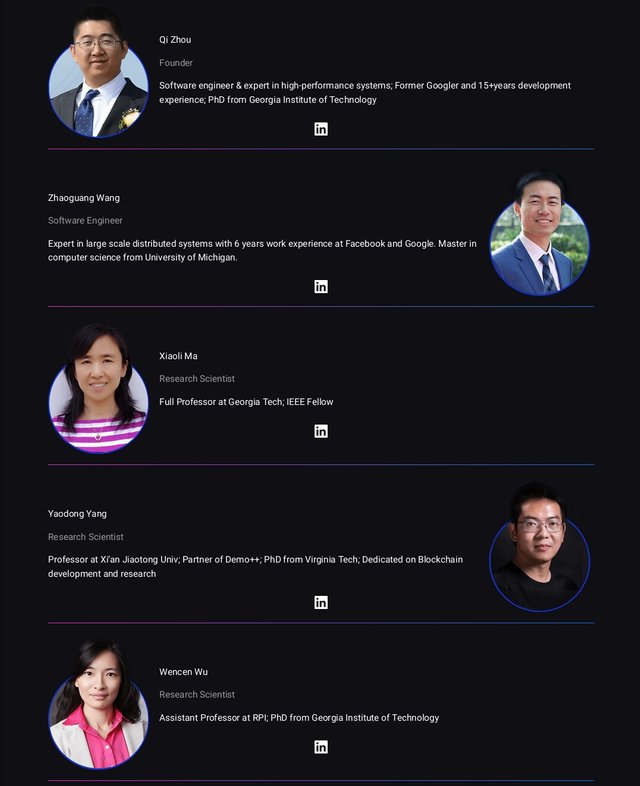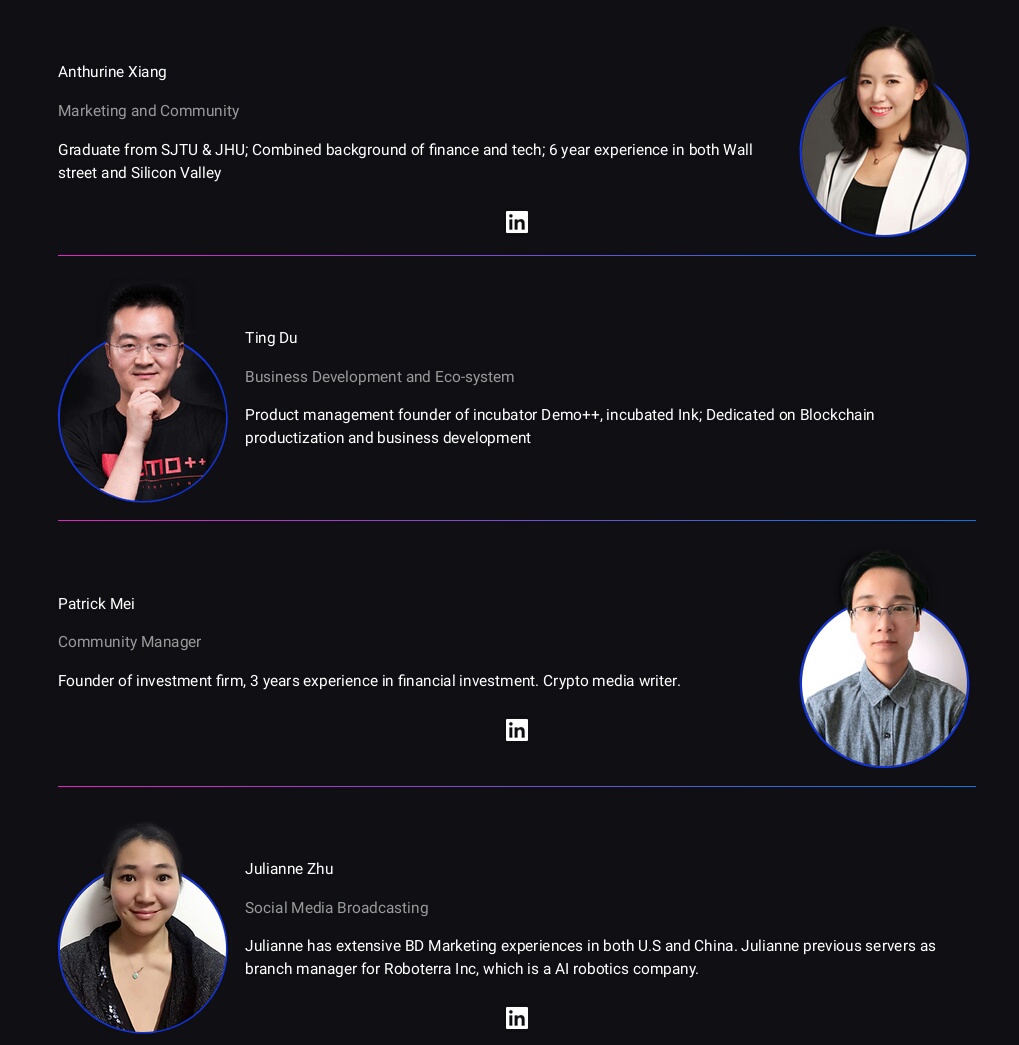 ADVISORS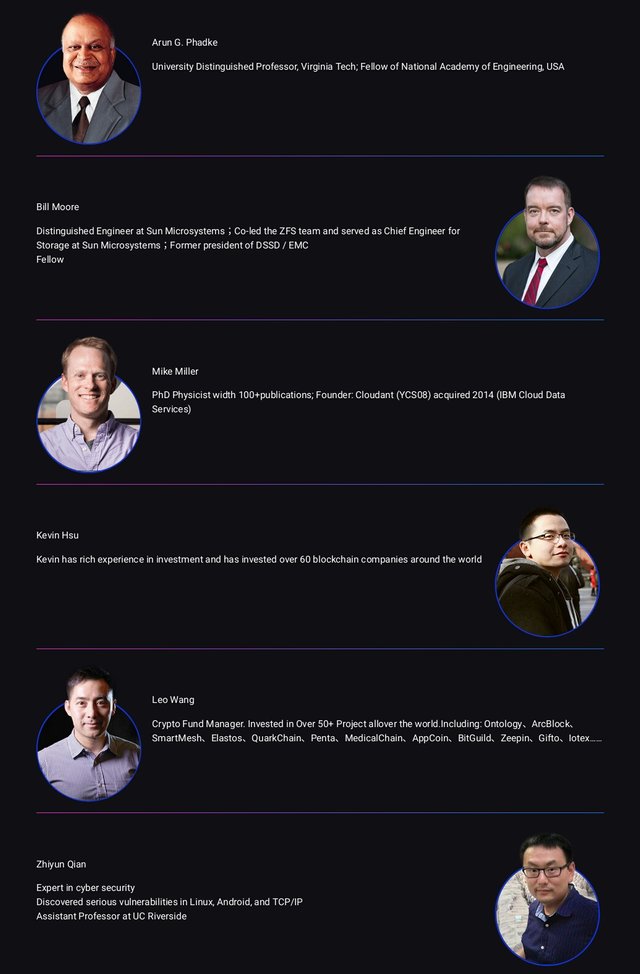 COLLABORATORS

TO KNOW MORE ABOUT QUARKCHAIN
Join the Telegram Group: https://t.me/quarkchainio
For more information on KYC, Join the Telegram Channel: https://t.me/QuarkChain_News
Follow on Twitter: https://mobile.twitter.com/Quark_Chain
Website: https://www.quarkchain.io/
GitHub: https://github.com/QuarkChain
Whitepaper: https://www.quarkchain.io/QUARK%20CHAIN%20Public%20Version%200.3.4.pdf
Writer: Emmy92