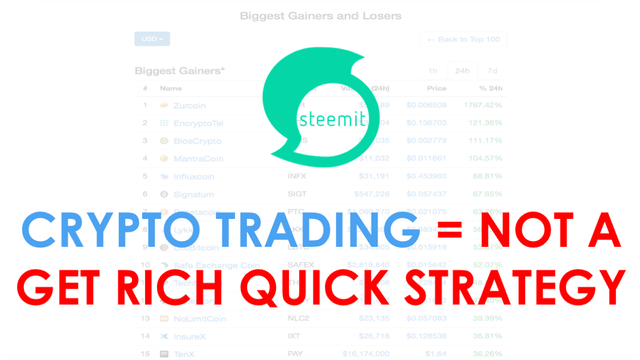 Certainly a misconception among many friends is that crypto trading looks like it's an easy get rich quick scheme but believe me trading crypto is certainly not a strategy to get rich quickly.
If it was as easy as buying low and selling high then I suspect most people could manage that and get rich. The same with buy the dip, sell the rally. Why don't people manage to achieve this consistently over long time periods.
It sure does look easy on the outside but of course it's not and that's why many fail with crypto trading. It is a challenge to stay consistently profitable and it certainly doesn't happen over night. You must always remember that day trading is difficult and will not make you rich quickly.
If you plan to succeed with crypto trading then it needs capital of time, energy, emotional, mental and of course financial capital. Prepare to lose in each during your learning curve and that learning curve depends on many factors such as discipline, determination, never giving up and a desire to succeed to name a few.
If you think you have what it takes then this is when your long journey into crypto trading begins, perhaps many months to start to see reliable and consistent profits.
---
Thank you for reading this post because I hope it is helpful for you should you wish to start cryptocurrency trading.
If you think this is a helpful post for beginners to the crypto currency space, would you please upvote this because it will help me share more insights to success and profit with digital currencies.😋
All my hopes and dreams.