LiTeum - Blockchain & AI powered e-Commerce solution
The World of Crypto combined with the Blockchain technology has taken a major place in people's lives, especially the youngsters! And it goes without saying that Cryptocurrencies are the future of money! But along with entering such exciting phase, there are problems too coming into existence that needs to be tackled.
In order to give the people a solution to their problems, especially in the e-Commerce space comes "LiTeum".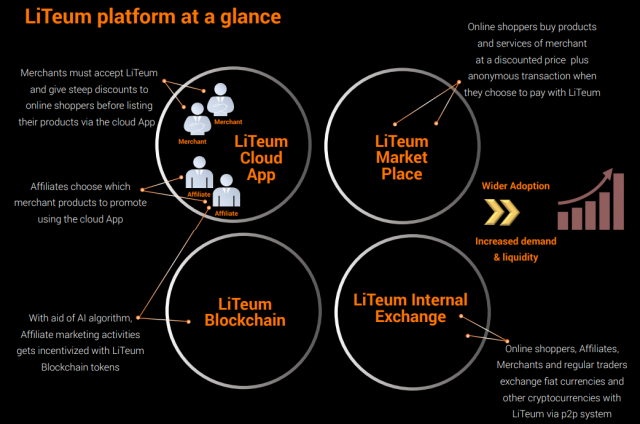 The Global e-Commerce market is rapidly rising with over 40 billion transactions annually and with predictions for further growth in the large emerging markets with having more online buyers than offline. It clears up the message that E-Commerce is becoming the NEW channel in both developed and emerging markets. In order to extract more from this entire scenario, the 33% of online merchant and business owners use affiliate or referral programs of a certain kind to attract/enhance sales.
Hence, it opens up ample opportunity for promoters/marketers to earn good amount of money. However, the case isn't so straightforward given a lot of time people do not get rewards for their efforts and that after even generating traffic with hundreds or even thousands of unique visitors to the target, as the commissions are only given once sales are made. So with such structure, it distances a hard working person given low rewards!

That's where LiTeum got the solution for everyone with LiTeum cloud Application, which will convert the marketing effort of e-Commerce affiliates to measurable levels of activities and incentivize it with a Blockchain utility token and that even when there are no sales made!
LiTeum is a marketing platform for e-Commerce space, powered by Artificial Intelligence and Blockchain Technology. It's not built for just one category or range of people, but it's for EVERYONE or anyone who believes in hard work and wants to have comfort in their life. There are a lot of loopholes in this giant e-Commerce industry, but LiTeum aims to fix them all. With the major points focused is to reduce online marketing and advertising costs for merchants, to motivate the ordinary person into e-Commerce Affiliates and Referral marketing, which will open up a new lane for people to earn through in an easy and consistent way.

LiTeum also puts priority to eliminate suspicion with establishing absolute transparency between merchants & affiliates. The security, safety and easiness too are amongst the key features of LiTeum online marketplace. LiTeum is going to be the revolutionary project, which not only will make e-Commerce space a lot easier to manage for all but will also boost the whole industry in terms of popularity.
LiTeum project is very precious with the concept and thought process coming from Mr Daniel Chukwuma Anyamene, the Founder and the CEO of the company and Miss Jana Kozakova, the Co-Founder and the COO of the company. The designed and developed is done by iDiTech s.r.o, a Prague based company comprising of Tech entrepreneurs and developers.

However, LiTeum didn't start suddenly, as the real journey started in 2016; when we with a vibrant team of fearless Tech entrepreneurs and developers dared to challenge convention with our innovative solutions over the years.
Then came the product called "Proximi-Fi (our currently existing platform), which is running steadily in the North American market with several corporate clients and distributors across the United States. LiTeum is created as the extension of the Proximi-Fi platform.
LiTeum is a win-win-win creation for everyone involved with e-Commerce Merchants getting their products and services promoted for FREE by genuinely motivated affiliates and referral promoters. Meanwhile, affiliates and referral promoters too are victorious as they get incentivized with LiTeum tokens with aid of AI algorithm even if the promotional activities don't result in sales. And last but certainly not the least; the online shoppers too, get special discounts and instant secured transactions, when they use LiTeum to order products and services of merchants in LiTeum online marketplace.
So, this is the opportunity to be part of the revolutionary movement to change the way the world works! And in order to do so, we invite everyone to be part of our Token Distribution Even (TDE). LiTeum's Token Distribution Event is not a traditional ICO sale event, as tokens are not sold or bought with this. LiTeum does not look for investors, given our whole priority works towards development and building up the community around the platform. The primary objective of organizing the TDE is to promote wider crowd adoption and build a community of early adaptors using the Technology to be provided by LiTeum platform.
It must be noted that LiTeum tokens are not sold during TDE. You only contribute if you believe in the idea behind the LiTeum project, the LiTeum team will acknowledge your contribution by sending an undisclosed number of tokens to your wallet, the amount is not revealed in advance.

However, prior to the automated crowd TDE that instantly sends $50 worth of Tokens to Ethereum wallet of every new signup, LiTeum team intend to conduct a pre-TDE airdrop, where anyone will be able to contribute any amount and receive upto $500 worth Tokens. It will require individual to like Facebook Page, joining the Telegram, Discord Group, Tweet and Retweet on Twitter and so on, along with the option of trying out the exciting products.
To ensure rewards for people contributing to spreading about us, we have 2 tier referral systems in place, which allows people to sign up and receive the FREE tokens. Come be part of the game changer in e-Commerce space!
Check below for further details:
Official Website:
Whitepaper:
Social Sites: