Don't look at ATH, look at yearly lows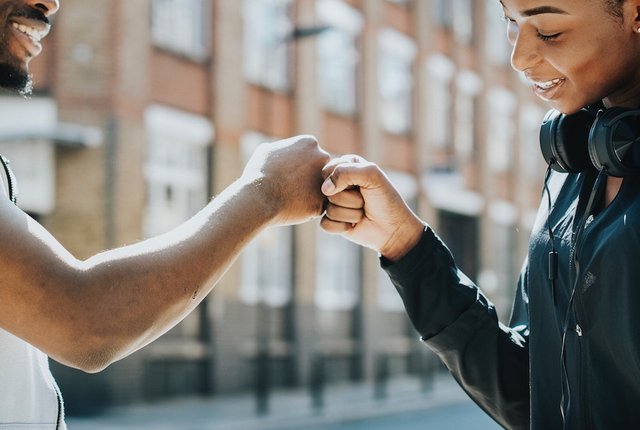 Today we'd like to share one our colleague's story with you. We think it may inspire you during this cryptowinter. Enjoy the reading!
Hey, don't look at ATH, look at yearly lows 
The philosophy of HODLing. The background. 
HODL or not to HOLD? - paraphrasing prince Hamlet, I would like to ask the question that's been on minds of many crypto investors since December 2017. During that time we've seen Bitcoin (and together with it altcoins as well) rise to all time high, and significantly drop within next weeks.
Approx 1 year ago all of our friends were crazy about cryptocurrencies. Buying, selling - trading! But by the beginning of Jan 2018 approaches changed. Media started to predict the death of all cryptocurrencies, claiming they were never a proper way to invest money. "Proving" that there is no ROI with bitcoins, and that there never will be.I have to admit, during the past year I've sold majority of my coins. I was looking for better alternatives, trying out different tokens and trading schemes. The media got me, friends convinced me to stop what I'm doing, and fluctuating rates of various coins did the rest.
And then it hit me!
My colleague Hubert, with whom I'm working at Darb Finance trading platform - cool guy knowing all there is about crypto and very data-driven mind; all in one person - after listening to my complains and black visions of the future - simply smiled and sent me this screenshot: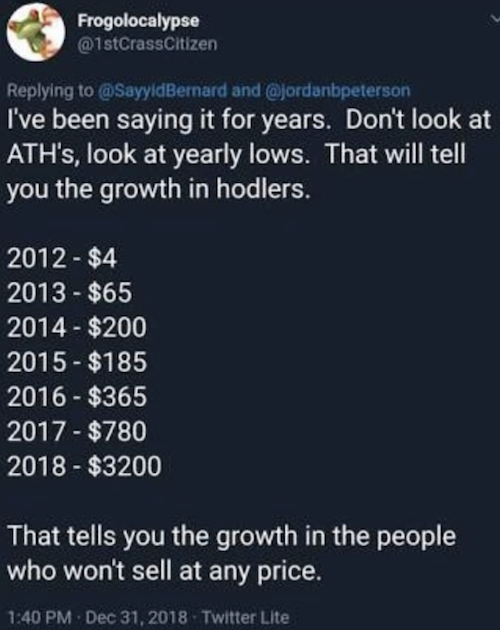 Of course, I didn't believe it at first - but the true purpose of investing started to appear in my head. While some might look for quick profits, many investors evaluate their projects in longer perspectives. I'm not buying a house to sell it with 50% profit after one week or even a month. That's a long-term investment.

For some (in our case HODLers), crypto market is perceived in the exact same way. We can have positive or negative fluctuations today - but what matters is the trend. "Don't get all fired up by other people's excitement. Don't fall into depression when someone convinces you everything is on fire. Listen to what they have to say - and check the numbers. Numbers don't lie" - what Hubert said still sticks in my mind and actually, that's what motivated me to write this post.
Don't look at ATH, look at yearly lows.
So I looked. First, of course I wanted to double-check data for BTC. Coinmarketcap says, it's exactly as Frogolocalyps twitted. How about ETH or LTC? Trends are the same. While All Time Highs are running like crazy confusing short-term investors; the yearly lows show us clearly that value of coins rises.

I'm not saying that all of us should stop trading and only HODL our coins now. It's always balance between long-term trends and fast moves made on the right time. But this simple tweet and words of my friend helped me to get all new angle on how to manage crypto assets. I'm still doing some quick trading, but majority of what I have is sealed for next few years.
And that's how I became a HODLer. Are you going to do the same? :>
XOXO, Karol J.
PS. Shout-out to Frogolocalyps - in a weird chain of events, without your initial Tweet this post could have never been created :)
Website: https://darbfinance.com/