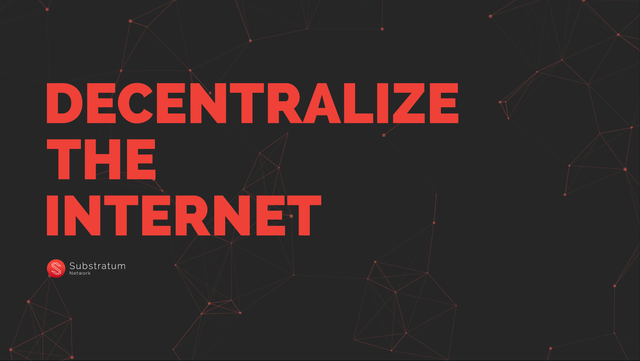 Hello Steemians! It has been an exciting day for one of my favorite crypto projects, Substratum. For those who do not know, Subtratum aims to create a decentralized way to access the internet. Imagine that you get to earn cryptocurrencies while serving a part of the Tor network. Isn't that awesome? Substratum is exactly what I just described 😎. Here is Substratum's mission,
Substratum is developing an open-source foundation for the decentralized web, providing free, unrestricted, and uncensored access to content for a new Web 3.0
And here is how they describe their network,
The Substratum Network is a worldwide collection of nodes that uses industry-leading cryptography to deliver secure content anywhere, all without the need for VPNs or Tor.
Now, allow me to walk you through the exciting announcements they made today!
---
Substratum Node 0.4.0 Released!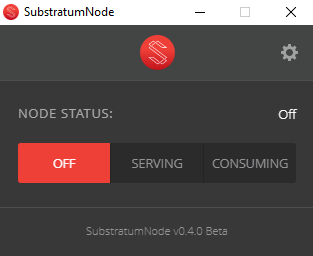 The Substratum Node is the piece of software which will eventually enable you to browse the internet in a decentralized manner. In version 0.3.X of the Substratum Node, the key focus was to make the node work locally on your PC. Hence, in these earlier versions, internet traffic is forced to route through the node locally and then out to the internet. This serves as a proof-of-concept that the node is able to handle traffic in and out.
In version 0.4.X, decentralization capabilities will gradually be brought in. With this version of Substratum Node, users will be able to start routing traffic through other nodes and browse the internet via the Substratum network. For those who are familiar with the Tor network, this may sound very similar. By routing your traffic through random nodes, you will be accessing the internet anonymously and without censorship. And today, version 0.4.0 is released! I have downloaded and installed it and waiting for official instructions on how to turn on the decentralization capability. If you are interested, do download it from the Substratum Beta site.
After this release, the next major version to look forward to will be 0.5.X. In this version, nodes will be able to start earning SUB tokens when serving traffic from other users. This will also be the earliest official public release and it it is target to be released by end of 2018! 🚀
---
The Secret Product 3
For months, the Substratum team had been teasing supporters and investors of a secret product that they will be introducing. The team has a very strong vision in their product roadmap and they want their products to complement each other. That makes a lot of sense because it get users of one product to want to use the other product as it is convenient and beneficial to do so. It is just like how having an Apple iPhone will get you interested in getting an Apple Watch.
The first product which Substratum introduced was the Substratum Node. Which allows users to connect in a single network and earn SUB tokens in the process. Once you have earned the tokens, you need to be able to spend it somewhere. Hence, the next product, which they have already announced, is CryptoPay. CryptoPay is a PayPal-like service which allows users to make purchases using cryptocurrencies.
Today, they finally announce their third product. A distributed and decentralized cryptocurrency exchange, called Amplify. Based on the presentation, Amplify is able to allow users to purchase any supported cryptocurrencies with fiat directly. As you might know, existing crypto exchanges usually only allow you to buy Bitcoin and Ethereum with fiat. But with Amplify, you can buy any supported cryptocurrencies in fiat. I think this is quite an important product to have because many altcoins like Dash, NEO, Steem and NEM are already highly sought after. There is no reason why we should be exchanging to Bitcoin first then convert to altcoins.
However, with this new exchange, there also comes a new token, AMPX. While SUB owners are expected to get an airdrop of those tokens, the market wasn't too happy to see another upcoming ICO. As you can see from the chart below, the price fell quite substantially when this news was shared during the announcement. Nonetheless, I am still bullish about the long term prospect of this project.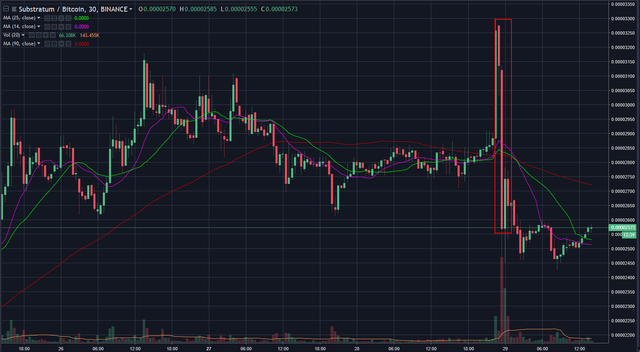 ---
Thanks for reading! Let me know your thoughts on the Substratum project and what do you think of Amplify. In you are keen, below is the full announcement video. In the video, there is a demo of how CryptoPay and Amplify will look like. So watch it and you should be able to understand why I am so looking forward to it.
This post is also posted on my blog
Projects/Services I am working on:
---
You can find me in these communities: