Human Coin - The currency of kindness
Hello everyone! Today is something new and this time i will introduce a good and establish company that is currently running an ICO to raise funds to further expand and improve their current product and technology.
Humancoin is the new e-commerce cryptocurrency fuelled by the Proof of Charity mining protocol.
Humancoin Project are currently on pre sale stage. It started last July 1 and will end in August 15.
What is Human Coin?
Humancoin is a revolutionary platform bringing about the synergy of philanthropy industry, retail e-commerce and cryptocurrency markets, which together have a combined value of $3.5 trillion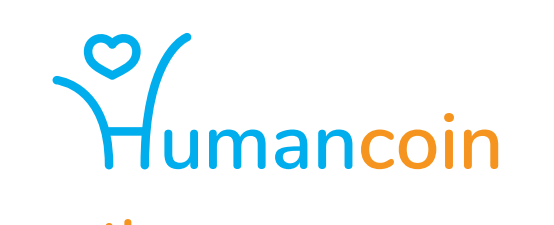 Why Human Coin
Quarterly buyback 5x the Token Sale price after launch!
The Humancoin tokens can be easily convertible into any points, miles, bonuses, coupons. Token owners will be incentivized to hold them to take advantage of attractive benefits and this provides a long-term, stable demand for tokens.
As the number of partners and the scope of cooperation within the Humancoin Network grows, so does the popularity of the token.
The Proof of Charity "mining" concept allows the project to scale hundreds and thousands of times.
Why Human Coin is Unique?
This is the first ever blockchain project that has the potential to become a global e-commerce loyalty program aggregator.
Association with philanthropy gives its tokens a unique advantage in developing loyalty programs with partners creating a strong emotional resonance.
Instead of competing with existing programs, the Humancoin token is effortlessly integrated into already existing systems — all it requires is setting a conversion rate.
The Solution
Blockchain solves the trust issue by providing transparency, traceability and security
Donors can quickly make donations worldwide, monitor their expenditure online, receive benefits from the platform's partners
The symbiosis of e-commerce and cryptocurrencies will facilitate an increase in the number of donors
Among the project's partners will be large online stores, service businesses, gaming and entertainment industries, airlines, cryptoexchanges, international corporations, regardless of whether they operate with cryptocurrencies or not.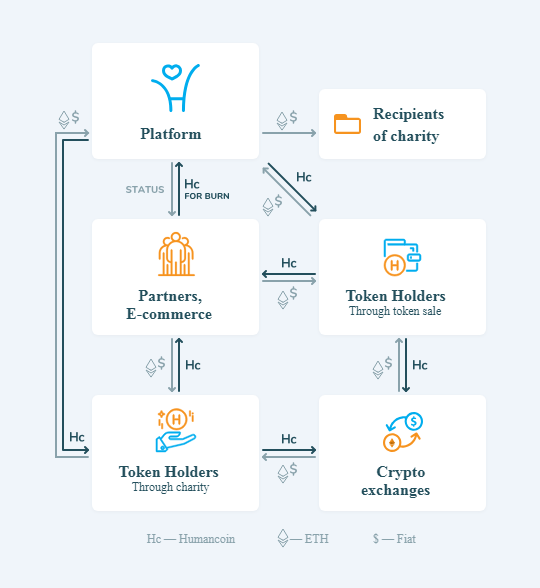 Token Sale Informations
3,055,000,000 ERC20 Humancoins are available
All tokens that go unsold will be burned
The price of one token is $0.01
Minimum purchase — 0.1 ETH

The funds raised at the Token Sale will be spent on the development of the project in 2019.
There will be additional token emissions (mining), 100% tied to the actual volume of charitable donations (Proof of Charity).
Token Distribution:
3 055 mln — For sale
1 000 mln — Partnership Development Fund
600 mln — Team reward
50% — blocked by smart contract for 6 months
50% — blocked for 12 months
600 mln — Advisors and ambassadors
500 mln — Consultants and exchanges
245 mln — Bounty, airdrop and referral program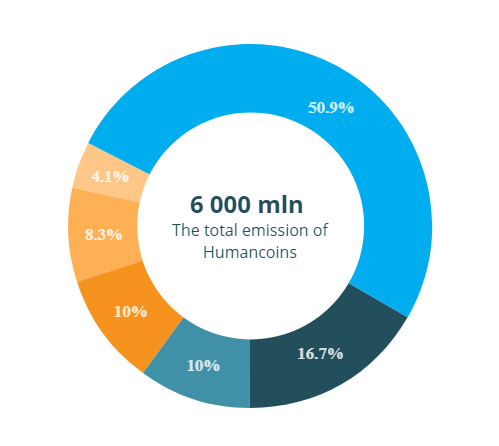 Token Sale Bonus Structure

Important Project Links
Bitcoitalk ANN Thread - https://bitcointalk.org/index.php?topic=4469466
Telegram Group - https://t.me/HumancoinChat
Website - https://www.humancoin.net/
Whitepaper - http://docs.humancoin.net/HumanCoin_whitepaper_en.pdf
That's all about Human Coin Project Review and i hope you find this useful in understanding the basic overview of the project. If you are looking for technical answer for your technical question please visit their telegram channel and Human Coin staff/admin are always available to handle all community question.
Author: Boyong02
Profile Link: https://bitcointalk.org/index.php?action=profile;u=1023366