I've seen that some people have had questions about how to buy currency that's not traded on the major exchange coinbase...I'd like to explain this process the way I do it.
I use a coinbase account to buy bitcoin or ethereum with US dollar. Unfortunately as many of you already know coinbase only offers bitcoin, ethereum, and litecoin.
On coinbase I can either use a credit card (for a 4% fee but the coins are available instantly) or use a bank account but the buy takes 5 days to complete but it's only like a $3 transaction fee. I use a card that I get 2% cash back on so really I only pay 2% fee if I use the card. Sometimes I'm more patient and use the bank account option on coinbase. I'll go through most of the process assuming you can get a coinbase account set up which is fairly easy. If you have trouble leave me a comment and I'll reply and try to answer your question. SO let's get started!
First, go to https://www.kraken.com/en-us/signup and create a kraken account. Once you've done this you'll need to go through the verifications to at least tier 2. See image below to get verified.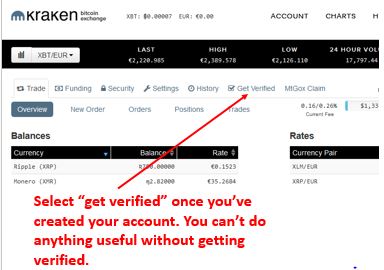 Next, start with the first tier and go all the way to tier 2. It takes a couple days to get this verification level. See image for more detailed info about tier levels and what they allow you to do.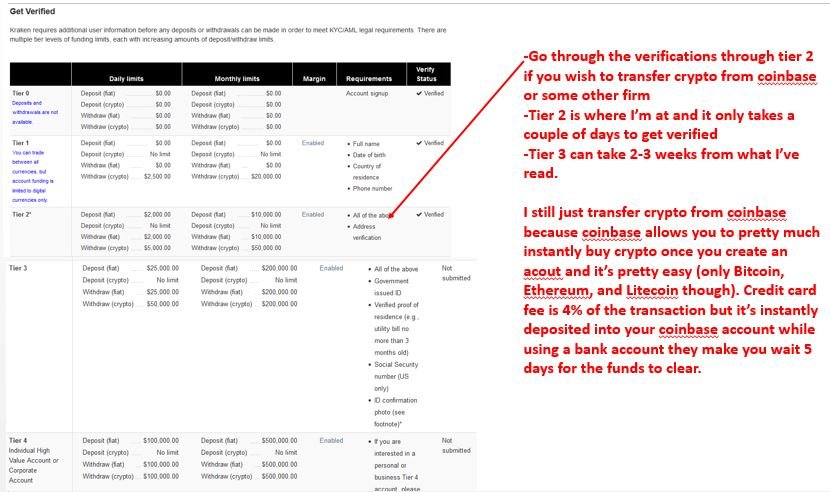 After a few days when you're verified, do this
Next you'll need to create an address so you can send funds from coinbase or your coin broker of choice to your kraken account.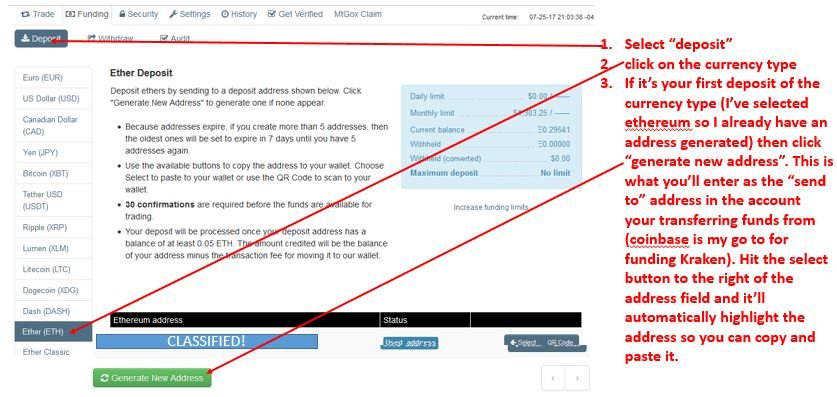 Next, go to your coinbase account and do what's shown in the image below. I forgot to change the "wallet" field (just below the amount field) in the image to ethereum as I'm showing how to trade ethereum for EOS in kraken a little later in this post. You need to select the same type of currency to "send" from coinbase as you selected in the "create address" function in kraken for this to work. SO if you wanted to transfer bitcoin instead of ethereum, you'd generate a bitcoin address in kraken and then copy and paste it into the send to address field in coinbase.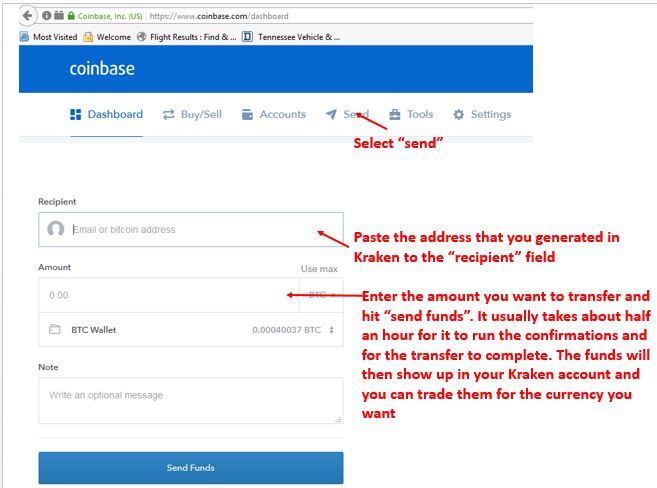 Once you hit transfer, it'll go through a bunch of confirmations which takes about 30 minutes and then the funds will show up in your kraken account in the wallet you sent it to (ethereum, bitcoin, etc). I've had one instance where it took 20 hours because they were having problems on coinbase but it finally went through. This is kinda rare but it happens but you will get your money transferred eventually.
Now that you have Ethereum or Bitcoin transferred to your specified kraken wallet you're ready to trade! Let's see how this is done.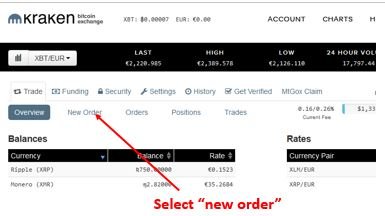 THere's simple orders and more complex ones. I think it's easiest to select "intermediate" as shown in the image below. There's also instructions on how to place the order. If you've not used limit orders like i have to trade stocks buying on the bid, select "market" order as I've suggested in the image. You'll pay a tiny bit more but the buy happens immediately as opposed to you having to wait til someone sells to you at your bid price. But if you're using the market order you don't need to worry about all this.
In the "amount" field, it'll say below it "amount of xxxxx" to buy or sell depending on the order type you select. If you choose "buy" EOS/ETH it means you're using ethereum to buy EOS. Simply enter the amount of EOS you want to buy. Since you've selected "buy" it'll prompt you to enter the amount of EOS you want to buy and below it will show you how much it will cost you in the currency that you have in your wallet (I usually use ethereum to buy EOS but it's 100% up to you which you use to buy what you're buying). Do this on a PC as the kraken iphone app is wonky and it doesn't work very well. I've found a lot of crypto related apps are kind of lacking compared to stock trading apps on a phone. You'll save yourself a lot of frustration using a PC...
Once you submit and confirm the order, you'll see your new coins in your kraken account. It's a bit of a process but that's how you do it if you're tier 2 on kraken like me.
I hope this was informative. Please share if you know someone who is looking for instructions on how to buy currencies that aren't traded on coinbase which I think is the easier platform. If anyone has any questions, leave a comment and I'll get back to you as soon as I can.
I have a lot of experience trading stocks and the set up on Kraken and the method is pretty similar so I'm familiar with the process. However, even for a smart person it can be intimidating if you're not familiar with it. Hopefully this post will help someone and if it does that makes me very happy.
Disclaimer: I am not an investment professional and this isn't investment advice. Investing in and trading crypto currency is risky and you could lose everything you put in. But you could also make a killing or not much at all. So be careful and start small if you're new!
Happy investing / trading or whatever it is you're doing!