The world of cryptocurrency is fascinating to me, mostly because of how new all of the tech is and how quickly it's improving. Being on the bleeding edge of this technical and financial revolution is pretty incredible, and with that, I think there are some topics that are fascinating to watch play out. Here are some of my favorites:
Will the Lightning help to alleviate Bitcoin's scalability issues?
Lightning, while not totally ready for prime time yet, is increasing in usage quickly. Will it be the solution (or part of the solution), that helps Bitcoin lower fees, speed up transactions and overall scale better.

If you're not familiar with the Lightning Network, check out this quick explainer.
Will Bitcoin's reduced fees serve as a setback to Bitcoin Cash's value prop?
Not to many people have been talking about it, but after the Bitcoin fees skyrocketed, we're seeing the Bitcoin transaction fees settle back to normalcy. As Bitcoin's average transcation fees zoomed, Bitcoin Cash used that as an opportunity to tell the world about the benefits of big blocks for reduced transaction fees. But now?
https://fork.lol/tx/fee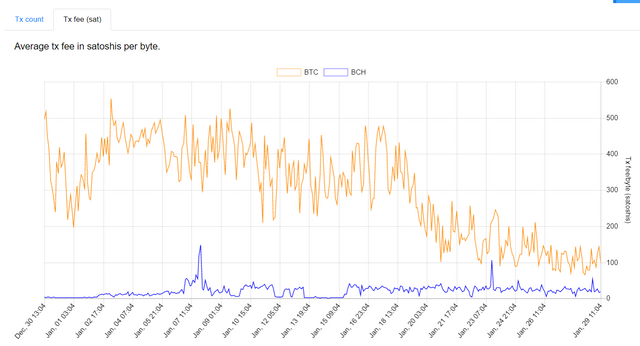 How will Smart Media Tokens effect STEEM in the long-run?
As someone with a vested interest in seeing STEEM succeed, I'm eagerly keeping on eye on SMT progress. I think SMT's are a brilliant idea for STEEM and could bring significantly more utility to the platform, as well as an incentive for content creators and influencers.
ICO Regulation, when will it come?
Perhaps you've noticed a growing trend that more ICO's are increasing their KYC (know your customer/client), AML (anti-money laundering) requirements and limited their token sales primarily to pre-sale investors. I believe the majority of this is a result of the lack of regulatory clarity from the United States, but at some point, they'll roll out regulations. Will they be reasonable, or overbearing on the industry? Time will tell.
What do you find most interesting

With the advancements going on in the crypto world, what do you personally find most interesting? Any topics you're constantly keeping an eye on? Love to hear it and interact in the comments!