Neluns: secure exchange of fiat and crypto currency
Volumes of the virtual currency market went through the roof. So you should not perceive the appearance of the Neluns project (it's NLS) just as another regular crypto exchange. Its creators know what is going on: the demand for secure decentralized exchanges stays growing up.
What does the Neluns project provide?
Neluns is a new and in my honest opinion very perspective financial ecosystem that allows buying, selling and exchanging crypto-currencies and fiat. ICO project started on August 1, 2018 and will last two weeks.
According to the promises of the Neluns team, this project will contribute to the growth of the crypto-currency market, including the key tokens.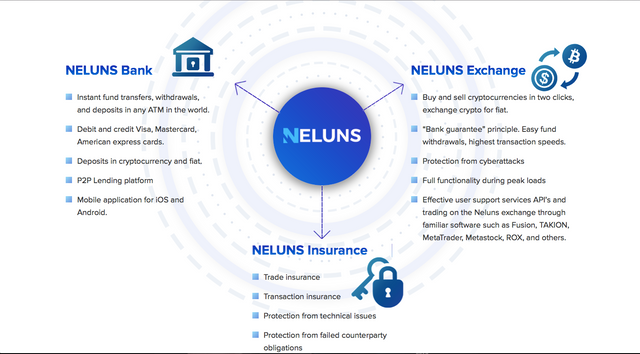 Three cornerstones
We know something about what the structure of such a blockchain is based on. So nothing new will come up. Predictably NLS offers its customers:
The banking system – within this tool it will be possible to realize instant transfer of funds, deposit or withdraw the crypto currency from the MasterCard or Visa card issued by NLS.

An insurance system that insures transactions from non-fulfilment of obligations or another technical problems;

Directly Cryptocurrency Exchange. Trading on it will be regulated by a license from a special guarantor, the Commodity Futures Trading Commission in the United States.
P2P Lending platform
Using the modern peer-2-peer lending can also bring money. Authorized users have a higher level of protection and profit. Any user who have already authorized his or her account can now open a multicurrency IBAN account, making payments in the most convenient currency. So far, not all currencies are available, but some several basic ones.
High level of security
If you are a customer of an offline bank, you've probably heard about the principle of a bank guarantee. You pay them (to the bank, I mean) some fees for using the card, taking a loan, etc. In exchange, they guarantee the execution of transactions, exchange and other payments from your side. So, in Neluns is the same thing – it takes place the principle of "bank guarantee". Of course, there are other principles that operate here - almost democratic management and there are no commissions. But you are guaranteed to become a reliable protection from cyber attacks and support as a result of excessive workload.
The presence of the API allows you to trade easy through other popular platforms, such as Fusion, TAKION, MetaTrader, MetaStock and ROX. You can choose a debit or credit card from the two world most known partners and there are four programs of them available: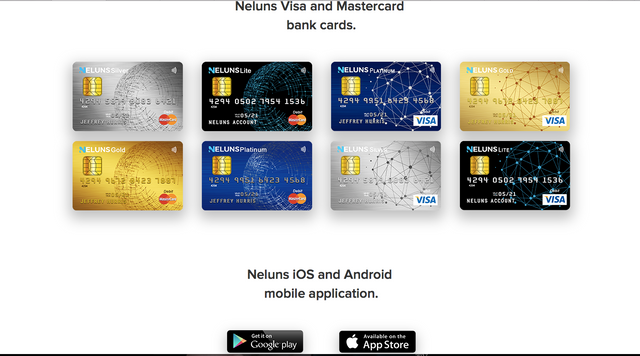 Why should it be profitable for you?
Neluns Bank is committed to comply with all financial regulations that are customary for banking institutions working with Fiat. But now any сryptocurrency will be available too.
The guarantor of the licenses of the insurance company and the Neluns exchange trusts, it is the Commodity Futures Trading Commission of the United States.
I would also bring up a couple of reasons why NLS has a great future. For example, highly developed client support and API. Also, powerful servers surrounded by several levels of protection are an important aspect, so that there are no delays in transactions or malicious attacks on your cryptowallet. And as far as I know, any authorized user can take a loan in dollars or in a crypto currency through the Neluns bank any time you need.
Who stays behind?
It consisted entirely of banking professionals and IT geniuses, but it could not be otherwise. Nick Thielman, founder and CEO of this project, has 11 years of experience working in the banking sector, and has already experienced his efforts in creating other blockhouses.
CTO and co-founder Darell Martin worked a little bit more than Nick, 14 years in the banking sector and about as much in the Big Data field. In fact, the history profile of each member of the team is the same, it indicates only the position and always the same - experience in Banking sector. And there are only 5 people mentioned, and I think there are much more behind the project.
ICO Neluns
The NLS is a secure ERC20Std token, which can generate up to 50% of the dividends from the profits of Neluns, and the distribution will take place by results of every 3 months.
You know, I was puzzled to see that figure on the website: 200 millions NLS is a total amount, expected to be sold at a very bold price of 1 NLS = 1 USD. The ICO will be held in three rounds: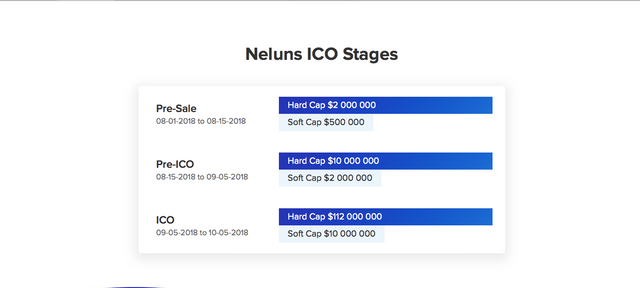 With the successful outcome of the previous stages, the ICO will be held during the whole month in Autumn with a pretty high Hard Cap and bringing to each user a standard 10% discount for one transaction. By the way, information about bonuses you will find below: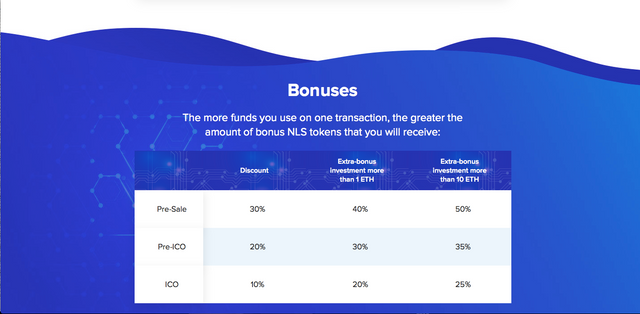 Future plans and distribution of funds
The figure announced by developers for the ICO period is 112, 000, 000 USD. These funds are planned to be used to achieve the basic objectives of the project building a strong and independent ecosystem. For that there supposed to be collected about 9,900 000 dollars. Also we know how much they are going to spend on marketing and advertising – the tenth part of all the funds, leaving the rest 7% for the reserve and giving just 3% to the team .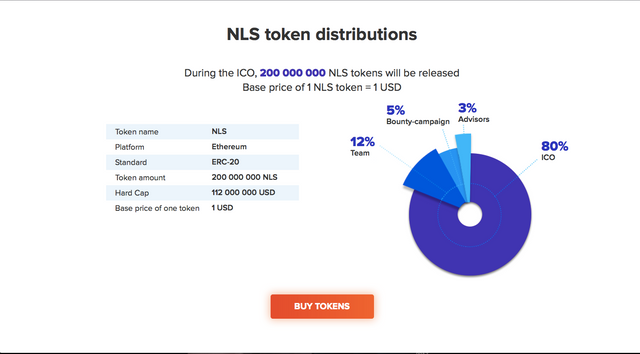 Once the ICO and the distribution of funds are completed, the team will begin to implement listing of its tokens on other exchanges. It is planned that in October they will be traded on Bittrex and Kraken, and by the end of the year at Binance, Bitfinex and other exchanges.
Conclusions about the prospects of the project
To consider that the project has a future? Of course, I can. First, they are seeking to get a large amount of funds in the ICO and 80% to spend on the implementation of the platform. Secondly, the blocking financial ecosystem will always have a demand. True, there are still weaknesses: it's unclear what is with the rest of the team, and also whether they can collect 112 million dollars during one-month campaign (I mean the stage #3 of it). But there are prospects, and I will buy about two hundred tokens project tokens as a seal of approval.
Website * WhitePaper * Telegram * Facebook * Twitter * [ANN]Bitcointalk * [Bounty]Bitcointalk * Profile