What is Technical Analysis?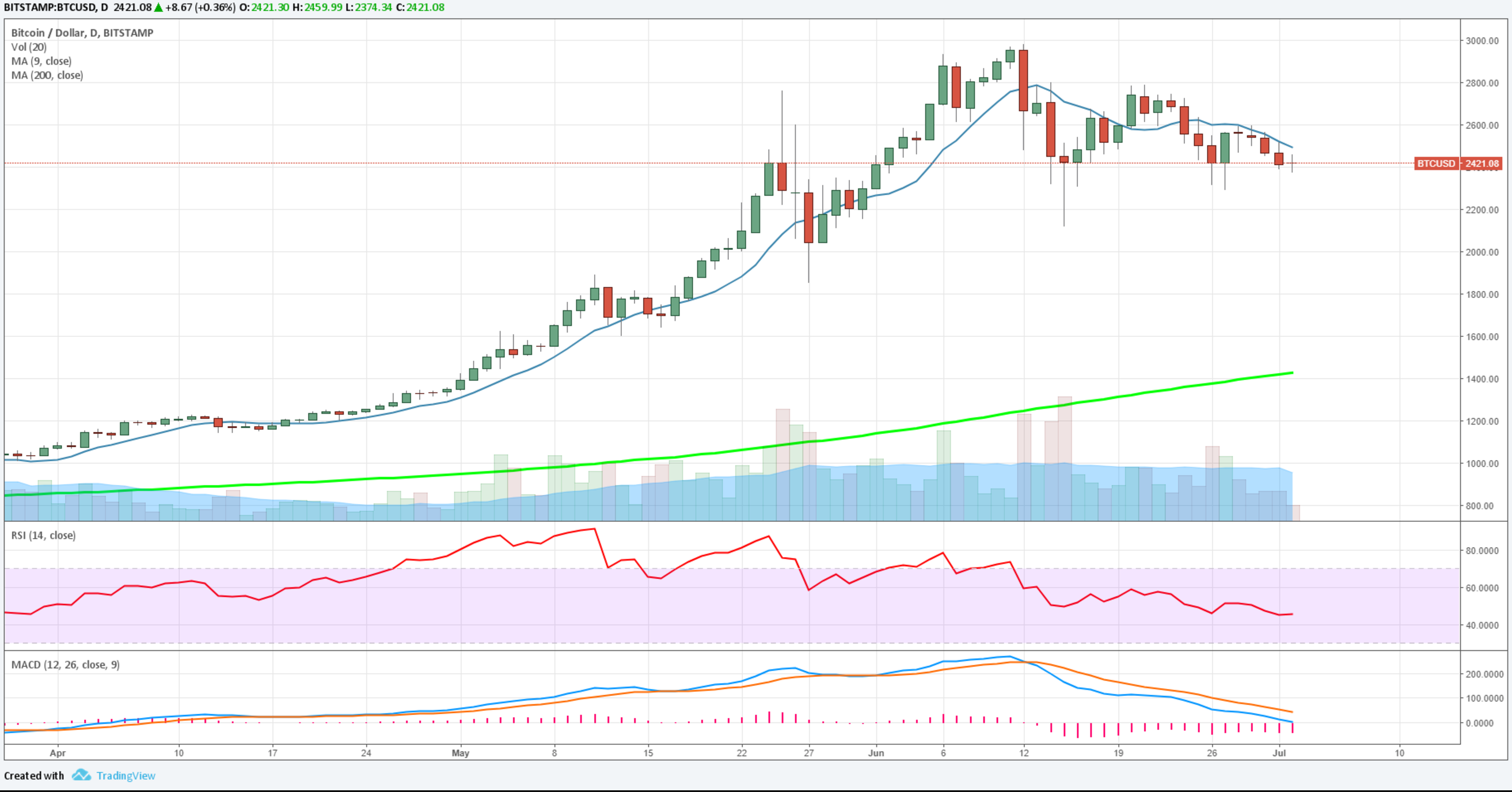 If you don't already know what it is, technical analysis is the use of past price movements to forecast future price movements in an asset. Price fluctuations in markets occur because of changes in supply and demand of an asset, creating repeated patterns.
Technical analysis techniques have been used successfully by the top stock traders for many years to generate a profit. Knowing these patterns allows us to find profitable opportunities for entries into Cryptocurrencies.
The basics
Trends. This is the most basic form of price analysis. As the saying goes you want to buy low and sell high. Downtrends are a series of lower highs and lower lows in price whereas uptrends are when higher highs and higher lows are made. Here is a historical chart between 2014 and 2015 of bitcoin that a downtrend. This is a daily price chart. There are some small uptrends for a bit throughout this period. Depending on the time frame that you use to analyze, the trend can be interpreted as both up or down.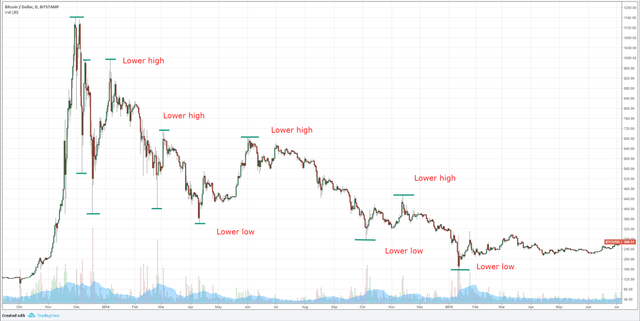 Support and resistance
These are levels in price where a large number of buys or sells occur. They can be psychological round numbers, prices where previous highs or lows have formed or both. The idea is that buy at support levels where the buying pressures are likely to drive the price up or sell at resistance levels where prices are not likely to any higher.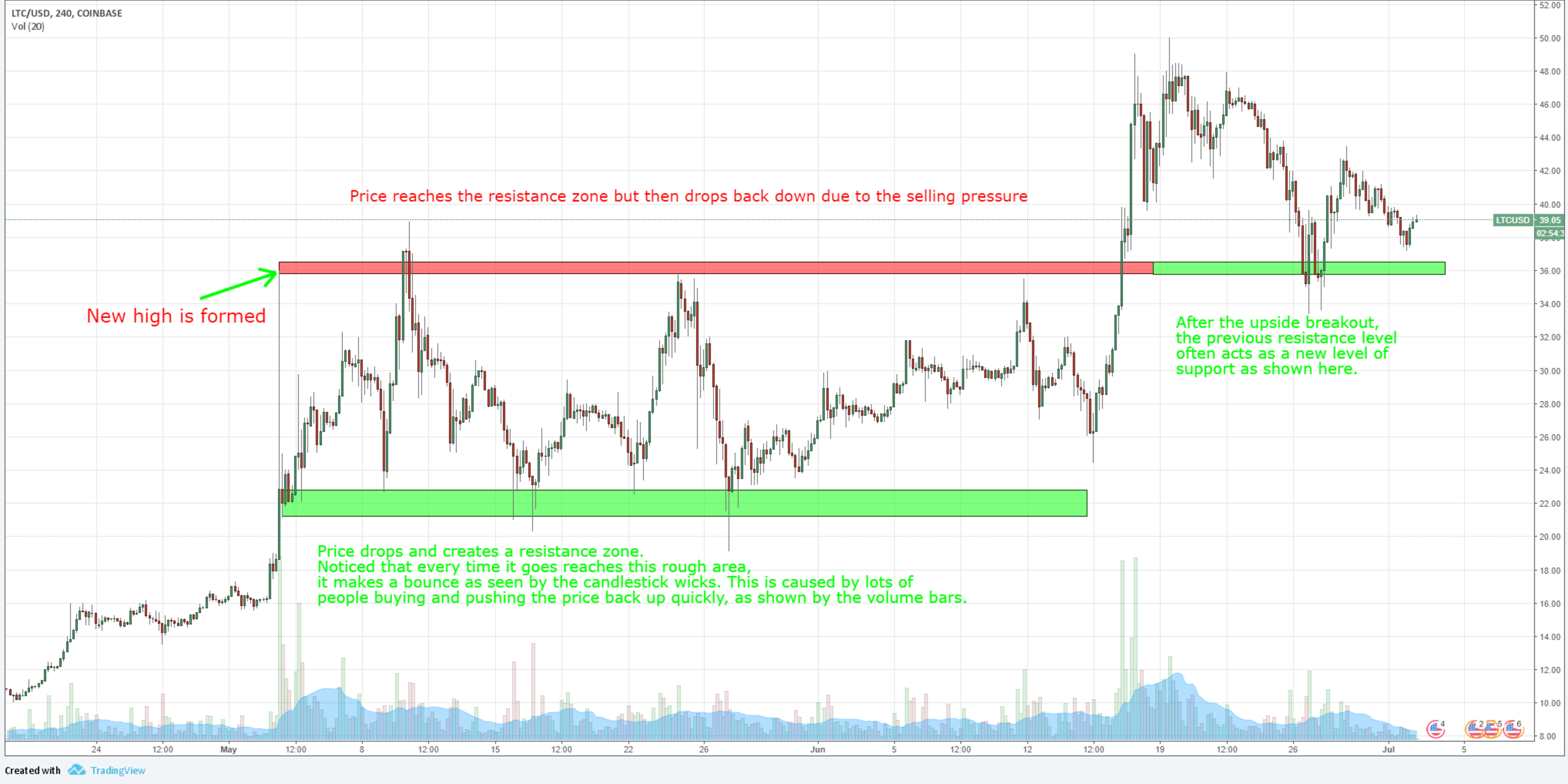 Patterns
With more detailed analysis, we can start to identify patterns that form in most price charts. The important thing with this though is we cannot blindly trade every single pattern because they do not generate a profit given risk and reward considerations. The key to successfully profiting from these patterns is to find entry positions where either we have a good risk-to-reward ratio or a high win percentage. The biggest mistake that people make when trading is thinking that they have to bit right most of the time to make money. The complete opposite is true. In fact, if you have a good risk-to-reward ratio on a trade, you do not have to be right even 50% of the time to make a profit!!
Below is a trade idea on Bitcoin for today. We can observe that a triangle pattern has been created as a result of a uptrend line and a downtrend line. The prices move up and down and begin to center towards a particular price. This then tends to cause a large spike or drop in price known as a breakout.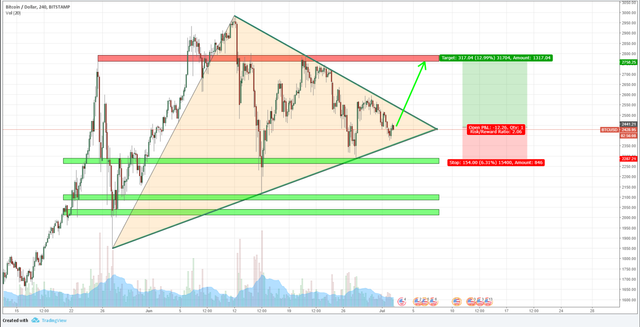 We identify a pattern and set a take profit price target and a stop-loss price target. If the price hits either target, we close out our position. We set a stop loss below the previous less of support, expecting that the price will drop further down if it reaches that point. Notice that the risk-to-reward ratio of this trade is 2.06 as shown. This mean that for every time we hit our take profit target, we will get just over two times the amount of money compared to when we hit our stop loss.
Now the most important thing here is that we stay disciplined in our trading idea. If we decide to sell and cut our losses early or to take profit early, this will hurt our profitability. Therefore, it is extremely important that we follow our plan.
We conduct our analysis to generate our trade idea
We then decide on a strategy based on any technical indicators or patterns we have identified (some patterns aren't actually profitable by themselves so we have to often combine one or more factors when making a decision).
We execute on that strategy. We set our target and stop losses and we don't change that unless that is included in our plan. (Some strategies may involve multiple targets and moving stop-losses to break-even. In the above scenario, we have demonstrated a very simple strategy.)
It's really that simple. Many traders get boggled down by different strategies, systems and indicators and over complicate things. They don't have the discipline to create and follow a plan, leading to emotional trades based on fear or greed. Now that's not to say that every strategy can be blindly followed and make a profit. It's actually difficult to find consistently profitable strategies. This requires a lot of research, back-testing and experience.
Feel free to comment if you have anything to add to this article. Feedback is welcomed and appreciated.
For more analysis on Cryptocurrencies, follow us on our Forums, Twitter, and Discord!