Why Is DeFi Better Than CeFi?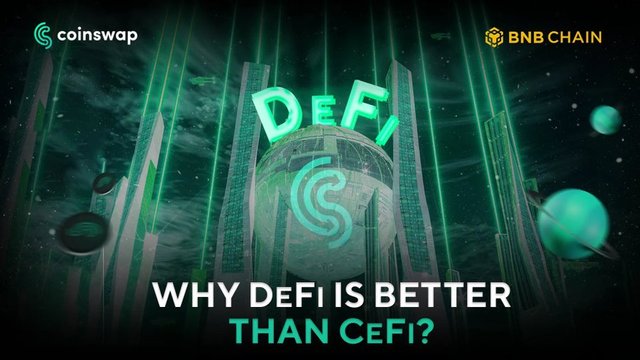 🔎Are you looking for the best platform that you want to start your crypto journey? You might encounter decentralized finance (DeFi) and centralized finance (CeFi) platforms. So what's the difference?
🏦Centralized Finance (CeFi) was the standard for trading cryptos. It handles a stronghold over the cryptocurrency industry. Centralized finance (CeFi) operates all crypto trade orders through a central exchange. Funds are managed by specific running the central exchange, and rules are set by the centralized exchange.
👨‍💼Decentralized Finance (DeFi) on the other hand is the opposite. DeFi strives to build an open-source, permissionless, transparent financial service ecosystem. The entire process operates on automated applications developed on top of blockchain platforms. Decentralized finance makes a fair and transparent financial system where anyone can partake.
💡So why DeFi better than CeFi? DeFi allows investors to implement their strategies without having to deal with an intermediary body or third party, meaning using DeFi gives you full control over your assets and owning the key pair for your wallet.
📰Read more "Why Is DeFi Better Than CeFi?" here: https://bit.ly/3Un93eI
🚀If you want to participate in DeFi, use Coinswap Space decentralized applications (DApps) now!
#CoinswapSpace #CeFi #Decentralized #DeFi #Binance #Crypto #Blockchain #Technology #BNBChain #Cryptocurrency #Token #Metamask #TrustWallet #MathWallet #TokenPocket #WalletConnect #BinanceChainWallet #Digitalization #Assets #CryptoInvesting #CryptoTrading #CryptoWorld #CryptoNews #Security #HardWallet #SoftWallet #NFT #Ethereum #NonCustodial #Startups #Projects #Business #Governance #BuiltonBNBChain