What Is Auditing in DeFi?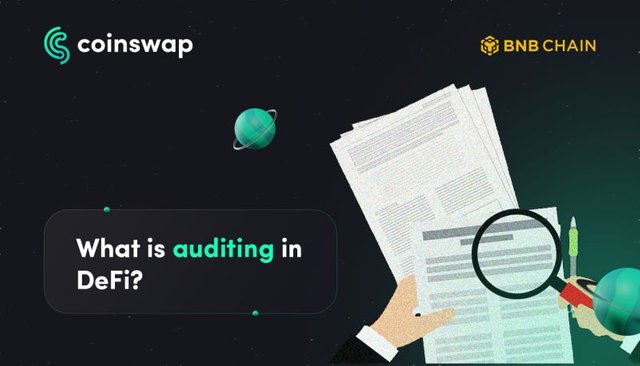 👨‍💼If you are a new investor, you usually check if the platform you're going to invest in is safe. And way to know that is if a platform is verified and certified by a security and auditing company.
🔏Being certified is like the platform having a security certificate for your investors. Remember that DeFi runs on a self-executing smart contract; any vulnerabilities are potentially unsafe to the system. So having audited will act as a security certificate for your investors. It also shows the platform is secure.
🛡Today, the crypto market is alarmed by several hacks and scams, which is why Defi audits are essential. Always make sure that before investing, you should always consider how secure the platform is.
🔒In Coinswap Space, the safety and security of all investors and holders are our top priority. We are proud that we verified by CertiK, which is part of why it is secure. CertiK is a leading security-focused platform that analyzes and monitors blockchain protocols, DApps, wallets, smart contracts, and DeFi projects.
🚀Join now the most secure DeFi platform and invest with confidence!
#CoinswapSpace #Whitelisting #IDO #Token #DEX #Cryptocurrency #Blockchain #SpacePad #Launchpad #Crypto #Audit #Security #BNBChain #Exchange #Decentralized #MarketCap #Assets #Digital #Technology #Safety #Secured #Trading #Investments #CryptoNews #Swap #Staking #BuildonBNBChain #Farming #Future