What Are Crypto Shrimp and Whale?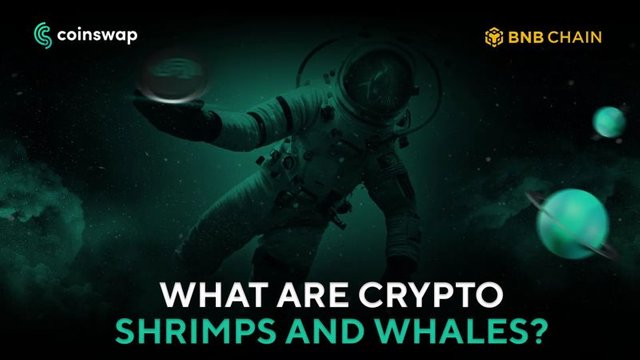 🐳You might encounter the term "Shrimp" and "Whale" investors in crypto. These refer to the kind of Bitcoin holders or investors in the market.
🐋"Crypto whale," or "whale," is a term used by the cryptocurrency community that refers to someone or entities that hold huge amounts of cryptocurrency. Usually 1000 or more Bitcoin in its portfolio.
📈Some publicly-known crypto holders with large amounts of cryptocurrency are Sam Bankman-Fried, Micheal Saylor, and Brian Armstrong. US-based software company MicroStrategy (MSTR) is the world's most prominent publicly-traded corporate owner of bitcoin, with holdings of about 129,218 BTC, according to its Q1 2022 earnings report. Tesla (TSLA) is also known to be a holder of bitcoin.
🦐"Shrimp" investors, on the other hand, are retail holders that own less than 10 BTC in their portfolio. They are also referred to as "Crabs."
👨‍💼What kind of investors are you? You can start small by learning to invest and trade with Coinswap Space!
#CoinswapSpace #CryptoWhale #WhaleInvestors #ShrimpInvestors #Cryptocurrency #Crypto #Blockchain #DeFi #Trading #Earn #Learn #Decentralized #Investments #BuildonBNBChain #Ventures #Fintech #AMM #DEX #CryptoWorld #CryptoTrader #CryptoTrade #CryptoTradingStrategies #Finance #DEX #Finance #DecentralizedFinance #BlockchainTechnology #CryptoNews #CryptoTrading