The Decision Is Yours! Choose either Farming or Staking on Our Swap!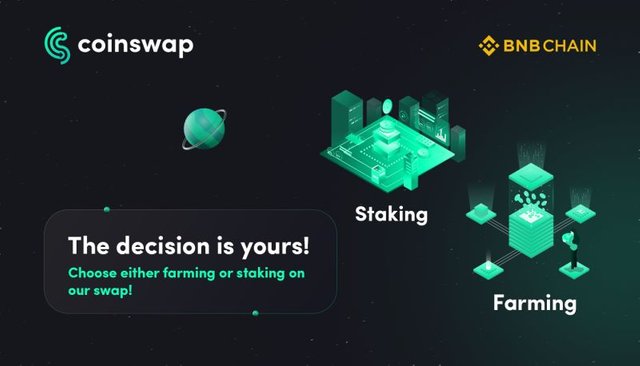 🪙Are you looking at how to earn on your crypto assets? Do you know that trading is not the only way to earn on crypto?
👨‍🌾You can also earn by farming and farming. How? We can help you with that.
🚀Coinswap Space platform offers a suite of products powered by Binance Blockchain. And because our platform is built on BNB Chain, CoinSwap Space utilizes smart routing to give users the best return on their investment possible.
🔄Coinswap Space is not only for swapping assets, but we also have Yield Farming and Staking, features that $CSS holders can earn.
🚜Our yield Farming incentivizes many liquidity pairs by offering our LPs the option to stake their CSSLP (CoinswapSpace Liquidity Provider) tokens in our farms.
Go to FARMS: https://bit.ly/3S5ieic
💵Our Staking feature will let you easily stake your CSS tokens that can be rewarded as well with CSS.
Go to STAKING: https://bit.ly/3S1IHgh
💰Want to start earning with your crypto? Join Coinswap Space and choose either farming or staking on our swap!
#CoinswapSpace #Income #Farming #Staking #PassiveIncome #Investing #Cryptocurrency #Exchange #Decentralized #Blockchain #DEX #AMM #DeFi #Governance #Utility #Investors #Profit #Money #Hustle #CryptoTrader #Future #Swap #CryptoInvesting #Success #Token #AMM #BNBChain #Investments #Assets #Future #Digitalization #Coin #Swap #Binance #BuildonBNBChain