Should You Trade Short-Term or Long-Term?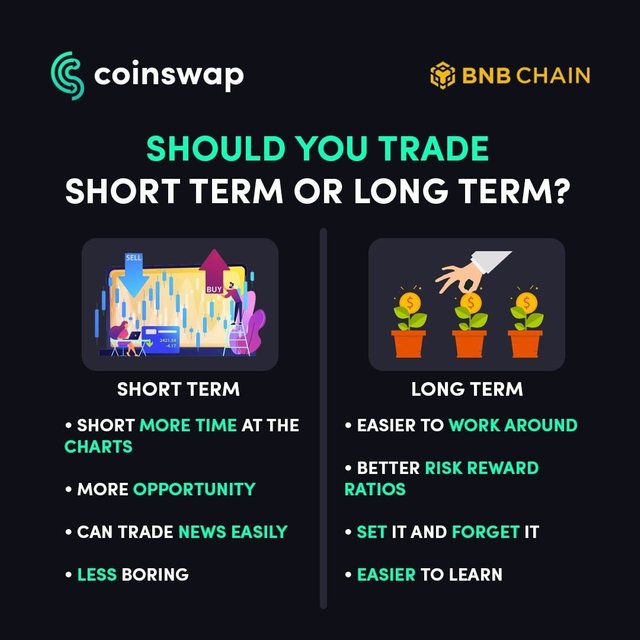 🗨The answer to this question depends on what kind of trader you are. Here are some differences between this trading strategy, and you decide what kind of trader you are.
📈The short-term trading duration between buying and selling ranges from a few days to a few weeks. Traders who choose this approach trade by taking advantage of short-term fluctuations in the assets' prices. It would be best if you committed to following the market daily. Your time and focus are always needed because you need to keep an eye on the current developments, the market movements, and anything that could bring a change to the prices of assets you are trading.
👨‍💼Long-term trading is for those who usually have a day job at the office and can't afford to monitor the market constantly. It has much greater flexibility, as you can do your research at any time and follow the market movements only occasionally. Long-term trading requires patience, as you need to wait for years before you can profit from your investment but considered the less risky of the two strategies.
💡There is no straightforward answer, and you must choose for yourself. You can go for both strategies or focus on one, depending on your personality, extra time, and most importantly, the effort you must put into investing alongside your money.
🚀Learn more about trading, investing, and earning with crypto on the Coinswap Space platform. Join us today!
#CoinswapSpace #Trading #Trader #Investments #CryptoTrading #CryptoWorld #CryptoTradingStrategies #Crypto #Cryptocurrency #BuildonBNBChain #CryptoInvesting #MarketCap #Exchange #Finance #Ventures #Fintech #AMM #DEX #DecentalizedFinance #Blockchain #Technology #Decentralization #Devolution #Bitcoin #Ethereum #Blockchain #Crypto #BlockchainTechnology #CryptoNews #Decentralized #Binance