Difference Between Coin and Token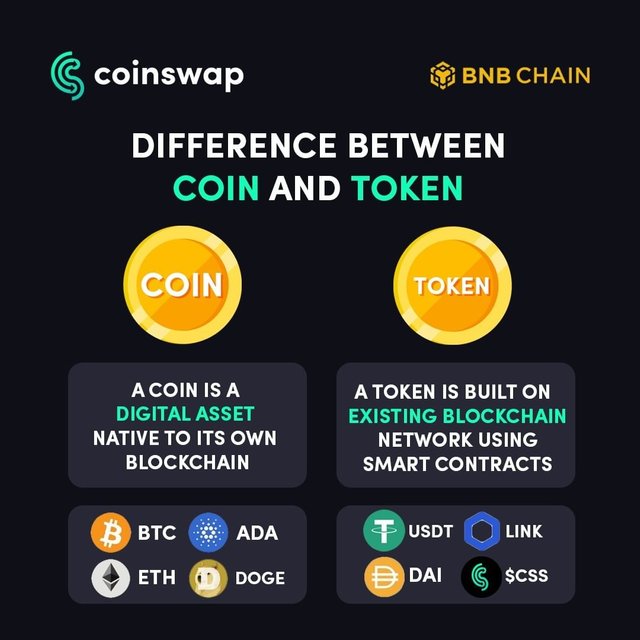 🪙When we first learn about crypto, most of us think that tokens and coins are the same or can be used interchangeably, but are crypto tokens and coins the same? When you research (DYOR) online, you will find that the two are not the same.
💡The main difference between the two is their utility. You can do things with tokens but cannot do with coins. Like some marketplaces will not accept tokens but only accept coins. To simply understand, crypto coins are like dollars and cents, while crypto tokens are more like coupons or vouchers.
📍Here we list the definition of Coins and tokens:
📌Coins:
☑A crypto coin stores value and acts as a medium of exchange, a form of digital currency usually native to its blockchain.
☑You can earn coins through PoS (proof of stake) or can be mined through PoW (proof of stake).
☑Examples of coins are Bitcoin (BTC), Ether (ETH), Dogecoin (DOGE), and Cardano (ADA)
📌Tokens
☑A crypto token was built for a decentralized project on an existing blockchain.
☑A token represents an asset or offers holders certain platform-specific features.
☑Tokens offer functions, including utility, security, and governance.
☑Examples include Tether (USDT), Chainlink Token (LINK), Dai
(DAI) and our very own Coinswap Space (CSS).
🚀If you are looking for a coin or token to invest in, start with a $CSS token, it is both a utility and a governance token in one, and you can use it for staking, farming, on-chain voting, IDOs, travel, and many more.
#CoinswapSpace #Crypto #Cryptocurrency #Token #CryptoInvesting #Safety #Secure #CertiK #BSCScan #BuildonBNBChain #Investments #Ventures #Fintech #AMM #DEX #DecentalizedFinance #BlockchainTechnology #CryptoNews #CryptoTrading #CryptoWorld #CryptoTrader #CryptoTrade #CryptoTradingStrategies #Decentralized #Finance #DEX #Binance #Future