P2PB2B review: scam or not ?
Each cryptocurrency exchange has its own peculiarities and features that you should take into consideration before you start trading there. Please note that the crypto market is a high-risk niche and it is necessary to find a trusted platform. That is why you should consider as much as possible about a particular exchange.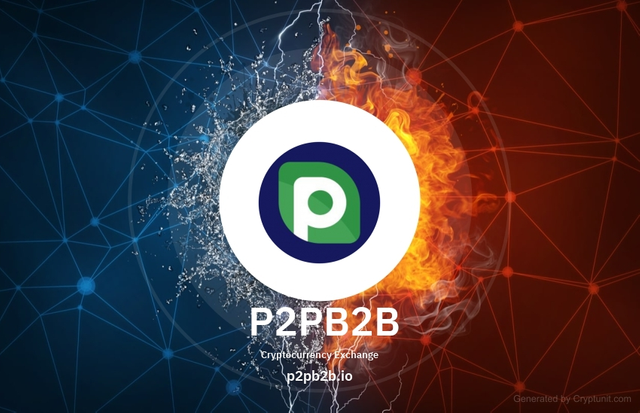 Today we are going to make a complete P2PB2B exchange review and examine mistakes due to which some beginners get some bad experience. Fasten your belt, we are starting!
Disclaimer: This text is provided for informational purposes and contains no direct recommendations on investing or other financial operations.
P2PB2B exchange review
We would like to start this P2PB2B review from the fact that this service is one of the fastest-growing crypto exchanges. The platform unites over 300,000 users from all over the world. Despite so many people making crypto deals at the same time every day, there is no problem with the website since the platform can carry out up to 10,000 transactions per second.
This is one of few cryptocurrency exchanges officially licensed in the EU. P2PB2B is registered in Tallinn (Estonia) and is a great choice for those who care about their legal safety.
The platform is powered by Simplex, one of the most popular payment services accepting both debit and credit card payments worldwide. This network has one more advantage, especially for crypto traders: the system has advanced protection against hackers. Thus, it is completely safe to deposit and withdraw money using your Visa or MasterCard.
Users praise this exchange for a wide selection of available crypto coins (over 200), the support team that responds almost immediately at any time, friendly and intuitive interface. Besides, P2PB2B has its own native crypto called PACT that is a metaphoric agreement between users and the web service. Note that PACT is available only for the community members, but anyone can get some PACT coins for free. All you need is to create an account on the exchange.
Did you hear claims about P2PB2B scam? First, read it and make your own opinion
There are a lot of cryptocurrency scams and the fear of beginners is absolutely understandable. But we would ask you not to believe in provocative messages at once and try to clarify the issue of whether P2PB2B is a scam or not.
Websites post articles having grabbing headlines for a reason: any of them need views, the more the better. Sometimes authors use dirty tricks to make people read their texts. The easiest way to start an article and draw much attention is calling a popular project scam.
An interesting fact: even if the first line says that a platform is a scam, the following text may tell not exactly the same. For example, we have seen many headlines involving the words "Bitcoin" or "Ethereum" and "scam". But when you start reading, it turns out that someone just thought that the project was a scam. This is a popular method for making fake news.
Another reason why you may come across bad reviews lies in typical mistakes made mostly by beginners. They do something wrong, fail to get money and instead of trying to discover the truth start immediately posting negative comments. Keep reading to learn how to avoid such mistakes and trade cryptocurrencies without any trouble.
Bitcointalk about P2PB2B
Bitcointalk is one of the oldest and the most authoritative crypto forums. The website was launched in 2009 by Satoshi Nakamoto, the author of the Bitcoin concept. Many professional traders and insiders post some news and reviews on this forum, so what is said about P2PB2B on the Bitcointalk forum?
If you look through the thread, you will see that users discuss what they like and dislike on the platform. There are some bright negative comments too, but they come mostly from users with zero Merit rate and contain no proof. This means that these people do not communicate with others, have posted just a couple of comments and left the forum. In most cases, such behavior is typical for paid reactions, but we wouldn't be so peremptory. There is also a chance that a person has made a mistake from the list below.
Mistakes in trading on P2PB2B
A lot of useful tools are provided for convenient buying and selling coins on P2PB2B but when it comes to withdrawing money, some people make the following mistakes:
Indicating wrong MEMO. As a result, the money cannot reach the user's wallet. It is very easy to avoid this mistake: just indicate the memo address (that is present on the website for each MEMO crypto like BNB, LBY, XLM) in addition to the wallet address.
Unsubscribing from service letters. E-mails are used to verify users, warn and notify about important events. For example, if you failed to withdraw money during the delisting period, the support team can do nothing with such a claim. Once you receive a delisting e-mail, you have only 14 days to withdraw. So don't unsubscribe from service letters and, of course, don't mark P2PB2B e-mails as spam.
There are mistakes in the wallet. Note that the wallet address should have no extra spaces, digits and letters. Otherwise, the money will be lost.
Indicating a smart contract instead of the wallet. Always check the wallet address, if it is incorrect, the "unsuccessful" status is shown. Good news: this mistake can be fixed, but it requires quite a long time.
Depositing less money than the minimum limit. Note that the minimum deposit is $10 according to https://p2pb2b.io/fee-schedule/. Unlike the previous mistake, this one cannot be canceled.
Depositing a token to your main coin address or vice versa. When an ERC-20 token is sent to a TRC-address, the user's money just goes to the network. Use correct protocols to avoid this.
Sending money to suspicious wallets. Before transferring money, make sure that this particular wallet is not owned by a fraudster.
Registering many accounts. Breaking this rule leads to blocking the user. This is the basic provision that any user accepted when creating the original account.
We hope that due to this review trading on P2PB2B will give you only positive experience!