Airdrop Series #1 What is an Airdrop? 💰📈
This post is part of a series onCryptocurrency , Airdrops or ICOs and latest news about them , I will share my findings about coins , altcoins , tokens and News about Airdrop or ICOs . Be careful I don't tell you buy or don't buy , participate or do not participate , I just put the news , my suggestions and findings about digital currencies
Steem on ✍️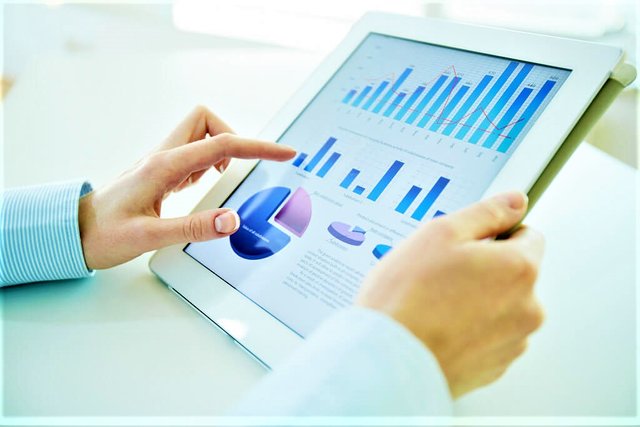 ---
What is an Airdrop?
The simple answer: it's literally just free coins just waiting for you.
The method behind the madness, though, is a decision regarding marketing strategy. As a way to spread awareness to the relevant audience of potential investors and eventual enthusiasts, coin teams will, from time-to-time, do airdrops.
A Brief History of Airdrops
Coins have been doing this for a while — pretty much since the first Ethereum ICO. If you check your wallet on Etherscan (which I totally recommend doing — never open your wallet with a private key just to check your balance, it's riskier than necessary), you'll know there's a row up top named Token Tracker. If you see it, then there are also tokens in your account; if you don't, then you don't have any tokens or airdrops — yet.
Some of you ETH wallet holders that have had wallets with balances for a while now might've noticed this — one day you just see an extra random token in your Token Tracker. No, someone didn't randomly deposit some obscure token into your wallet address on accident; instead, the coin's team decided to send a small amount to a population of Ethereum wallets in order to spread the word.
After getting the token, one of the first things you might've done is Google what the coin is. Or you might've taken it a step further — asked someone else if they knew what the token was. Also, you could just choose to ignore it.
Of course, in the last scenario, the airdrop failed its intention. But scenario 1 means that you have now learned about the coin, and scenario 2 is even better — you've just told your friends about the coin, too. In both of those scenarios, the airdrop did its job for a small price (well, potentially a larger price if it moons).
Eventually, airdrops became a method beyond marketing. As a method to pump coin value, coins would announce airdrops where coin holders would receive bonus coins proportional to the amount of total coins they hold. Coin investors that wanted to get the airdrop would have to buy the coins if they didn't have any yet, or buy more if they wanted a larger proportion of the airdrop. That being said, I want to emphasize that this airdrop strategy won't be examined further in this article, since my article is focused on how you can get coins for free, not on how you can get coins by buying coins.
Recently, with Facebook's new advertising policy explicitly stating bans for ICOs, many ICOs have turned to airdrops as an alternative method for pay-per-click advertising. With many ICOs being consumer-focused products, they focus on one metric: viral growth through the network effect. In layman's terms, they want to spread the word to you and hope that you spread the word to your minions, too. They address this by using a strong referral system method.
Participating in Free Airdrops
The Tools You'll Most Likely Need
1. An Ethereum Wallet: not one that is on an exchange. It has to be a personal address that is ERC20 compatible because most of the tokens that are airdropped are ERC20 tokens, which are or were originally Ethereum-based ICOs. I suggest using MetaMask or MyEtherWallet to get started immediately, but in the long-term I always recommend getting a hardware wallet like the Ledger Nano S.
2. The Ethereum Wallet Must be ACTIVE. By active, I mean that you have to show at least some human use of it. Lots of airdrops have checks in place to make sure that you aren't just randomly generating a bunch of addresses and signing them all up to unfairly obtain more coins. This means that if your wallet doesn't show activity, it might not receive the airdrop. Sometimes, coins will be explicit in what they look for, including some type of balance in the account.
3. A Telegram Account(https://telegram.org/): I'm sure there are amazing reasons why Telegram is the chatting tool of choice for many of these ICOs. The coins want to boost the audience count. Usually, these airdrop coins will also require you to sign up for their Telegram accounts. Until you receive the coin in your Ethereum wallet, do not leave the Telegram accounts or you risk disqualification for the airdrop.
4. A Twitter Account(https://twitter.com/): Similar to the reasons behind the Telegram account, many of the airdrop coins will also require you to follow them on Twitter. Some of them will even ask you to retweet some tweet.
5. An email address sometimes airdrops will ask for your email, too. If you don't feel comfortable with giving them your real email, just create a spam one. Remember the password, though; some of them actually ask you to confirm your email.
Obtaining and Withdrawing Tokens
Looking for the best Airdrops? Sign up for EARN; they get exclusive partnerships with ICOs and coins to launch airdrops to their members, and you get paid $1 for each airdrop you participate in.
Usually, it takes about 1–2 months after the end of the airdrop before you receive your tokens. This is primarily due to the fact that many airdrops occur before or during token sales, in conjunction to spread awareness. And tokens are not distributable until the end of a token sale anyway (I'll write a separate piece on Token Sales, or ICOs).
To check your wallet info and see if the token has appeared in your wallet yet, just go to Etherscan. Type in your ETH address into the search box.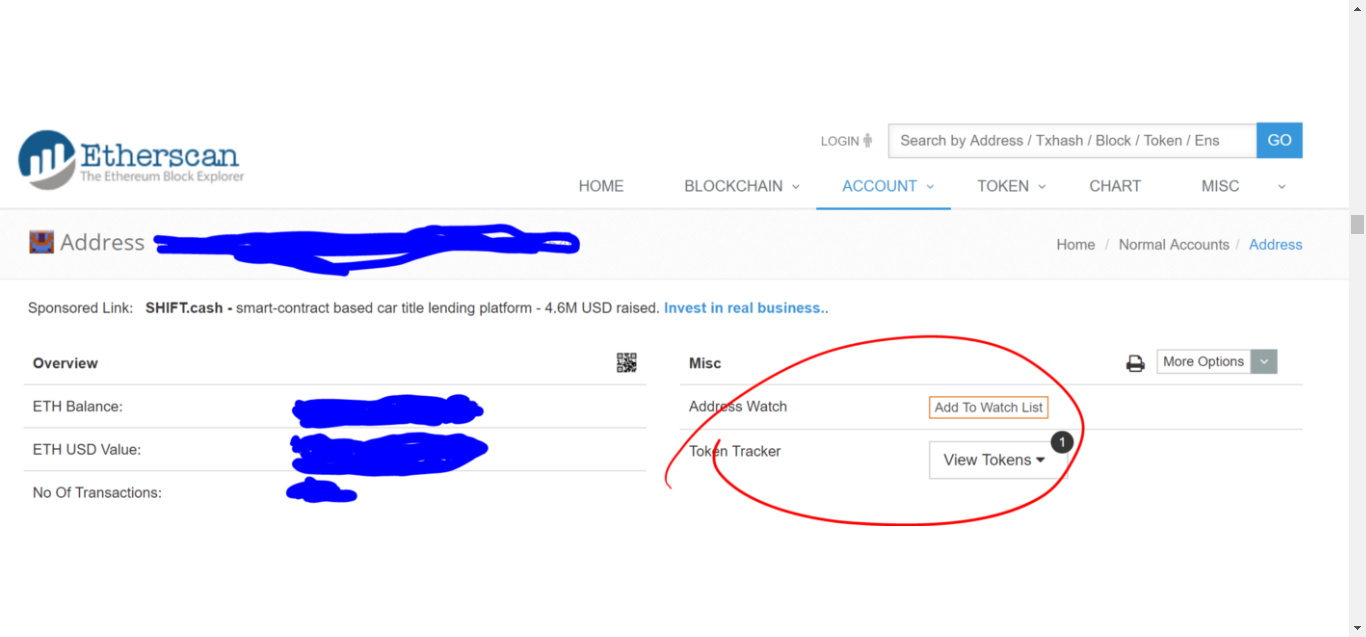 Circled in Red is the area you want to look. If the token is available in your wallet already, it will show up in the token tracker dropdown. If you don't have a token tracker appear on your result, then you don't have any tokens in your wallet yet, and it also means you didn't receive it.
Once you actually obtain the tokens, you can withdraw them directly through a services like My Ether Wallet (MEW). All you have to do is access your wallet (through MetaMask, Ledger Nano, or some other way — direct private key pasting is not recommended) and select the token you want to withdraw.
Don't Get Scammed
With all the promises of free coins out there, it's easy to lose track of everything and just start a clicking frenzy. Here are some tips to avoid getting scammed:
1. Never send any private keys
No one needs to have your private key in order to be able to check you wallet balance. They can do so very easily with tools like Etherscan.
2. Don't send any money to any addresses
Remember this — airdrops are free. Whether it requires you to be holding a certain coin, or if it'll just appear in your wallet, an airdrop will never ask you to send any amount of some coin to some type of address. If they ask for this, steer away immediately.
3. Check official sources
If a coin is actually doing an airdrop, it is likely they'll have announced it on their official social media accounts, such as Twitter. Check there to make sure that the airdrop is official; otherwise, you might be subject to a scam with scammers trying to collect your data.
This is an example of a scam airdrop. The first red flag is the fact that the Twitter account is asking you for an amount. But these scammers have become pretty sophisticated. If you check the comments, you'll see there are 8 responses to this. 7 of them are from fake Twitter accounts pretending to have participated and being "super stoked" about receiving their coins. The other one is from me, tweeting that it's a scam to try to warn people.
If you look at the Twitter account, you might see that it has 3,000 followers (or maybe even more) but the tweet history is less than 24 hours long. Does that make sense? A coin that just supposedly raised 8m euros has only tweeted for 24 hours? If the story seems fishy, there is a disgusting, rotting corpse somewhere. Don't believe it.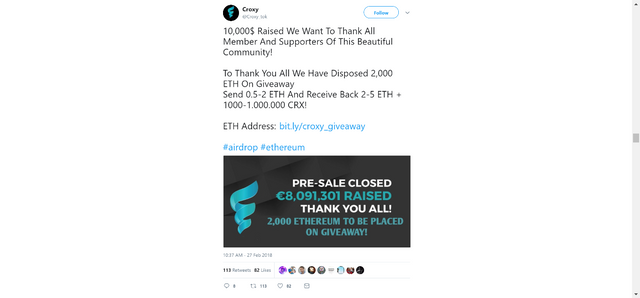 The image is a terrible Photoshop job with font that doesn't match the rest of the announcement. This scam is a metropolis of red flags. A simple Reverse Google Image Search shows that the logo actually belongs to Thrive.
As a best practice,** always look for reasons why an Airdrop would be a scam**. With that mindset, you are more likely to be able to sniff out the rotting fish from the sushi.
Resources to Help You Find Airdrops
There are many communities and newsletters available to help you with identifying airdrops as they come along. I definitely recommend signing up for them (they're free), rather than trying to look for them yourself. That's because there are many scammers out there, and they make themselves very present and legitimate-seeming. These resources that you subscribe to have (hopefully) already screened the airdrops.
If you're looking for one to join right now, take a look at Cosmic Trading. You can Trust them , They post Airdrops
Also You Can follow me and go with Me , I will post Good suggestions of Airdrops for you :)
---


If You Wanna Go With Me Into Crypto Currency World and if You wanna know Latest News about AirDrops and ICOs and Cryptocurrency Click On The Icon Below , I will publish my next posts soon