My beginner cryptocurrency blind investment strategy for the time poor returned 3x in 4 months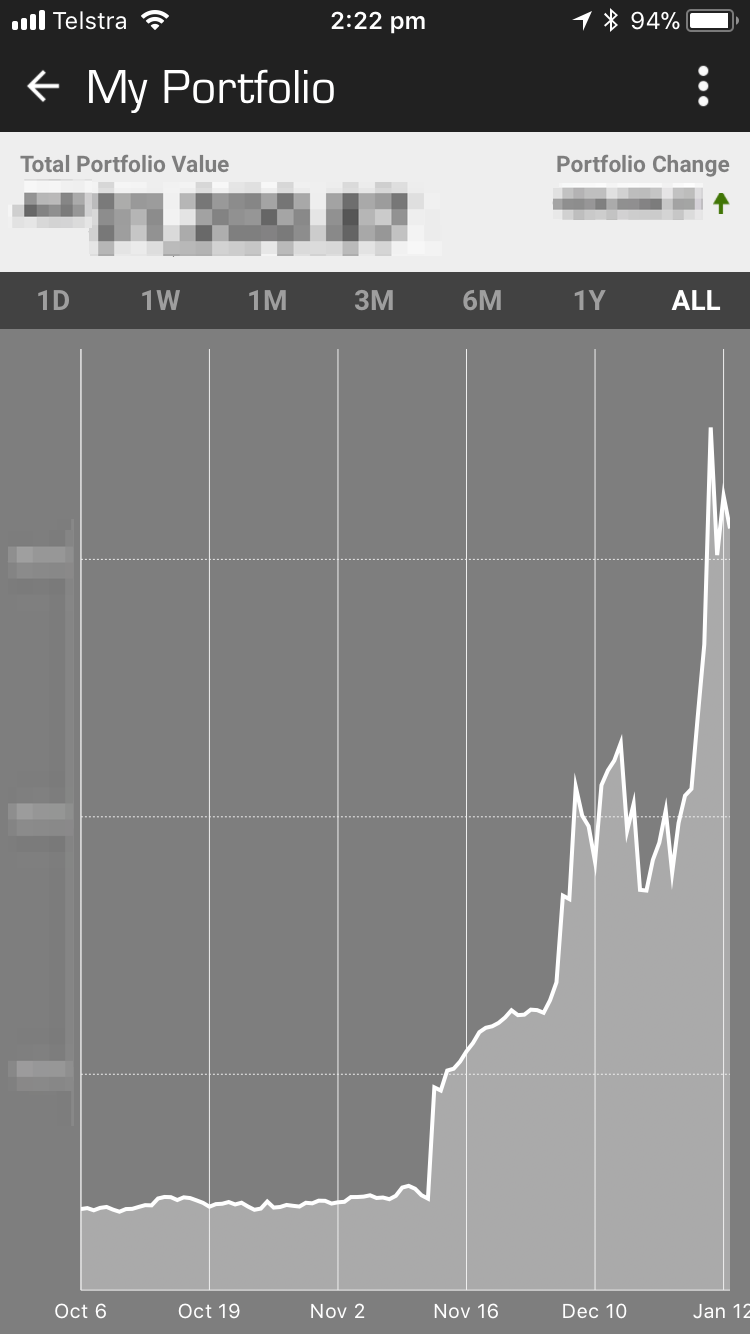 Over a year ago, I was planning to invest a bit of money in Bitcoin to learn more about cryptocurrency and blockchain, and because it made sense to me to move to digital currencies being a technologist. I kept putting it off because life got in the way and making time to do research about it was one of the big hurdles, like comparing platforms, checking the technology and where it's going.
If I had invested $2k like I planned to at the time, Bitcoin price was $250-$400, which means I would've bought about 8 coins, it would add up to $100-200k as of now (Jan 2018).
I've been trading stock for a while now and been learning about different strategies that suit me based on the level of interest and time I have.
The strategy I came up with incorporates the following principles of trend and risk management using diversification without doing too much research:
Luck and general market trend: I came across an interesting story I can't remember the details exactly, but I heard of a woman that invested in the stock market many years ago in every company that had the word 'American' or 'general' and made a lot of money. e.g American airlines, general engines, general electrics etc. Luckily for her all these companies did extremely well.
Risk management: ETFs (exchange traded fund) provides diversification with consistent growth. Unfortunately there still isn't such a secure option in the crypto market.
My thesis
I believe long term the crypto market will keep growing and it's worth gambling to keep coins long term.
The current price of coins is mostly over valued for many reasons. But in the next year or two we will see a lot of innovation around it and it'll then be justified.
The primary coins will keep going strong and secondary coins will fill niche gaps to add value.
Since the market had moved so much since I planned to enter, I increased the stakes from $2k to $10k. But you can increase or reduce it proportionally.
How to think about risk:
To be able to make huge profits, you got to take some risks. The higher the risk, the smaller the investment should be in comparison to your total assets. Every decision we make is a gamble and includes risk, only you know what your appetite your risk is.
Only put what you're willing to lose, and don't panic when price goes up or down, stick to your time frame and thesis.
This is how I split the budget:
50% - 1st grade ETH - cash with smart contracts, BTC - bitcoin, NEO - chinese,
25% - 2nd grade improved features on btc reducing transactions and time - LTC, RPX, IOT
10% - 3rd grade TOP 10
10% - 4th grade TOP 20
5% - 5th grade 20-50
Now that I am positioned in the market, I can optimise, alter, sprinkle and research. I look at it about once a month and spend a few hours watching videos, looking at charts on coinmarketcap and looking at websites / forums of coins I'm looking at.
Since then I sprinkled a bit in gold ICO
Pick ones you think would be good. eg casino, gaming, steemit - social, etc.
Platforms: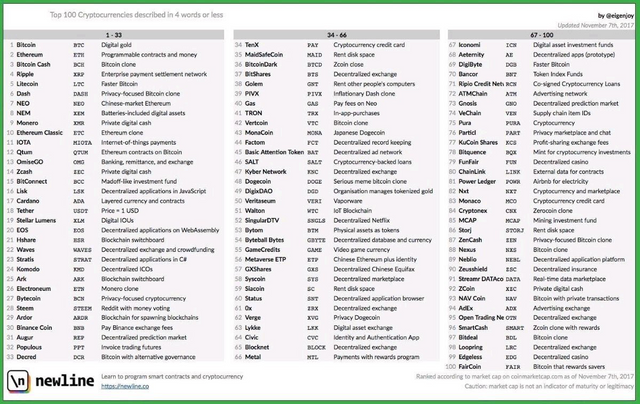 Image Source: https://twitter.com/APompliano/status/948910929978318848
Disclaimer: I'm not a financial and this is not financial advice, just sharing my personal experience.
Please share this with all your friends and hit that upvote button below to spread it around even more. Also I'd love to hear your thoughts or questions in the comments section!