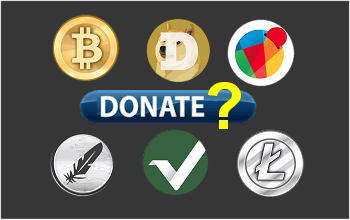 Are you a blogger? Do you create Youtube videos? Do you have a great cause people want to support?
If so, its time to start accepting a few different cryptocurrencies!
Over the past few months, I've enjoyed a number blogs, Youtube videos and various websites, that I've found entertaining and educational. And some sites ask for support, but many only accept payments by Paypal or credit cards. And some display a Bitcoin address for donations.
There are some that I support, or that I'd love to support, but I'm hanging on to my precious few bitcoins, and I don't want to use Paypal or a credit card. However, I've begun donating or tipping those who accept Litecoin, Reddcoin, Dogecoin, Ethereum, and a few others.
I believe I'm not the only one who would contribute, if there were more donation options.
As the popularity of cryptocurrencies continues to grow, more and more people (like me) would be willing to donate, if we have acceptable alternative options. And let me recommend, to those seeking financial support online, that you create a few wallet addresses for some of the more-popular cryptos, including: Ethereum, Litecoin, Dogecoin, Reddcoin, Digibyte and Dash.
The more options you provide to your peeps - the better the odds of getting some coin!
While I'm not spending Bitcoin, and maybe I want to reserve my Ethereum for ICOs (Initial Coin Offerings), I may be able to "trim off" some of my excess Reddcoins or Dogecoins. Or maybe a 10th or 20th of a Litecoin, Zcash or Monero.
So... content creators, bloggers, Youtube video producers, organizations with a cause... START ACCEPTING MORE CRYPTOCURRENCIES!
The global financial system is changing and cryptocurrencies are exploding! So get with the program. Otherwise you risk losing out on some of the wealth.