In my last post I discussed the changes in the ICO markets. In this post I'll take a brief look at some of the most popular crypto funds and break down where I can currently see the most value.

Why crypto funds?
I want a little more exposure to cryptos as a whole without having to put in the time to go through hundreds of different coins. I want diversification and a reason to hold onto crypto for the long run. 
I'll be looking at Taas, Iconomi and Blockchain Capital.
What is Net Asset Value (NAV)?
The net asset value is the value of the assets that the crypto fund is holding minus any liabilities. In valuing these tokens we have to keep this at the forefront of our decision.
 TaaS is a tokenized closed-end fund designed to reduce the risks and technical barriers of investing in the blockchain space. Built on a profit-sharing smart contract, TaaS introduces an innovative Token-as-a-Service business model, allowing investors to subscribe to the fund's income stream. TaaS built an innovative Cryptographic Audit technology to become the first, truly transparent fund dedicated to cryptocurrencies and tokens. 
Taas are essentially a pure crypto hedge fund, they trade and fund ICO's taking 25% performance fee. I base their value on the NAV of their holdings. It's been a relatively volatile journey so far, I'm holding some long term but buying dips below NAV and selling above.
This drawing (much beauty) sums it up.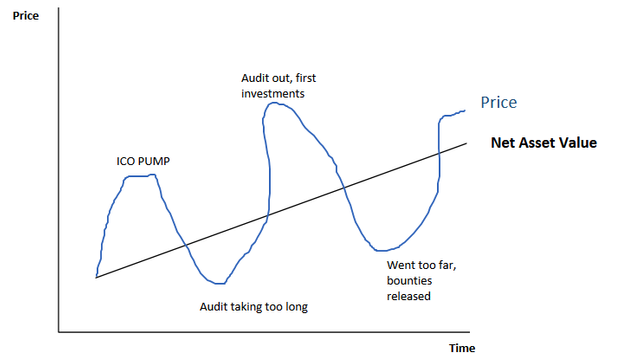 Whats interesting with Taas is that they're developing a real-time (almost) cryptographic audit of their holdings to be released soon. They will also drop 50% of profits as ETH every quarter, starting at the beginning of AUG. 25% is a performance fee and 25% is reinvested
So now I need to wait for the price to drop lower, maybe around 85s before I start buying up again.
Who's this guy in the middle? :P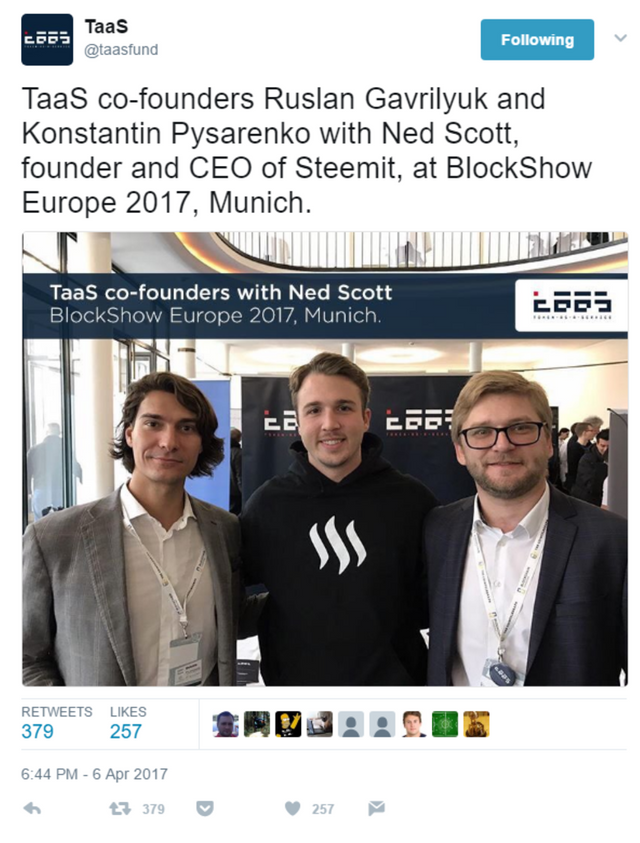 When valuing Iconomi we have to look at a little more than the net asset value of their holdings. 
They are similar to Taas in that they have a fund, the ICNP that invests. The scope of Iconomi is much larger, they currently have ICNX, a passive ETF tracker of many alt coins for which they charge a 3% performance fee. They will be developing a fiat gateway for this, on boarding people into their funds effortlessly. To top it all off they're even creating a 'Uber of fund management' so anyone can become a fund manager and attract capital. Something I'm definitely considering doing once it's up and running for friends and family. 

They aren't using a dividend model, instead they have stated they will take profits and buy back ICN on the market, reducing the supply. When we consider all of these potential sources of cashflow it makes more sense that ICN is trading well above it's NAV. It's pretty volatile and sensitive to the new info being released, I'd expect an irrationally bullish move whenever some positive news is released - with an adjustment back down to less hyped levels. Rinse repeat. With Iconomi I look at NAV + premium for future services.
  Blockchain Capital is a venture capital firm investing in Blockchain enabled technology companies. Their initial fund was the VC Fund dedicated to the Bitcoin/Blockchain ecosystem, launched in the Fall of 2013. Based in San Francisco, Blockchain Capital invests in entrepreneurs who are fostering innovation in the Blockchain economy. 
The most established venture capital firm in the crypto space. They recently created the first liquid crypto venture capital fund. They're currently building their 10m book in a range of investments within the blockchain space.
If you look at some of their previous investments... these guys know how to pick winners.
 Blockchain Capital's current portfolio comprises 43 unique companies from its prior two funds. These include BitFury, BitGo, BitPesa, BlockCypher, Blockstream, Chain, Coinbase, Gem, GoCoin, ItBit, PeerNova, Ripple, Wave, and Xapo, among other blockchain technology leaders. Recent successful exits include Twilio (Nasdaq: TWLO), where Blockchain Capital sold its shares in Authy to Twilio, which then had a successful IPO. 
You also have the added advantage of being able to invest in blockchain companies that aren't open to the public in pre funding rounds.
At the moment the majority of their funds are in cash, they converted on the 10th of May - it's for that reason that I got out after the ICO. I'll try and get back in at around $1.30-1.50. I'm pretty confident given their past performance that they should start rising once they get the ball rolling on their investments.
Conclusion
Overall, these are the first of the managed portfolios. An exciting time to be in crypto, we're only at the beginning though - once the Iconomi platform opens its doors for anyone to become a fund manager we'll start seeing some healthy competition.
In my next post I'll talk about how I've gotten the ball rolling into creating my own DIY semi-active portfolio.
:D