Bitcoin Cash Price Prediction 2019, 2020, 2023, 2025 | Realistic Bitcoin Cash Price Prediction
What is Bitcoin Cash (BCH)?
Bitcoin Cash is a controversial fork of the original Bitcoin. Some people wanted to increase the block size for Bitcoin to allow more transactions per block. The hard fork happened on August 2017 and created Bitcoin Cash. The new chain had 8MB blocks. The original Bitcoin remained the strongest and a lot of cryptocurrency users despise BCH because of the censorship and aggressive marketing behind it.
Bitcoin Cash was also hard forked into tho different chains. Bitcoin ABC with Roger Ver as their main advocate and Bitcoin SV (Satoshi Vision) with the infamous Craig Wright as the leader, the self-proclaimed Satoshi.
Most exchanges initially listed both coins, however, recently top exchanges like Binance have de-listed Bitcoin SV with other exchanges following their steps. The main Bitcoin Cash is now the ABC fork, considered as the main BCH by almost everyone.

Current Situation of BCH
The current status of BCH is actually quite good, the digital asset is trading at $312.9 after a pretty nice uptrend this year with fewer losses than most of the other cryptocurrencies. BCH enjoys a ton of volume, averaging more than $1 billion per 24 hours.
Bitcoin CASH is ranked 4th by Market Capitalization and hit an all-time high of $4355 in late-2017 and an all-time low of $75.03 in late-2018

Predictions for BCH in 2019
BCH has been able to stay afloat when the crypto ship was sinking, this indicates a lot of strength for the bulls.
DigitalCoinPrice
According to their analysis
, Bitcoin Cash could trade at $503 by the end of 2019, however, it's important to note that their prediction for this month was all the way up at $548.
LongForecast
According to
LongForecast
, BCH will be trading at $244 by the end of 2019 with a high of $385 in October.
WalletInvestor
WalletInvestor
thinks BCH will see a huge bull run in 2019 and end up trading at around $1389 by the end of it.
Our Prediction
BCH has had a weird trading history because of the controversial forks. Bitcoin Cash was trading at around $150 in January 2019 and it's now trading at $311, which is an 100% increase in price, clearly, 2019 has been a good year for BCH.
The current daily trend is an uptrend with significant volume and a bullish cross of the EMA's, currently facing some healthy consolidation. There is still a lot of resistance for the bulls on the daily chart.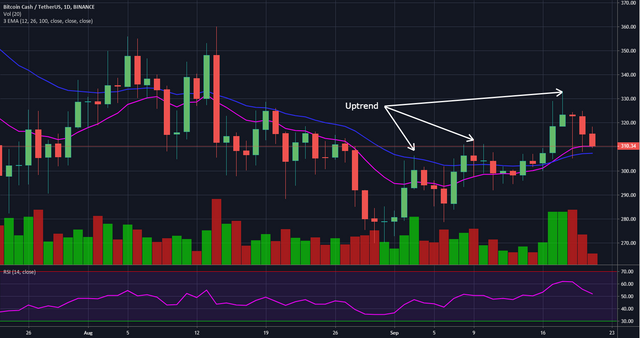 The weekly chart is now in an Equilibrium pattern for BCH with a high of $360 and currently setting a new lower high at $333.12 but it hasn't been confirmed yet. The weekly chart is overall in favor of the bulls as the EMA's are still crossed bullish and BCH has been able to hold the 26-day EMA for a few months now. BCH could trade in this tightening range for many more weeks and even months, although, the recent altcoin small 'bull-run' could certainly help BCH breakout much faster
The monthly chart on Binance is in a pretty big uptrend for BCH as the low is all the way down at $74 and the volume is strongly favoring the bulls.
We could see BCH trade sideways for a few more weeks but the most likely scenario will be a break of the tightening range this month or the next and we are favoring the bulls. This means that BCH will reach a price above $360, probably $400 before facing any resistance.

Our Prediction for 2020
There is a lot of controversy surrounding BCH, however, this doesn't seem to be reflected in the price as it continues to rise convincingly. A bullish continuation of the monthly uptrend is actually quite likely for BCH, this will easily push BCH above $557.99 towards the $600 mark.
Our Prediction for 2023
Bitcoin Cash is actively trying to become a real currency. A currency that people can use in their daily lives to buy almost anything without having to wait long confirmation times. The roadmap for BCH is actually quite extensive, focusing mostly on scaling to enable BCH to handle over 5 million transactions per second as well as improving the payment experience and making BCH extensible.
BCH's team is currently working on cheaper transactions, better and more capable transaction formats as well as creating low fees forever and an adaptive block size.
Controversy aside, the idea of BCH is great and the team of developers is clearly capable of achieving it, could BCH become the first real digital currency?
If BCH is able to achieve all this, the price of BCH will easily hit a new all-time high, perhaps beating Bitcoin.

Our Prediction for 2025
If Bitcoin remains as a store of value and BCH becomes a normal and regular payment system, BCH will easily surpass BCH as it needs to be worth much more considering they have the same supply.
BCH could easily trade above $20,000 by the end of 2025. All the predictions about Bitcoin hitting $100,000 or $1,000,000 could be applied to BCH as all of those had the idea of Bitcoin as a currency in mind.

About Whaleagent
Whaleagent.club is the Most accurate crypto signals group in the world. We provide easy to follow educated signals: based on Market research & Technical Analysis. Our signals are being shared to monitor our personal trades aka journey. We are trading at Bitmex, Bittrex, Binance. If you want to watch our Trades in live, simply subscribe via the website as a Premium Member.
Whaleagent.club content should not be considered as an investing parameter and the user should do their own research before investing. Price prediction is based on the data collected from various sources.
---
Posted from my blog with SteemPress : https://whaleagent.club/bitcoin-cash-price-prediction-2019-2020-2023-2025-realistic-bitcoin-cash-price-prediction/
---