Would you try a crypto casino, if you get limited free funds daily?
Hi Steemians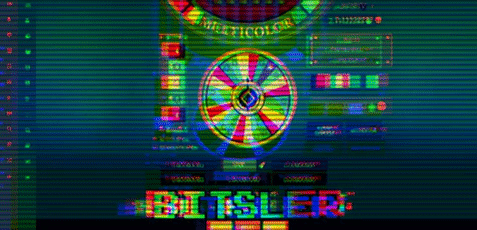 Two weeks ago, while flipping through various posts on Bitcointalk, I found an awesome site to try my luck. The site is Bitsler and is a popular crypto casino. But the unique thing about Bitsler is that it is free user friendly. Claim some BTC (in satoshi) from their faucet; play games like dice, roulette, multicolor etc. and enjoy!! Even if you don't win, you lose nothing. I think this feature is really good for getting your feet wet on this site. Apart from it, it also has official chat rains, contests and crypto rains from players who win big on the site. Make sure to add an avatar to get rains in chat. Also if you are really lucky, you may get a number 77.77. And that means Jackpot!!
The site supports multiple currencies including BTC, LTC, ETH, ETC, NEO, DOGE, BCH, ZCASH, DASH etc. So you can always withdraw your favorite coin or even exchange them on the site itself, with in-built exchange. I am personally thinking of getting Steem as an option too. If a big popular casino such as Bitsler accepts Steem or SBD as a payment option, then I think it will be really good for the Steem ecosystem. Comment below if you think Steem should be added to their payment options.
I think you guys will also love the user interface of the site. Do try that bulb option for night mode. The overall interface is minimalist, with easy access to various site features like stats, level, transaction history, exchange, chat, profile, deposit, withdraw etc. Colors are not 'abused' and stay to their themes which users can choose themselves.
That's my affiliate link, and I'll be sending regular tips to my active referrals.
Here are my deposit, stats and withdrawal screenshots.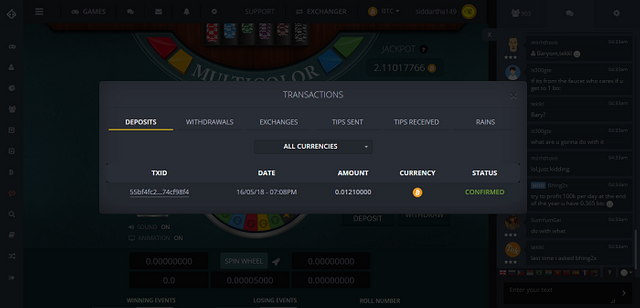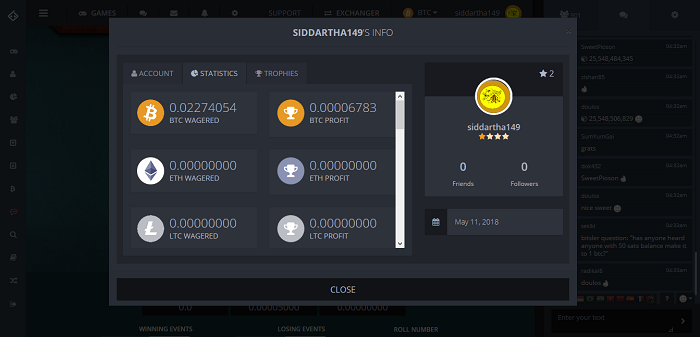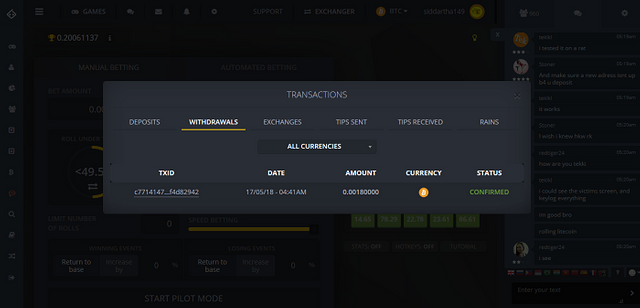 Looking for strategies? 
1) Well the most essential one, that I suggest to everyone is that do not place big bets. Full stop.
Bet 1/100th or 1/1000th of your balance. That allows you to have enough cushion to absorb losses till you win.
2) Secondly, if you are getting many wins in a consecutive manner, then that's a sign of taking a break or changing the game, not putting in more funds. 
3) One good strategy is to bet small amounts with high risks. And then with every win, decrease the risk. For example if you bet 100 satoshi with 100x payout and you get a positive result, then lower the payout to 50x and so on. Usually this allows for wins with a small gap and hence more profits. The only thing is that your first win might take some time.
4) Double your bet on loss, return to base on win. This strategy is the most common and the most dangerous too. I will suggest avoiding it if you don't have at least 0.1 BTC or more balance. And then also, your base bet should not exceed 10 satoshi.
5) Try to reach level 5 on Bitsler. After that you can get passive income from crypto rains in chat. Yes, the individual rains are not big, but they are certainly better than collecting from multiple faucets all day. Overtime, they can amount to a big balance.
Note:
1) The free satoshi claimed from Bitsler is not for withdrawing, but only for testing, playing or recovering your losses.
2) Do not attempt to make multiple accounts and then send those free satoshis as tips to one account. You won't be able to withdraw that way.
3) Don't deposit unless you want to gamble. You can't withdraw the money you haven't risked. That's a global rule of all casinos.
4) Last not the least, don't gamble more than you can afford to lose.
I hope you will find this site interesting. Good luck on your bets. Let me know your thoughts in the comments section.

Regards
Siddartha
Image Courtesy: All images are from my own Bitsler dashboard. The title gif is made on giphy.com.

Page dividers by
@aleister
The Only Crypto Exchange You Will Ever Need
██ 7,000,000 Members ▶ Most Trusted Exchange ▶ Trade Steem + 110 Popular Coins ██