May was a fantastic month for the crypto markets!
Green all over the place :)
The total crypto market cap surged from $175 billion to $272 billion.
Bitcoin performed even better than most altcoins. The Bitcoin dominance increased a bit from 54% to 56%.
Bitcoin SV had a remarkable run during May. A rise of no less than 245%.
STEEM rose from $0.35 to $0.40. A nice increase of 14%. However, not as good as most altcoins.
STEEM dropped from a rank of #57 to #63 on CoinMarketCap last month. Too bad!
Here is the full overview of last month.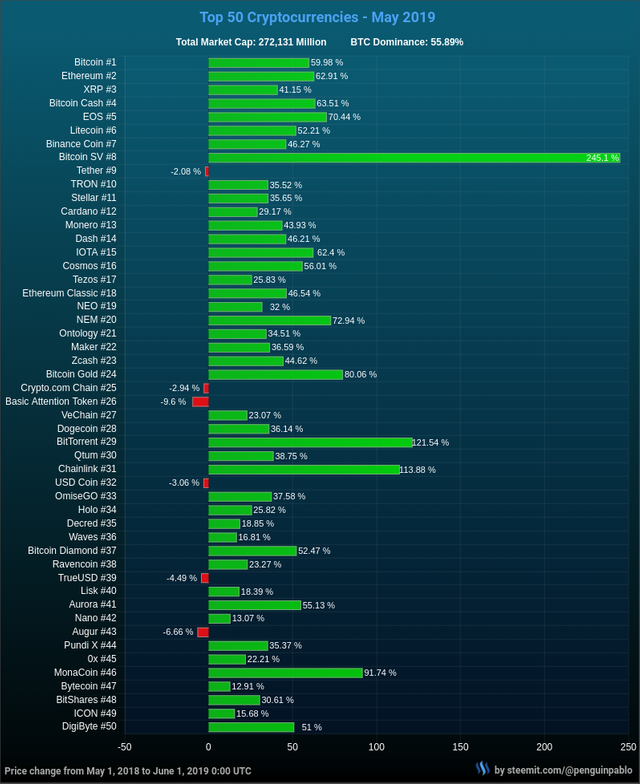 | Cryptocurrency | Price May, 1st | Price end of May | Change |
| --- | --- | --- | --- |
| Bitcoin | $5,350.64 | $8,560.08 | +59.98% |
| Ethereum | $164.39 | $267.81 | +62.91% |
| XRP | $0.31 | $0.44 | +41.15% |
| Bitcoin Cash | $271.31 | $443.62 | +63.51% |
| EOS | $5.04 | $8.59 | +70.44% |
| Litecoin | $75.12 | $114.34 | +52.21% |
| Binance Coin | $22.39 | $32.75 | +46.27% |
| Bitcoin SV | $56.59 | $195.29 | +245.1% |
| Tether | $1.02 | $1.00 | -2.08% |
| TRON | $0.02 | $0.03 | +35.52% |
| Stellar | $0.10 | $0.13 | +35.65% |
| Cardano | $0.07 | $0.09 | +29.17% |
| Monero | $64.56 | $92.92 | +43.93% |
| Dash | $113.41 | $165.82 | +46.21% |
| IOTA | $0.31 | $0.51 | +62.4% |
| Cosmos | $3.91 | $6.10 | +56.01% |
| Tezos | $1.20 | $1.51 | +25.83% |
| Ethereum Classic | $5.93 | $8.69 | +46.54% |
| NEO | $10.22 | $13.49 | +32% |
| NEM | $0.06 | $0.10 | +72.94% |
| Ontology | $1.13 | $1.52 | +34.51% |
| Maker | $539.20 | $736.48 | +36.59% |
| Zcash | $62.46 | $90.33 | +44.62% |
| Bitcoin Gold | $16.25 | $29.26 | +80.06% |
| Crypto.com Chain | $0.07 | $0.07 | -2.94% |
| Basic Attention Token | $0.38 | $0.35 | -9.6% |
| VeChain | $0.01 | $0.01 | +23.07% |
| Dogecoin | $0.00 | $0.00 | +36.14% |
| BitTorrent | $0.00 | $0.00 | +121.54% |
| Qtum | $2.40 | $3.33 | +38.75% |
| Chainlink | $0.48 | $1.02 | +113.88% |
| USD Coin | $1.03 | $1.00 | -3.06% |
| OmiseGO | $1.65 | $2.27 | +37.58% |
| Holo | $0.01 | $0.01 | +25.82% |
| Decred | $23.66 | $28.12 | +18.85% |
| Waves | $2.26 | $2.64 | +16.81% |
| Bitcoin Diamond | $0.92 | $1.40 | +52.47% |
| Ravencoin | $0.05 | $0.06 | +23.27% |
| TrueUSD | $1.02 | $0.97 | -4.49% |
| Lisk | $1.74 | $2.06 | +18.39% |
| Aurora | $0.02 | $0.02 | +55.13% |
| Nano | $1.53 | $1.73 | +13.07% |
| Augur | $21.01 | $19.61 | -6.66% |
| Pundi X | $0.00 | $0.00 | +35.37% |
| 0x | $0.28 | $0.34 | +22.21% |
| MonaCoin | $1.09 | $2.09 | +91.74% |
| Bytecoin | $0.00 | $0.00 | +12.91% |
| BitShares | $0.05 | $0.07 | +30.61% |
| ICON | $0.34 | $0.40 | +15.68% |
| DigiByte | $0.01 | $0.02 | +51% |

My previous monthly crypto reports
---
Visit my websites:
SteemBlockExplorer.com - SteemNow.com - CoinMarkets.today
¯\___(ツ)____/¯ Follow me @penguinpablo