Green... Such a beautiful color! :-)
March was a pretty good month for the crypto markets. Almost every cryptocurrency ended in the green while Bitcoin added 7.5% to its price.
The total crypto market cap surged from 130.8 billion to 145.5 billion.
Altcoins generally performed better than Bitcoin. The Bitcoin dominance went from 52% to 50%.
STEEM surged by another 15% last month after a huge increase of 50% in February. It's good to see we are finally bottoming out :-)
Here is the full overview of last month.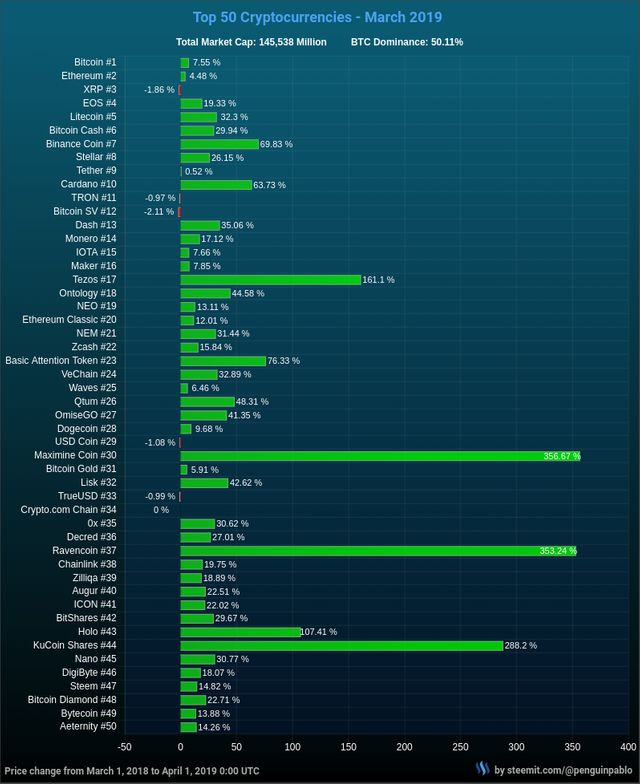 | Cryptocurrency | Price March, 1st | Price end of March | Change |
| --- | --- | --- | --- |
| Bitcoin | $3,823.37 | $4,112.13 | +7.55% |
| Ethereum | $136.29 | $142.39 | +4.48% |
| XRP | $0.32 | $0.31 | -1.86% |
| EOS | $3.57 | $4.26 | +19.33% |
| Litecoin | $45.92 | $60.75 | +32.3% |
| Bitcoin Cash | $130.17 | $169.14 | +29.94% |
| Binance Coin | $10.34 | $17.56 | +69.83% |
| Stellar | $0.08 | $0.11 | +26.15% |
| Tether | $0.99 | $1.00 | +0.52% |
| Cardano | $0.04 | $0.07 | +63.73% |
| TRON | $0.02 | $0.02 | -0.97% |
| Bitcoin SV | $66.37 | $64.97 | -2.11% |
| Dash | $83.14 | $112.29 | +35.06% |
| Monero | $48.66 | $56.99 | +17.12% |
| IOTA | $0.29 | $0.31 | +7.66% |
| Maker | $676.00 | $729.04 | +7.85% |
| Tezos | $0.41 | $1.07 | +161.1% |
| Ontology | $0.91 | $1.31 | +44.58% |
| NEO | $9.00 | $10.18 | +13.11% |
| Ethereum Classic | $4.33 | $4.85 | +12.01% |
| NEM | $0.04 | $0.06 | +31.44% |
| Zcash | $51.31 | $59.44 | +15.84% |
| Basic Attention Token | $0.16 | $0.29 | +76.33% |
| VeChain | $0.00 | $0.01 | +32.89% |
| Waves | $2.63 | $2.80 | +6.46% |
| Qtum | $2.07 | $3.07 | +48.31% |
| OmiseGO | $1.33 | $1.88 | +41.35% |
| Dogecoin | $0.00 | $0.00 | +9.68% |
| USD Coin | $1.01 | $1.00 | -1.08% |
| Maximine Coin | $0.03 | $0.14 | +356.67% |
| Bitcoin Gold | $12.85 | $13.61 | +5.91% |
| Lisk | $1.22 | $1.74 | +42.62% |
| TrueUSD | $1.01 | $1.00 | -0.99% |
| Crypto.com Chain | $0.00 | $0.04 | 0% |
| 0x | $0.25 | $0.32 | +30.62% |
| Decred | $16.55 | $21.02 | +27.01% |
| Ravencoin | $0.01 | $0.06 | +353.24% |
| Chainlink | $0.42 | $0.51 | +19.75% |
| Zilliqa | $0.02 | $0.02 | +18.89% |
| Augur | $12.53 | $15.35 | +22.51% |
| ICON | $0.29 | $0.35 | +22.02% |
| BitShares | $0.05 | $0.06 | +29.67% |
| Holo | $0.00 | $0.01 | +107.41% |
| KuCoin Shares | $0.44 | $1.71 | +288.2% |
| Nano | $0.86 | $1.13 | +30.77% |
| DigiByte | $0.01 | $0.01 | +18.07% |
| Steem | $0.40 | $0.46 | +14.82% |
| Bitcoin Diamond | $0.74 | $0.91 | +22.71% |
| Bytecoin | $0.00 | $0.00 | +13.88% |
| Aeternity | $0.46 | $0.53 | +14.26% |

My previous monthly crypto reports
---
Visit my websites:
SteemBlockExplorer.com - SteemNow.com - CoinMarkets.today
¯\___(ツ)____/¯ Follow me @penguinpablo