Time flies, the first month of the year is already over.
Again a bloody month for most cryptocurrencies, but STEEM is trading a bit higher (3.5%). Not much, but I'm happy STEEM dit a lot better than the rest of the market. Bitcoin dropped another 9%. An optimist would say: "The lower we go, the closer we get to the bottom."
The Bitcoin dominance was pretty stable last month. From 51.5% to 53.4%.
The total crypto market cap dropped from 127.5 billion to 114.4 billion. Still above 100 billion.
TRON, Chainlink, Augur and Pundi X were last month's winners. They all won more than 30%.
STEEM surged a penny to $0.27.
Here is the full overview of last month.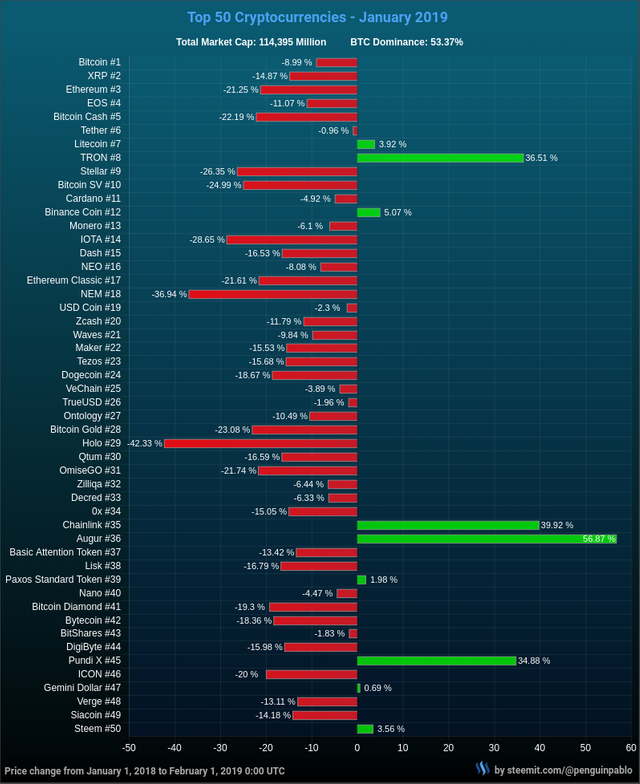 | Cryptocurrency | Price January, 1st | Price end of January | Change |
| --- | --- | --- | --- |
| Bitcoin | $3,747.39 | $3,410.63 | -8.99% |
| XRP | $0.36 | $0.30 | -14.87% |
| Ethereum | $133.49 | $105.12 | -21.25% |
| EOS | $2.62 | $2.33 | -11.07% |
| Bitcoin Cash | $149.23 | $116.12 | -22.19% |
| Tether | $1.00 | $0.99 | -0.96% |
| Litecoin | $30.13 | $31.31 | +3.92% |
| TRON | $0.02 | $0.03 | +36.51% |
| Stellar | $0.11 | $0.08 | -26.35% |
| Bitcoin SV | $86.80 | $65.11 | -24.99% |
| Cardano | $0.04 | $0.04 | -4.92% |
| Binance Coin | $6.12 | $6.43 | +5.07% |
| Monero | $46.56 | $43.72 | -6.1% |
| IOTA | $0.36 | $0.26 | -28.65% |
| Dash | $79.90 | $66.69 | -16.53% |
| NEO | $7.67 | $7.05 | -8.08% |
| Ethereum Classic | $5.09 | $3.99 | -21.61% |
| NEM | $0.06 | $0.04 | -36.94% |
| USD Coin | $1.02 | $1.00 | -2.3% |
| Zcash | $56.13 | $49.51 | -11.79% |
| Waves | $3.05 | $2.75 | -9.84% |
| Maker | $449.86 | $380.00 | -15.53% |
| Tezos | $0.45 | $0.38 | -15.68% |
| Dogecoin | $0.00 | $0.00 | -18.67% |
| VeChain | $0.00 | $0.00 | -3.89% |
| TrueUSD | $1.02 | $1.00 | -1.96% |
| Ontology | $0.59 | $0.53 | -10.49% |
| Bitcoin Gold | $12.78 | $9.83 | -23.08% |
| Holo | $0.00 | $0.00 | -42.33% |
| Qtum | $2.17 | $1.81 | -16.59% |
| OmiseGO | $1.38 | $1.08 | -21.74% |
| Zilliqa | $0.02 | $0.02 | -6.44% |
| Decred | $16.59 | $15.54 | -6.33% |
| 0x | $0.29 | $0.25 | -15.05% |
| Chainlink | $0.29 | $0.40 | +39.92% |
| Augur | $7.79 | $12.22 | +56.87% |
| Basic Attention Token | $0.13 | $0.11 | -13.42% |
| Lisk | $1.31 | $1.09 | -16.79% |
| Paxos Standard Token | $1.01 | $1.03 | +1.98% |
| Nano | $0.90 | $0.86 | -4.47% |
| Bitcoin Diamond | $0.89 | $0.72 | -19.3% |
| Bytecoin | $0.00 | $0.00 | -18.36% |
| BitShares | $0.04 | $0.04 | -1.83% |
| DigiByte | $0.01 | $0.01 | -15.98% |
| Pundi X | $0.00 | $0.00 | +34.88% |
| ICON | $0.24 | $0.19 | -20% |
| Gemini Dollar | $0.99 | $1.00 | +0.69% |
| Verge | $0.01 | $0.01 | -13.11% |
| Siacoin | $0.00 | $0.00 | -14.18% |
| Steem | $0.26 | $0.27 | +3.56% |

My previous monthly crypto reports
---
Visit my websites:
SteemBlockExplorer.com - SteemNow.com - CoinMarkets.today
¯\___(ツ)____/¯ Follow me @penguinpablo