Bitcoin has ended a six-month losing streak in February. Is the crypto winter finally coming to an end? I'm still not fully convinced the bottom is in, but February's results are definitely hopeful. Almost the entire top 50 ended in green.
STEEM also had a great month with an increase of 50%! :-)
The total crypto market cap surged from 114.4 billion to 130.8 billion.
Altcoins generally performed slightly better than Bitcoin. The Bitcoin dominance went from 53.4% to 52%.
STEEM is rising! It surged by 50% last month, from #50 to #43.
Here is the full overview of last month.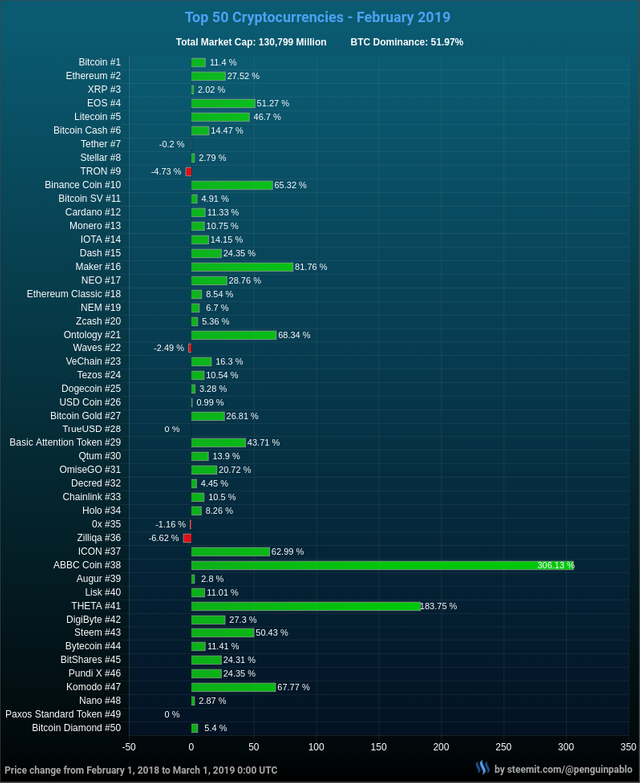 | Cryptocurrency | Price February, 1st | Price end of February | Change |
| --- | --- | --- | --- |
| Bitcoin | $3,434.13 | $3,825.73 | +11.4% |
| Ethereum | $106.89 | $136.31 | +27.52% |
| XRP | $0.31 | $0.32 | +2.02% |
| EOS | $2.36 | $3.57 | +51.27% |
| Litecoin | $31.52 | $46.24 | +46.7% |
| Bitcoin Cash | $113.59 | $130.03 | +14.47% |
| Tether | $0.99 | $0.99 | -0.2% |
| Stellar | $0.08 | $0.08 | +2.79% |
| TRON | $0.03 | $0.02 | -4.73% |
| Binance Coin | $6.69 | $11.06 | +65.32% |
| Bitcoin SV | $64.58 | $67.75 | +4.91% |
| Cardano | $0.04 | $0.04 | +11.33% |
| Monero | $43.63 | $48.32 | +10.75% |
| IOTA | $0.26 | $0.30 | +14.15% |
| Dash | $67.98 | $84.53 | +24.35% |
| Maker | $371.98 | $676.10 | +81.76% |
| NEO | $6.99 | $9.00 | +28.76% |
| Ethereum Classic | $3.98 | $4.32 | +8.54% |
| NEM | $0.04 | $0.04 | +6.7% |
| Zcash | $49.60 | $52.26 | +5.36% |
| Ontology | $0.54 | $0.90 | +68.34% |
| Waves | $2.81 | $2.74 | -2.49% |
| VeChain | $0.00 | $0.00 | +16.3% |
| Tezos | $0.37 | $0.41 | +10.54% |
| Dogecoin | $0.00 | $0.00 | +3.28% |
| USD Coin | $1.01 | $1.02 | +0.99% |
| Bitcoin Gold | $10.07 | $12.77 | +26.81% |
| TrueUSD | $1.01 | $1.01 | 0% |
| Basic Attention Token | $0.11 | $0.16 | +43.71% |
| Qtum | $1.87 | $2.13 | +13.9% |
| OmiseGO | $1.11 | $1.34 | +20.72% |
| Decred | $15.72 | $16.42 | +4.45% |
| Chainlink | $0.38 | $0.43 | +10.5% |
| Holo | $0.00 | $0.00 | +8.26% |
| 0x | $0.25 | $0.25 | -1.16% |
| Zilliqa | $0.02 | $0.02 | -6.62% |
| ICON | $0.19 | $0.31 | +62.99% |
| ABBC Coin | $0.08 | $0.32 | +306.13% |
| Augur | $12.49 | $12.84 | +2.8% |
| Lisk | $1.09 | $1.21 | +11.01% |
| THETA | $0.05 | $0.15 | +183.75% |
| DigiByte | $0.01 | $0.01 | +27.3% |
| Steem | $0.28 | $0.42 | +50.43% |
| Bytecoin | $0.00 | $0.00 | +11.41% |
| BitShares | $0.04 | $0.05 | +24.31% |
| Pundi X | $0.00 | $0.00 | +24.35% |
| Komodo | $0.62 | $1.04 | +67.77% |
| Nano | $0.84 | $0.87 | +2.87% |
| Paxos Standard Token | $1.03 | $1.03 | 0% |
| Bitcoin Diamond | $0.70 | $0.74 | +5.4% |

My previous monthly crypto reports
---
Visit my websites:
SteemBlockExplorer.com - SteemNow.com - CoinMarkets.today
¯\___(ツ)____/¯ Follow me @penguinpablo