Happy new year everyone! I wish you all a great 2019!
Hopefully the cryptomarkets will recover this year. There is so much in the pipeline for 2019 that could turn crypto markets around. I am very curious what this year will bring.
Looking back on december, I see a mixed picture. Bitcoin lost another 6.5%, but some altcoins began to recover from the november capitulation. Unfortunately, STEEM was not among them yet. Possibly due to the layoffs.
The Bitcoin dominance was pretty stable last month. From 53.5% to 51.5%.
The total crypto market cap dropped from 131 billion to 127.5 billion. Not a huge difference.
Look at Paragon Coin! Is cannabis on the blockchain the next big thing?
STEEM dropped to $0.27 and lost another 21% of its value.
Let's hope for a much better 2019!
Here is the full overview of last month.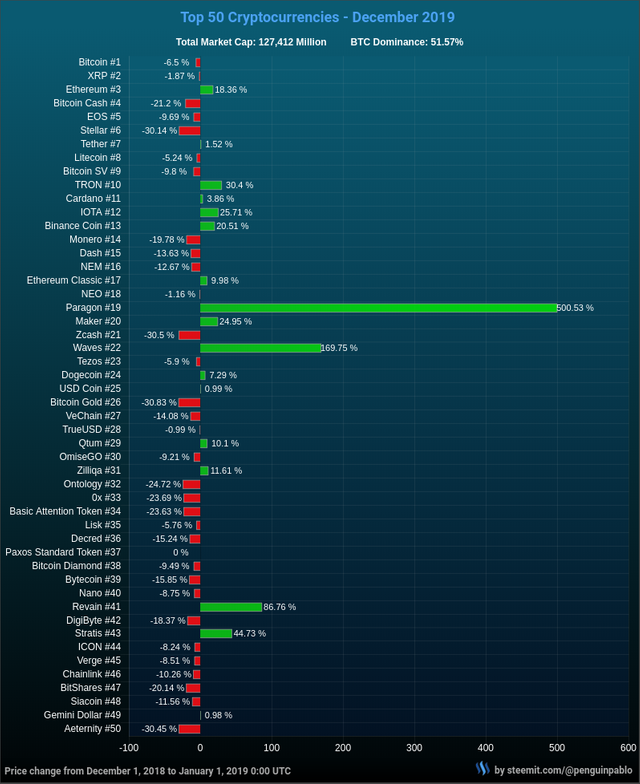 | Cryptocurrency | Price December, 1st | Price end of December | Change |
| --- | --- | --- | --- |
| Bitcoin | $4,009.67 | $3,749.02 | -6.5% |
| XRP | $0.36 | $0.36 | -1.87% |
| Ethereum | $112.87 | $133.59 | +18.36% |
| Bitcoin Cash | $192.66 | $151.81 | -21.2% |
| EOS | $2.89 | $2.61 | -9.69% |
| Stellar | $0.16 | $0.11 | -30.14% |
| Tether | $0.99 | $1.00 | +1.52% |
| Litecoin | $31.85 | $30.18 | -5.24% |
| Bitcoin SV | $95.91 | $86.51 | -9.8% |
| TRON | $0.01 | $0.02 | +30.4% |
| Cardano | $0.04 | $0.04 | +3.86% |
| IOTA | $0.29 | $0.36 | +25.71% |
| Binance Coin | $5.07 | $6.11 | +20.51% |
| Monero | $58.23 | $46.71 | -19.78% |
| Dash | $92.63 | $80.00 | -13.63% |
| NEM | $0.07 | $0.06 | -12.67% |
| Ethereum Classic | $4.61 | $5.07 | +9.98% |
| NEO | $7.75 | $7.66 | -1.16% |
| Paragon | $0.02 | $0.11 | +500.53% |
| Maker | $364.57 | $455.54 | +24.95% |
| Zcash | $81.05 | $56.33 | -30.5% |
| Waves | $1.19 | $3.21 | +169.75% |
| Tezos | $0.49 | $0.46 | -5.9% |
| Dogecoin | $0.00 | $0.00 | +7.29% |
| USD Coin | $1.01 | $1.02 | +0.99% |
| Bitcoin Gold | $18.52 | $12.81 | -30.83% |
| VeChain | $0.00 | $0.00 | -14.08% |
| TrueUSD | $1.01 | $1.00 | -0.99% |
| Qtum | $1.98 | $2.18 | +10.1% |
| OmiseGO | $1.52 | $1.38 | -9.21% |
| Zilliqa | $0.02 | $0.02 | +11.61% |
| Ontology | $0.78 | $0.59 | -24.72% |
| 0x | $0.39 | $0.30 | -23.69% |
| Basic Attention Token | $0.17 | $0.13 | -23.63% |
| Lisk | $1.39 | $1.31 | -5.76% |
| Decred | $19.95 | $16.91 | -15.24% |
| Paxos Standard Token | $1.01 | $1.01 | 0% |
| Bitcoin Diamond | $0.99 | $0.90 | -9.49% |
| Bytecoin | $0.00 | $0.00 | -15.85% |
| Nano | $1.00 | $0.91 | -8.75% |
| Revain | $0.14 | $0.26 | +86.76% |
| DigiByte | $0.01 | $0.01 | -18.37% |
| Stratis | $0.75 | $1.08 | +44.73% |
| ICON | $0.26 | $0.24 | -8.24% |
| Verge | $0.01 | $0.01 | -8.51% |
| Chainlink | $0.32 | $0.29 | -10.26% |
| BitShares | $0.05 | $0.04 | -20.14% |
| Siacoin | $0.00 | $0.00 | -11.56% |
| Gemini Dollar | $1.02 | $1.03 | +0.98% |
| Aeternity | $0.55 | $0.39 | -30.45% |

My previous monthly crypto reports
---
Visit my websites:
SteemBlockExplorer.com - SteemNow.com - CoinMarkets.today
¯\___(ツ)____/¯ Follow me @penguinpablo