November in one word: Capitulation!
The whole cryptocurrency market tanked last month on the back of high volumes. The biggest monthly loss of the year so far. The only winners were Factom with a whopping +162%, Paxos (+1%) and of course the stable coins. Although even Tether lost 0.85% and our own SBD (Steem Blockchain Dollar) cannot be really called a stable coin anymore at a price of $0.81.
The Bitcoin dominance was pretty stable last month. From 54% to 53.5%.
The total crypto market cap dropped from 205 billion to 131 billion. I wouldn't believe you if you told me this a month ago.
STEEM lost another 57.5% of its value and was one of the worst performers on the list. In fact, only Tezos and Bitcoin Cash lost more than STEEM.
Let's hope for a relief rally in December.
Here is the full overview of last month.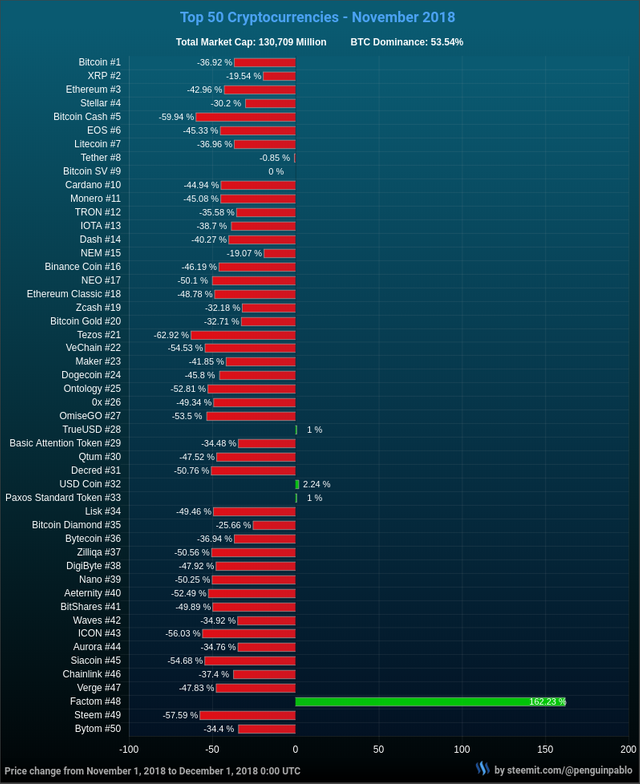 | Cryptocurrency | Price November, 1st | Price end of November | Change |
| --- | --- | --- | --- |
| Bitcoin | $6,342.61 | $4,000.81 | -36.92% |
| XRP | $0.45 | $0.36 | -19.54% |
| Ethereum | $197.85 | $112.86 | -42.96% |
| Stellar | $0.23 | $0.16 | -30.2% |
| Bitcoin Cash | $425.36 | $170.42 | -59.94% |
| EOS | $5.25 | $2.87 | -45.33% |
| Litecoin | $49.68 | $31.32 | -36.96% |
| Tether | $0.99 | $0.98 | -0.85% |
| Bitcoin SV | $0.00 | $0.00 | 0% |
| Cardano | $0.07 | $0.04 | -44.94% |
| Monero | $105.03 | $57.68 | -45.08% |
| TRON | $0.02 | $0.01 | -35.58% |
| IOTA | $0.47 | $0.29 | -38.7% |
| Dash | $153.66 | $91.78 | -40.27% |
| NEM | $0.09 | $0.08 | -19.07% |
| Binance Coin | $9.44 | $5.08 | -46.19% |
| NEO | $15.49 | $7.73 | -50.1% |
| Ethereum Classic | $9.04 | $4.63 | -48.78% |
| Zcash | $116.33 | $78.89 | -32.18% |
| Bitcoin Gold | $26.72 | $17.98 | -32.71% |
| Tezos | $1.30 | $0.48 | -62.92% |
| VeChain | $0.01 | $0.00 | -54.53% |
| Maker | $609.38 | $354.38 | -41.85% |
| Dogecoin | $0.00 | $0.00 | -45.8% |
| Ontology | $1.66 | $0.78 | -52.81% |
| 0x | $0.77 | $0.39 | -49.34% |
| OmiseGO | $3.29 | $1.53 | -53.5% |
| TrueUSD | $1.00 | $1.01 | +1% |
| Basic Attention Token | $0.25 | $0.16 | -34.48% |
| Qtum | $3.83 | $2.01 | -47.52% |
| Decred | $40.07 | $19.73 | -50.76% |
| USD Coin | $1.00 | $1.02 | +2.24% |
| Paxos Standard Token | $1.00 | $1.01 | +1% |
| Lisk | $2.77 | $1.40 | -49.46% |
| Bitcoin Diamond | $1.34 | $1.00 | -25.66% |
| Bytecoin | $0.00 | $0.00 | -36.94% |
| Zilliqa | $0.03 | $0.02 | -50.56% |
| DigiByte | $0.02 | $0.01 | -47.92% |
| Nano | $2.01 | $1.00 | -50.25% |
| Aeternity | $1.15 | $0.55 | -52.49% |
| BitShares | $0.10 | $0.05 | -49.89% |
| Waves | $1.89 | $1.23 | -34.92% |
| ICON | $0.57 | $0.25 | -56.03% |
| Aurora | $0.03 | $0.02 | -34.76% |
| Siacoin | $0.01 | $0.00 | -54.68% |
| Chainlink | $0.51 | $0.32 | -37.4% |
| Verge | $0.01 | $0.01 | -47.83% |
| Factom | $4.58 | $12.01 | +162.23% |
| Steem | $0.80 | $0.34 | -57.59% |
| Bytom | $0.03 | $0.02 | -34.4% |

My previous monthly crypto reports
---
Visit my websites:
SteemBlockExplorer.com - SteemNow.com - CoinMarkets.today
¯\___(ツ)____/¯ Follow me @penguinpablo