Hello friends. I have actually been writing on this same topic some time ago as well. And here I am with the results and also help you earn 5$+ per week just by searching on search engines online.

This awesome decentralised platform that pays you for searching is Presearch .It actually pays you PRE tokens which later can be exchanged for Bitcoin through exchanges and eventually to fiat.

You can earn 8 PRE tokens a day for making 32 searches . The price of PRE at the time of writing this post is $0.094993. You earn 7×8=56 tokens a week and with the current price 56× $0.094993= 5.31$ . That's not much amount but you are getting it just for making searches online.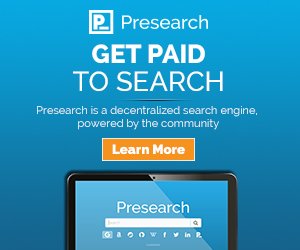 Presearch seems to be promising project. I have been using this for a month now. You can join now and start making free and easy money online.

Sign up through the link below and get 25 PRE tokens for free.

Register NOW! GET Free 25 PRE tokens