Crypto 101: 7 Month Status Report - Cloud Mining
Brave New Crypto World
Over the past 7 months, I've tried my hand at cloud mining with ZERO prior experience. At this point I feel I can say that I have become comfortable with this as a viable business activity. The cryptocurrency ecosystem is so much bigger than any single coin, and it is obvious that there are true value use cases (beyond just simple stored value and immutable transaction records). Of course everything depends on the current growth in currency values. I have NO IDEA what will happen to my profitability if we have a crypto crash!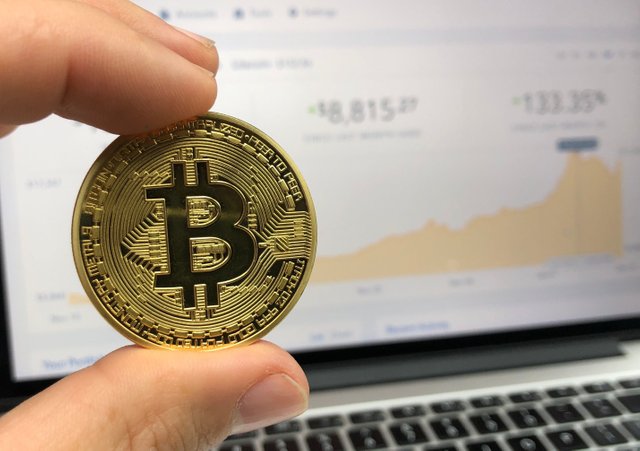 Please make sure you do your own research, and invest your time and money carefully.
With Cloud Mining, you are essentially buying access to mining equipment, maintenance and electricity from a cloud mining provider. The alternative is building your own mining rig using expensive GPU video cards (if you can find the feasible ones), or buying a dedicated mining computer (also expensive). Not to mention you will be responsible for configuring, updating, maintaining, and paying electricity yourself. One could argue that the depreciation of mining equipment is such that buying limited term contracts (1 or 2 years) is not that much different.
The flexibility from a Cloud mining platform like Genenis or Hashflare, is that you don't need to worry about any downloading, upgrading, and detailed configurations for mining. You also can - in the case of Genesis - allocate your hashpower dynamically. So for example you can mine 25% Litecoin and 25% Monero and 50% Bitcoin for the 2 year Monero mining contract Genesis currently has for sale. Genesis seems to sell out of it's contracts quickly, and at time of writing Monero (Cryptonite hashing algorithm) is all they are selling. I recently bought 700 H/s worth and have been experimenting with the different coin allocations. LTC seems the best so far, but there were some delays with payouts (general delay issues that Genesis was working on), and XMR won't pay out until 0.4 coins are accumulated - so of course it will be a while before I can evaluate profitability of that coin allocation.
Hashflare on the other hand, offers different coins to mine - but you have to buy those separate contracts (1 year) individually (no option to allocate dynamically).
Currently I have some ETH and BTC mining on Hashflare, and as already mentioned I recently bought the 2 year Monero contract on Genesis.
I quite enjoy the option to adjust allocation on Genesis. This allows you to actually use your Monero hash power to mine other coins, such as Litecoin or DASH based on your analysis of price swings. The profitability is somewhat unclear for each coin - in my case I am simply evaluating daily pay-out stats and adjust if I feel a coin's price, or difficulty level may make it more profitable. So far I have averaged about 1-2$ of LTC per day.
With Hashflare, I quite like the projected revenue feature (although you need to estimate the fees yourself as they will be deducted prior to payout). It is a very good visual, and you will also notice that Hashflare let's you choose from a selection of mining pools - there is a default setting for mining pools but you are free to do your own research and adjust accordingly.
Here is a comparison of Ethereum and Bitcoin purchase cost and projected payout (the approx. 13% maintenance fee on BTC mining is not included in their projection, but even reducing by 13%, Bitcoin still appears better than Ethereum at current prices):
Bitcoin Projection (~2 mo. payback on ~$490 investment)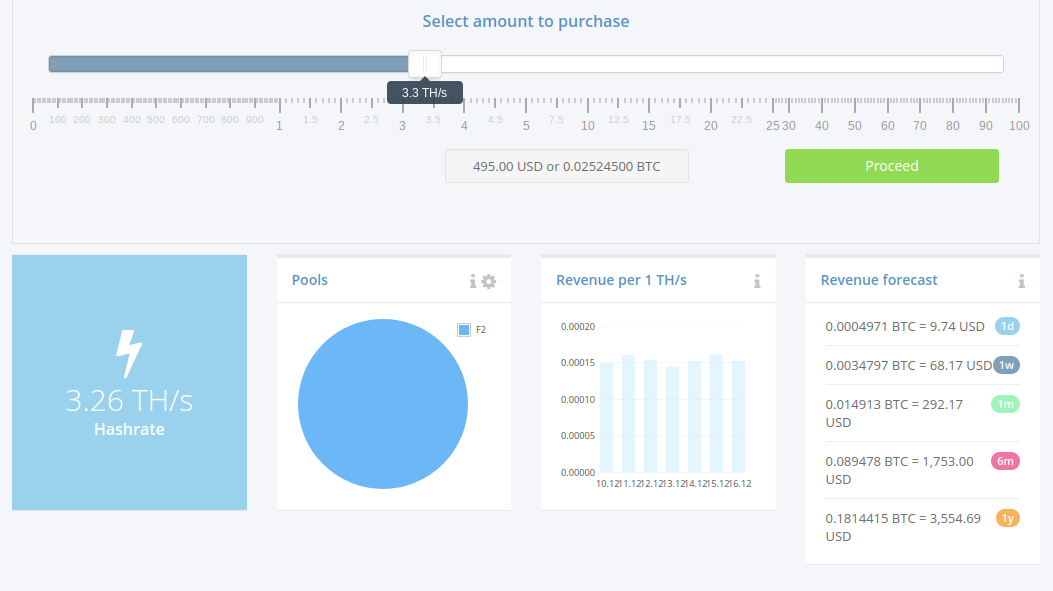 Ethereum Projection (~8 mo. payback on $1100 investment)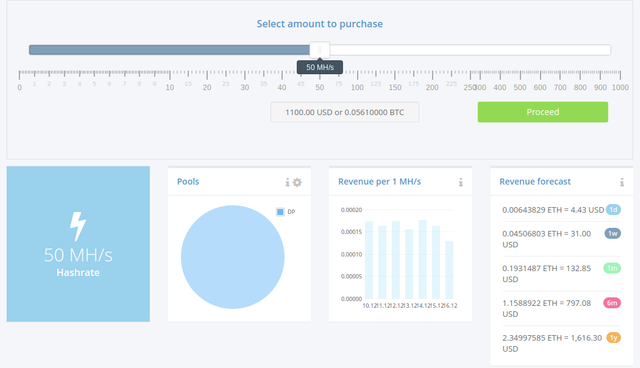 If you are interested in trying out Hashflare, you can click on the below referral banner/link and have a look to see if it's right for you:


If you need a valid Genesis 3% discount code, you can use mine: FYgzsC