LATOKEN's Q1'18 Major Achievements: KYC, 39 Crypto Trading Pairs, LA DIRECT, ICO Listings and Global Expansion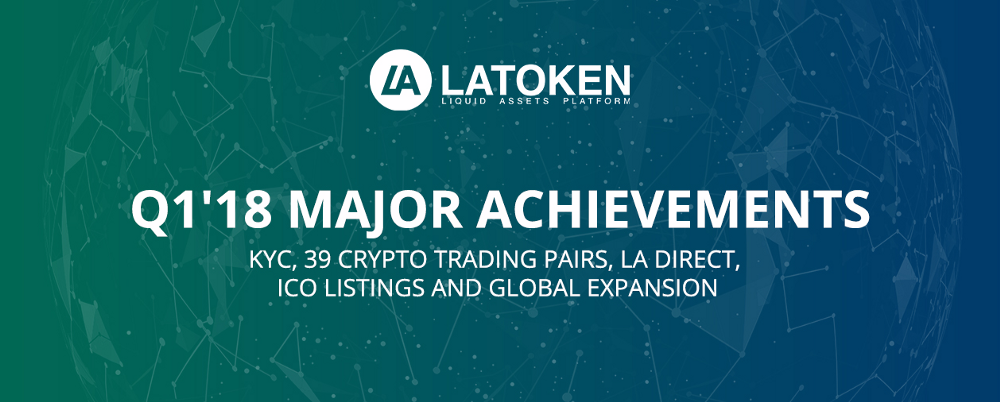 One of the unique features of LATOKEN is that it enables issuing and trading of asset tokens. Trading of asset tokens has been already successfully tested and now we are finalizing legal issues. A full scale trading of tokens linked to prices of real assets (stocks, commodities, ETFs and indices) will be launched in Q2.
In parallel we put a great effort into developing the infrastructure required for trading asset tokens: upgrading the trading engine, interface and security system, developing a solution ensuring the maximum liquidity for trading, improving KYC process and launching new products to drive the user acquisition.
This made LATOKEN enter the Top-100 crypto exchanges, according to leading crypto analytic portals, e.g. Coinmarketcap, Coingecko and Cryptocompare.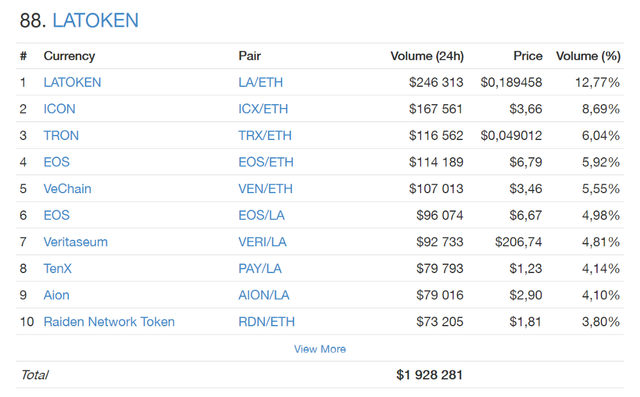 Here is a short recap of what was achieved in Q1.
Product development
Trading platform upgrade
Improved trading interface (order book, navigation)

New multicurrency wallet

New analytical tools (trading charts, estimated balance)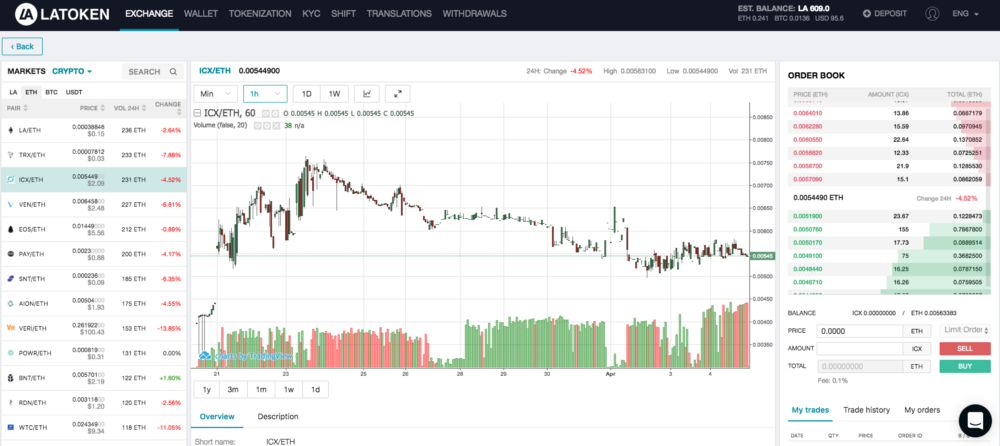 39 crypto trading pairs launched
A total of 39 crypto pairs were launched, which brought a total daily trading volume to over $1 million.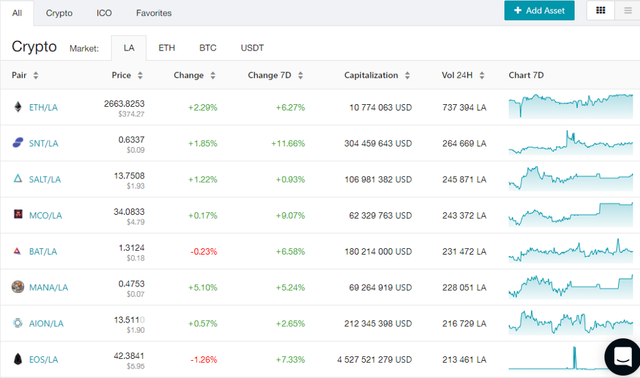 All LA pairs have 50% cheaper trading fees which only amount to 0.05%. This is an extra incentive to get more people onboard and use our platform.
Launch of LA DIRECT
LA DIRECT is an instant exchange that allows you to convert cryptocurrencies without signing up directly on the main page. This is a great way for attracting crypto traders to our platform. So far, three cryptocurrencies are available for instant exchange (ETH, LA, Vechain) and six more top cryptos will be added soon.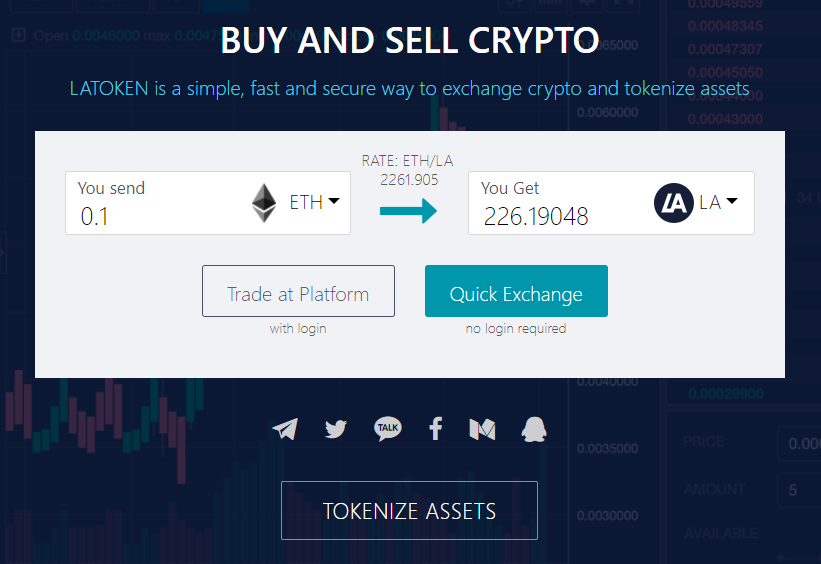 ICO listing on LATOKEN platform
Four ICO projects currently accept contributions in LA on LATOKEN platform:
IPStock — Visual digital content solution
Well — Healthcare solution
Ponder — Recommendations platform
Transcodium — Video streaming platform
One of our targets for 2018 is to list over 100 high-quality ICO projects that will accept contributions in LA on LATOKEN platform.
New KYC form
We updated our KYC interface and introduced Tier 2 verification status that enables users to withdraw up to $100k in crypto per day.
Listing on major crypto wallets
LA got listed on several major crypto wallets, including ImToken, Coinomi, Eidoo, Enjin Wallet, MyCrypto and Citowise, which have a combined total reach of more than 4 million visitors.
Worldwide Expansion
In Q1 we continued to put a great effort in strengthening our partners' network and promoting LATOKEN platform in the global blockchain community.
Last February we hosted third Blockchain Economic Forum (BEF) in Singapore. Looking back at past events, we are proud to admit that BEF has a tangible impact on the whole crypto community:
$300+ million has been raised by ICO projects participated in BEF New York and BEF Singapore
140+ top-notch speakers shed a light on what's going on in the industry, including Miko Matsumura (Evercoin), Toni Lane Casserly (Cointelegraph), Reese Jones (Singularity University), Nicholas Merten (DataDash, 280k+ YouTube subscribers) and ex-president of Mexico, Vicente Fox.
2000+ blockchain leaders, entrepreneurs and key government officials discussed how stunning blockchain implementations and trials are moving ahead many industries
Last March LATOKEN team organized a series of West Coast meetups with US blockchain opinion leaders in Silicon Valley, San Francisco, Los Angeles, Seattle & San Diego.
And this is just the beginning. Stay tuned!