The controversial bitcoin cash fork just got some bad news.
Binance, the world's largest and most popular cryptocurrency exchange announced that they will be delisting BCHSV.
BCHSV is also known as Bitcoin (Cash) Satoshi's Vision.
It was the controversial hard fork of bitcoin cash late last year, that may have contributed to bitcoin core crashing from $6k down to about $3k in a matter of days.
Here's the statement from Binance: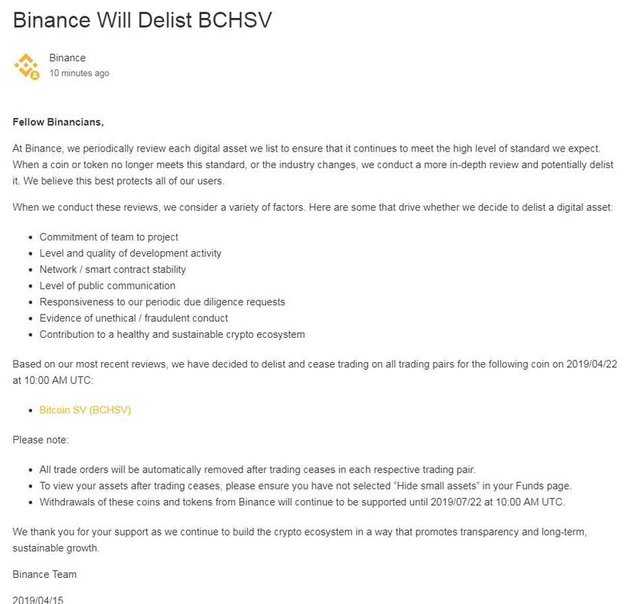 (Source: https://twitter.com/RichardHeartWin/status/1117797138979794944)
Why the delisting?
Beyond the fact that BCHSV is run by a liar who claims to be Satoshi...
There has been a major feud going on between Craig Wright (said liar) and pretty much every other person in crypto.
That spilled over to feuding with the CEO of Binance, who finally said enough is enough.
We will no longer list your $hitcoin.
And down it went...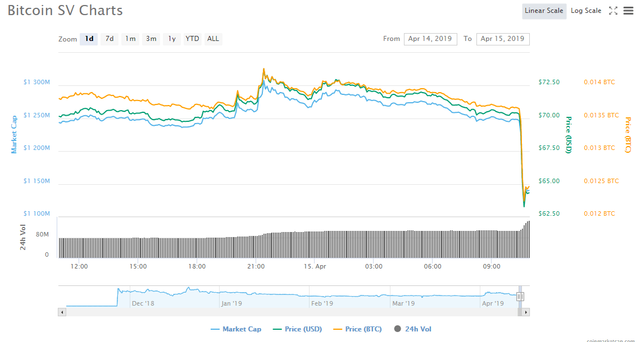 (Source: https://www.ccn.com/crypto-exchange-binance-delists-bitcoin-sv-bsv-tanks-9)
TIMMMMBERRRRRR!!!
I for one couldn't be happier.
I can't believe BCHSV has as much value as it does. It should be worthless in my opinion.
Craig Wright is 100% not Satoshi and he never was. He likely was around when Bitcoin was created but he was not the person that wrote under the pen name Satoshi and he does not have access to the Satoshi wallet.
That was likely Dave Kleiman.
Anyways, the delisting couldn't have happened to a nicer guy in my opinion and I hope other exchanges follow suit.
Stay informed my friends.
-Doc