Warning signs are flashing for the Bitcoin Dominance Index.
Well, warning signs if you are a bitcoin maximalist.
The Bitcoin Dominance Index is a measure of bitcoin's value compared to the entire crypto market's value.
Many traders looking to grow their BTC stockpile rely on the dominance index to analyze how altcoins will perform against the king of cryptocurrencies.
If the index is in an uptrend, it means that other coins are likely to perform poorly against bitcoin, in a downtrend and it means they are likely to perform well against bitcoin.
As you might have guessed, bitcoin's dominance index has been increasing during this latest bull run, but it's showing signs of weakening at a crucial resistance point: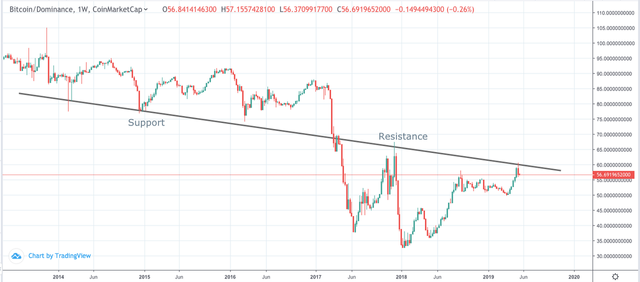 As you can see the index has been steadily sliding from the upper left to the lower right, a downtrend.
If this trend continues, we would expect to see the bitcoin dominance index fall over the coming weeks and months as it is at a crucial inflection point right now.
Another confirmation...
If that resistance line wasn't enough, we are also in the "over-bought" range on the RSI chart.
Check it out: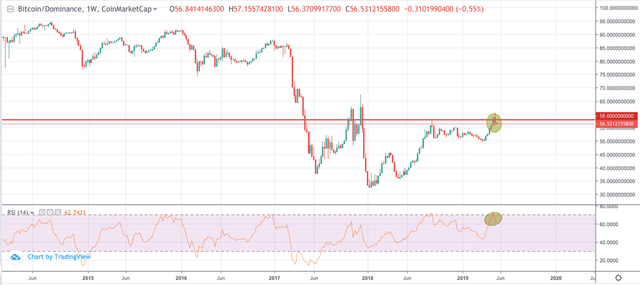 As you can see on the above chart, most of the times the RSI got to these levels over the last 5 years, the bitcoin dominance index started trending down shortly afterwards.
By itself, neither of these indicators are super strong patterns, but combining them I think we are starting to see a strong possibility emerging...
The altcoin chart seals the deal!
Finally, to cement the view that altcoins are likely to have their time in the sun, we take a look at the altcoin chart.
It is a chart of the entire crypto market cap not including bitcoin.
Check it out: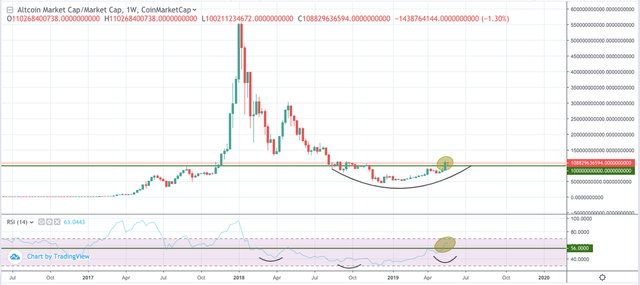 It almost appears like the altcoin market is forming an inverse head and shoulder pattern on the RSI.
Unlike the bitcoin dominance chart shown at the top, it still has quite a bit of room before it gets into the "over-bought" range on the RSI.
Plus we have a nice rounding bottom taking place on the altcoin chart seen above.
Combining these 3 charts and I believe we are likely to see a return of bullishness in the altcoin market over the next couple months.
June and July may be very good to steem if this pattern plays out!
Stay informed my friends.
*Charts courtesy of TradingView / CoinSignals
-Doc