Hello Crypto Enthusiasts!
Today's blog post is about another promising 50/50 POW/MN project called Gentarium. This coin is actually based on a web platform which lets users manage their ASIC, GPU and Masternode investments in one place!
Running Masternodes and mining rigs can be a tedious and difficult task, but no longer do crypto users need to spend countless hours researching and tending to their investments! With Gentarium, this management is packaged into one service.

The Masternode hosting platform is very user friendly, and supports a number of well-established and promising projects, including: DASH, LPC, GTM, PIVX, BCARD, and many more.
Here is an example of the masternode hosting platform: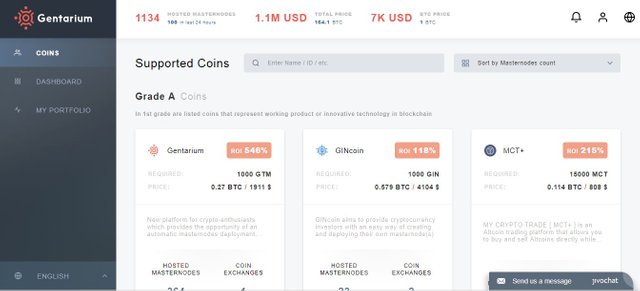 The site also grades the different projects based on their use case, and if they have adhered to the roadmap. This takes part of the burden of research off of the investor, and allows for easier decisions!
The GTM coin itself is also a promising investment, and has a great ROI currently over 500%. At the moment, GTM can be bought at the CryptoBridge exchange for ~ $2 each. The block time for GTM is 2 minutes, and the required collateral for running a Masternode is 1000 coins.
**As always, do your own research before making any financial investment.
Crypto on!
Please upvote, resteem, and follow for more posts!