Top 10 crypto PoS and Masternode projects that achieved the best results - June 2020
Top 10 crypto PoS and Masternode projects that achieved the best results - June 2020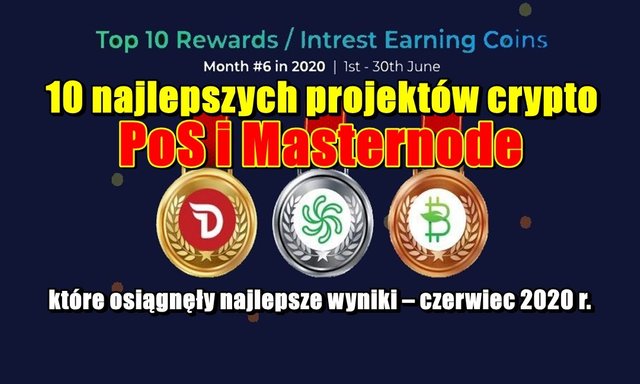 We are already in the second half of the year and looking back at previous events in the world is too bleak. However, if we focus our attention on the future, especially on blockchain technology and cryptocurrency value, we can have a promising future. Together with MyCointainer, we are able to generate passive income by placing cryptocurrencies.
Current earnings range from 63.16% the highest to 5.27% the lowest.
First, we have Divi (DIVI) with a 63.16% increase. This is one of the favorites among the placed assets and it is quite obvious why. DIVI is constantly gaining and from third place last month was promoted to the highest place in June this year. Let's see how high DIVI can fly 😉
The second and third place Rapids (RPD) of 50.01 % and BitGreen (BITG) respectively of 40.33% increase. RPD took two steps forward from 4th place last month. While BITG is included in the best weekly assets in June.
Looking through the resources available in MyCointainer , we can see that the earnings for June are in the green zone. However, compared to the previous month, the best-selling assets this month did not outweigh last month's profits.
Congratulations to these 3 best Masternode projects and the rest of the resources on the list.
Still enjoy the fruits of your investments, you deserve it.
The list of top 10 assets available on the MyCointainer platform is below: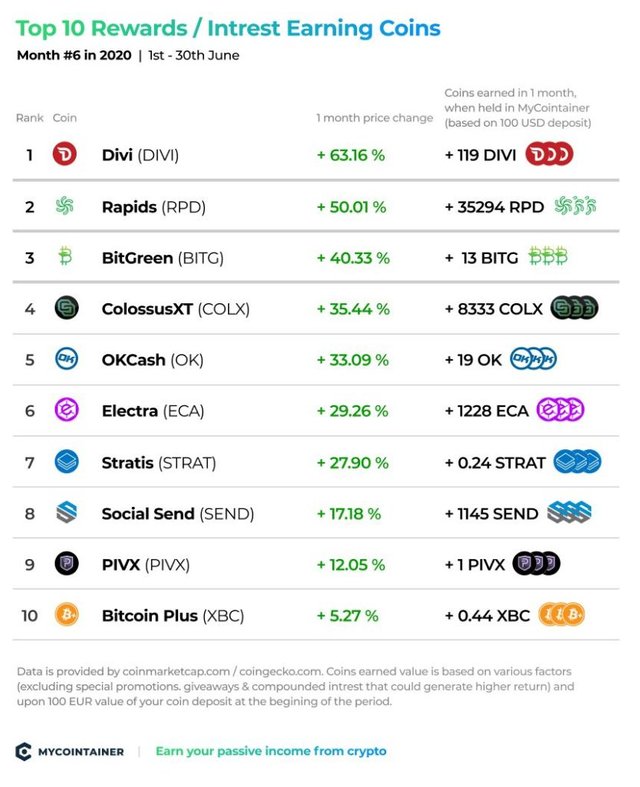 Top 10 projects for the month of June:
Divi (DIVI) + 63.16%
Rapids (RPD) + 50.01%
BitGreen (BITG) + 40.33%
ColossusXT (COLX) + 35.44%
OKCash (OK) + 33.09%
Electra (ECA) + 29.26%
Stratis (STRAT) + 27.90%
Social Send (SEND) + 17.18%
PIVX (PIVX) + 12.05%
Bitcoin Plus (XBC) + 5.27%
The 5 coins that were outside the top ten are: Neblio, Radium, DeepOnion, Bitbay and NavCoin .
Have a nice stake out!
If you are looking for general information on cryptocurrency, cryptographic news, tips, guides, strategies, fintech, new technologies, commercial space, investment in crypto and many more? CryptoMining.com.pl is a place to go back to. Visit our website and our social media, also subscribe to our newsletter so that we can jointly influence the developing blockchain technology.