Meet aQuest Platform, Freelancers New Ecosystem using Blockchain technology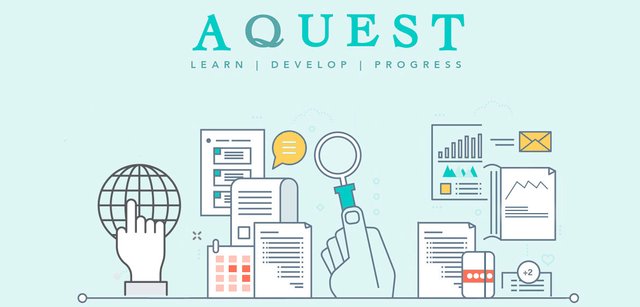 Hello everyone, welcome to my blog, today we will do a review on the aQuest platform, this cryptocurrency project is aimed at making it possible for freelancing to thrive and experience exponential growth, by introducing a new solution to the entire industry. A long lasting and technologically proven solution at that.
Remember how that we are used to hearing that the freelancing industry is the world of inestimable riches and excellent skills, a world where you can make use of your skills, no matter how good or efficient they are to earn at the comfort of your home without needing to set up shops or business enterprises.
This industry has so far been actively helping individuals from all over the world, connecting businesses and campaigns to required workmen and granting individuals the ability to work from home, and earn a sizable income from carrying out tasks that are linked to their skill set.
For every ecosystem, of course there are problems that arises from within the ecosystem, and the freelancing industry has had their fair share of problems, including incubation of new participants, creating enough tasks for the members of the several platform, and of course the payment infrastructure for tasks completed. Also there is the problem of trust and human interactions, there should be a means to create a trust-less ecosystem.
So far, there has been a lot of issues and problems arising from this industry and tackling these challenges required a total understanding of the entire freelancing industry and creating of methodologies that will ensure a long lasting solution that will not only solve the problems of freelancing and gig industry, but also solving other challenges that may arise in the entire industry.
Blockchain industry has so far proven to be an all-encompassing solution to several industries in the world, the technology has so far proven to be innovative and revolutionary to the several industries it has been intertwined into, including the fin-tech, gaming, social media and governmental ecosystems.
Meet aQuest, The Freelancers App of the future

aQuest is a platform that seeks to ensure that freelancers experience the seamless solutions that cryptocurrency and blockchain technology accrues. This platform is one that rewards individuals for completing tasks on the platform,it is a decentralized infrastructure that seeks to ensure that every member of the platform is encouraged to participate in several tasks by getting incentive for completing such.
Bringing in blockhain technology into the ecosystem is efficient enough to create a means of solution to the adoption issues of the freelance and gig industry, now there would be a form of global adoption for the ecosystem, therefore participants from all over the world can become part of a single freelance platform that will be the hub of the freelance ecosystem.
The platform can serve as a means of campaign creation and advertising platform for companies seeking to obtain global reach, with little funding required, businesses can boost their products or services on the aQuest platform and receive participation from people all over the world. Thus having the ability to reach more people within a fraction of time.
aQuest Platform operates with a cryptocurrency rewards infrastructure, allowing individuals to earn AQU Tokens for successful completion of tasks. To make this possible, Enkronos Company, the team behind the aQuest platform has issued the AQU Token, an ethereum based ERC-20 Token specially designed for the aQuest app, to be the utility token of the platform.
Therefore, every member of the platform can have aces to an inbuilt wallet system with their accounts where all payments would be made to and not having to go through the hurdles of fiat conversions when working across borders of geographical differences.
Moreover, aQuest has built an algorithm for automated reviews of completed tasks on the platform, hence users do not need to worry about waiting for too long periods for their tasks to be approved and rewards disbursed. This means that individual rewards on the aQuest platform comes almost immediately to their wallets.
aQuest platform is a decentralized platform seeking to ensure that everybody who are participants to be able to earn a few bucks by actively carrying out tasks in the platform. As at the time of writing, the price for 1 AQU Token is 0.006 ETH and can also be bought with the ENK (Enkronos token) at the rate od 2 ENK=1 AQU. The token sale is currently on going and the token Generation event is stated to have a soft-cap of $1,000,000.


Conclusively, aQuest is a platform for the revolution of the freelance industry using blockchain technology, cryptography and automated protocols.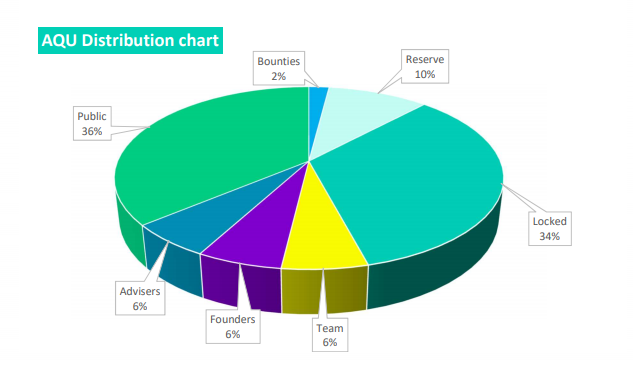 aQuest RoadMap: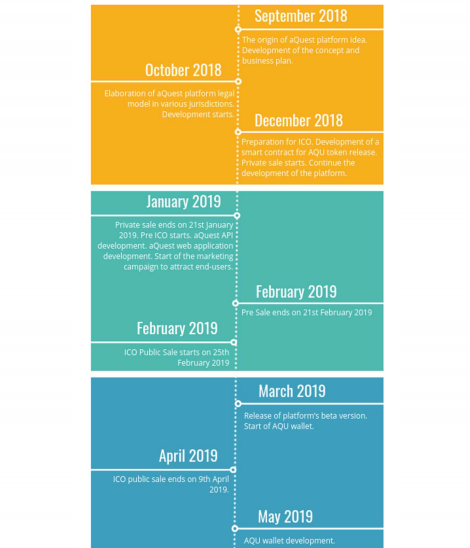 For More Information and Resources:
aQuest Website
aQuest Whitepaper
aQuest Bitcointalk
aQuest Facebook
aQuest Twitter
aQuest Instagram
aQuest LinkedIn
aQuest GitHub
aQuest Reddit
aQuest Telegram
Bounty0x username: cryptoprotek