ChangeNow vs. Coinswitch - my personal experience
Especially after the Cryptopia hack people are uncomfortable "parking" their funds on exchanges.
There are some solutions that offer instant trades while remaining completely anonymous.
Yes,you got that right: you do not have to register as user, you don't have to share your data.
The principal is simple: you enter the coin you wish to exchange, the amount and into which currency you wish to exchange it.
The website will make you suggestions of where it could be traded and for which exchange rate.
You make your selection, enter the receivers wallet address (yours) and you will be prompted to the address to where you should send your funds.
Once received by the website the status will change to "Exchanging Now", once this is done the status will change again to "Completed, transferring funds to your wallet".
This is the theory, sounds great and simple.
I have done this multiple times, using ChangeNow and CoinSwitch and I want to share my personal experience.

My first transaction with CoinSwitch went flawless, I exchanged BTC into some ZCash.
The complete transaction took less than one hour, I received the advertised amount, everything was great.
The second time I wanted to exchange BTCP (Bitcoin Private) into BTC. I sent the funds in BTCP, the transactions had many confirmations already, but for some reason the status did not update from "Awaiting Funds) to "Received, exchanging now".
It was in the middle of the night. I did not expect the support to work at this time. But I gave it a shot. I tapped on the Chat icon - and I got a response! Not only did the person on the other end take care of everything, they also granted me the better exchange rate I found on another website. 100% thumbs up for that.
Now I wanted to exchange a small amount of ZCL (ZCashClassic) into Bitcoin. I found the best rate at ChangeNow.
They offered for 28.5 ZCL to get me 0.006569 BTC.
I started the process and sent my funds.
The status did not change, for hours it stuck at "Awaiting Funds". I contacted the support. The y responded promptly, told me I should not worry, they would take care of everything.
A little later it changed to "Funds received, exchanging now" but it showed a little lower rate.
Support answered to that, that it comes because of the fluctuating exchange rate.
And then, another 30 min later I got the status update, that it was completed.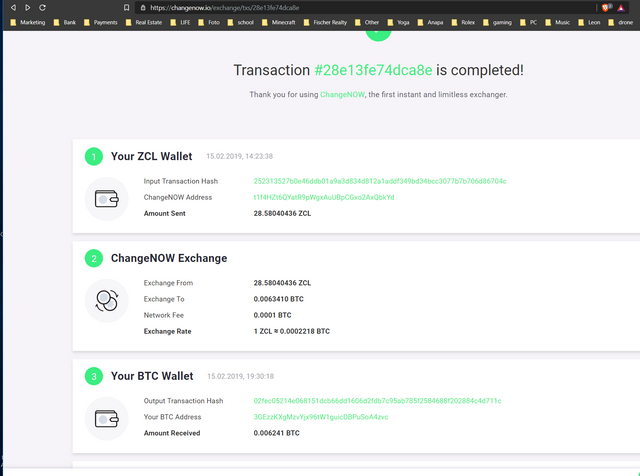 The entire process took 7 hours, I received even less than they told me on the second status update, and on top of that they deducted an undisclosed network fee (in BTC).
I ended up getting 0.006241 BTC
Of course, these are small amounts, but it still is 5% less than they advertised to exchange it to.
And it was less than I would have received from CoinSwitch.
No more ChangeNow for me!
After my experiences I highly recommend CoinSwitch.
If you would like to try it, they have a referral program
which rewards you and me with $5 in BTC
https://coinswitch.co/?ref=NYG8BEBIDK
Just click on this link and exchange something equivalent to $100 or more. Enjoy !